Disclaimer: The post contains Mystikit Amazon affiliate link.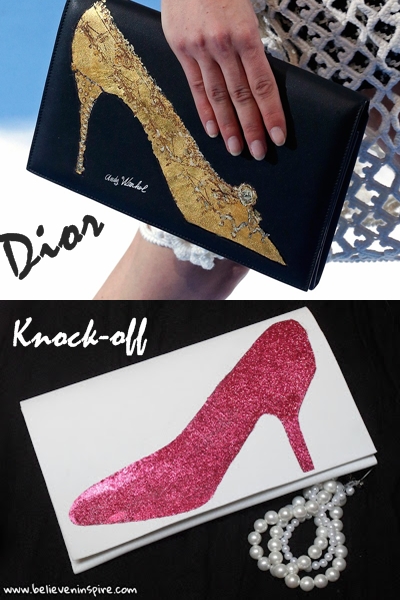 Image from shoerazzi.com

Source: Yasmine Blog
Hi lovelies! Today I'm gonna show you a super affordable knock-off for the gold shoe Dior 2013 clutch which isn't available in this set of pictures but if you would just google Dior's 2013 shoe bags I'm sure you would definitely find one. To make this super easy Dior shoe clutch knock-off I would be using a foam sheet but if you are able to find white leather it would be cool enough too.
I'm really not a fan of the gold stuff so I will use pink glitter instead.
To purchase the complete kit of all the supplies click the tab below. (Affiliate link)
Other than these items you would also require a white thread with needle, small buttons and white scrap of fabric. I had initially thought of using the ribbons but later I thought that using the scraps would be better.
Cut out the foam sheet in the size you want. I'm gonna use 9″x15″
Its quite unclear but I was trying to show the cut out foam sheet.
Next print and cut out your shoe template from this link. You can choose your favorite one but make sure its around half the size of an A4 size paper.
Place your template on an aluminium foil sheet and apply glitter with mod podge.
Let it dry and repeat with several quotes so that there's not a single white spot left.
Next, take your foam sheet and tri-fold it in the form of a clutch to divide the measurements equally.
Next, open the top flap and add pins to hold the pocket together while you sew the sides.
Using hand stitch sew in the sides like this.
Next, take two scraps of white fabric and sew in the buttons on them.
Using a hot glue gun, stick the buttons on the inside.
Now to the step finale…. apply generous amount of glue on the under side of the template making sure to keep it very less along the edges as the glue might ooze out from the corners and spoil the look.
Stick your template in the center of your sheet.
Cover it with heavy books and let it dry for around 30 minutes.
Making sure to press in the edges time to time with your fingers so as to ensure complete sticking.
And ta-da! You are ready to PARTY!
So, what do you think of the Dior Warhol collection? Would you wear it on a night out?
Linking up to these blogs:
Not just a housewife, Savvy Southern Style, Funky Junk Interiors, French Country Cottage, Lovely Crafty Home, Craft-o-maniac, DIY Home Sweet Home, Six Sister's Stuff, Sew Much Ado, DIY Show Off, I heart  Naptime, Five Days Five Ways, Craft berry Bush, Coastal Charm, Handy Man Crafty Woman, DIY by Design, Too Much Time , The Charm of Home, My Re-purposed Life, The DIY Dreamer, High Heels and Grills, A Diamond in the Stuff, Flamingo toes, Flour Me With Love, Someday Crafts, Alder-berry Hill. The Tablescraper, Seven Alive, Trendy Treehouse,  Be Different Act Normal, What's Cooking Love, The Crafty Blog Stalker, Blooming Homestead, Southern Lovely  , 52 Mantels,  Sugar and Dots, Delicate Construction,
Craft Junkie Too, Chocolate Chocolate and More, A Creative Princess, Raising Reagen, Create Craft Love, To Sew With Love
, Mom On Timeout, Fireflies and Jellybeans, My Romantic Home, The Scoop @ Crafty Texas Girl, Sugar Bee Crafts, Time to Sparkle @ The Gunny Sack, Home Stories A to Z, By Stephanie Lyn, The Girl Creative, House of Hepworths
This post first appeared on Believe&Inspire.
© Copyright believeninspire.com 2011 – 2013
Don't forget to sign up for our twice a month newsletter for FREE printable!
Don't forget to check out these awesome posts too!