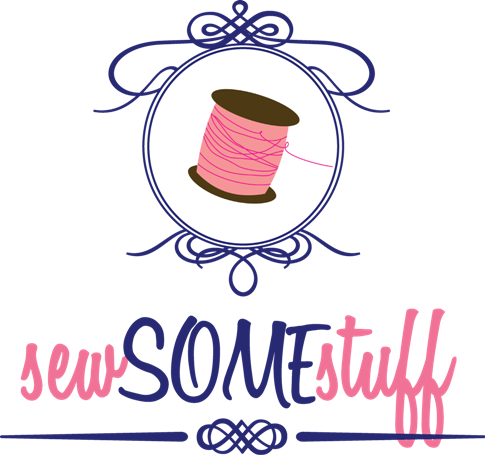 Trendy Trapeze Satchel Sewing Pattern
Get ready to make a bold fashion statement with Trendy Trapeze handbag!
MEET TRENDY TRAPEZE SATCHEL SEWING PATTERN!
A detailed step-by-step sewing pattern and tutorial for a for a stylish and functional handbag.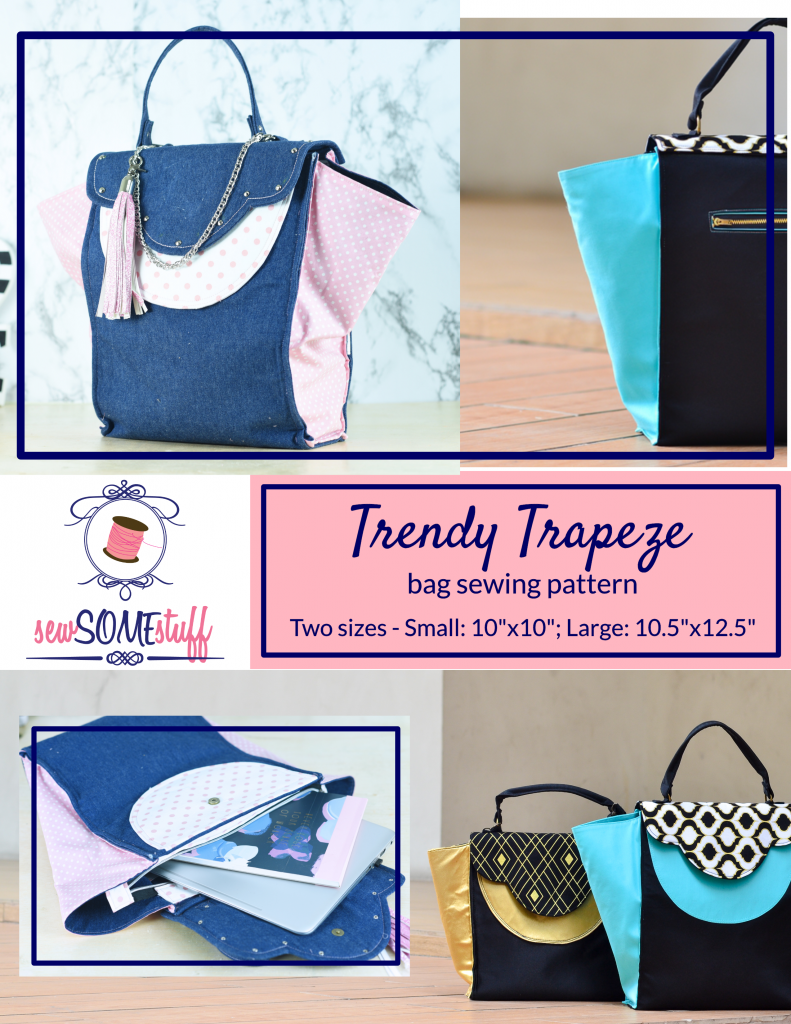 Bring your creativity to life, make a lovely bag in your favorite colors for yourself.
A bag straight from the runway! Perfect for a stylish woman.
What's so Awesome Trendy Trapeze Satchel Bag?
features a top recessed zipper closure to keep everything secure.

has an easily accessible outside zipper pocket with lots of room for keys and phone.

a roomy interior to hold your wallet, travel size perfumes and lip gloss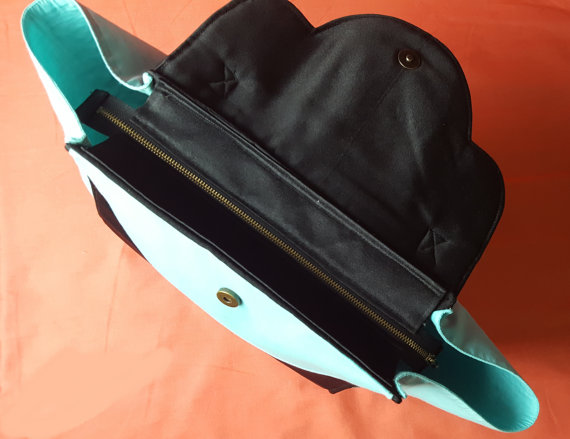 Bag Mesaurements
Large: height: 12.5″ width 10.5″ at the bottom and 19″ from top, perfect to accommodate a 13" laptop and A4 size notebook.
Small: height of 10″, a width of 10″ at the bottom and 16″ at the top and can easily fit an i-PadAir 2.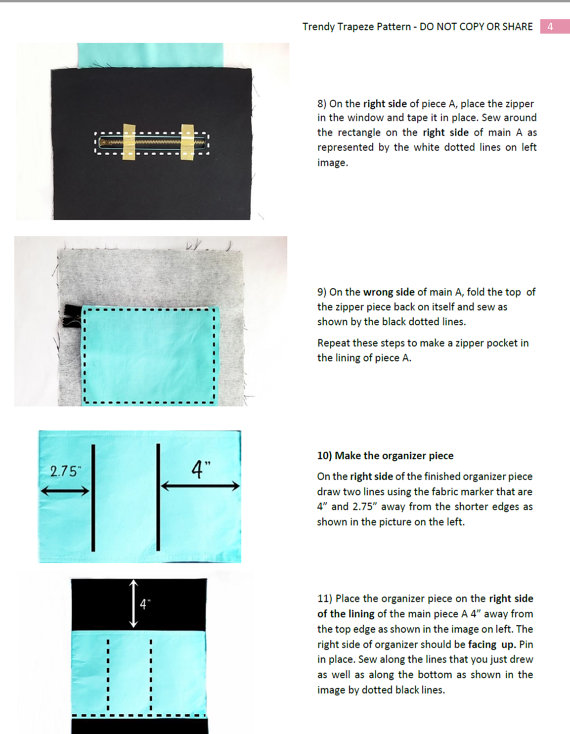 What you will get if you purchase this pattern:
16 pages of step by step detailed tutorials with pictures with pattern to cut out the shapes for the bag pieces
Can be printed on both "letter" and "A4" size pagesInstructions on using both vinyl and woven fabric for accent pieces (vinyl makes your bag look more pro 😉 )
24/7 Facebook group support for any questions
Make bags from this pattern and sell them at craft shows. With one sale, you can get back on the amount you spent on buying this pattern and tutorial.
A little about Sew Some Stuff
Sew Some Stuff sewing pattern store is home to fun and unique collection of bag sewing patterns with friendliest customer service on the market.
All sewing patterns in the shop first go through a detailed round of testing where 8-10 awesome bag makers read the patterns, make the bags, point out the mistakes which are then fixed. The bag makers then proofread the sewing patterns again before it is made available for purchase. We only give you the best! I promise.
Get the pattern now in one click!
SEW SOME STUFF NO-HASSLE 100% MONEY BACK LIFETIME GUARANTEE
Sew Some Stuff patterns come with a 100% money-back guarantee…but I don't stop there. I promise, with these bag sewing patterns you will make a STUNNING bag that will turn heads and make people wonder where on earth you got such a beautiful looking bag, without struggling through the patterns.
I take your bag making love very seriously, and you have my personal promise that I will not rest until you have made a bag that you love.
I believe in my work so much, I guarantee it for life. If you find any mistakes in the pattern or you are unable to finish your bag because of some difficult step, just send me an e-mail at [email protected] and I will immediately give you a COMPLETE refund.
If you aren't happy, I wouldn't feel right keeping your money, so I make it easy to get a refund. And just to be clear, there are absolutely no strings attached, no forms to fill out, nothing to prove and I promise I won't question you. I won't even ask for the pattern back.
Just make sure you include your name and e-mail address that you used to perform the transaction.
Just for the record, I've sold 100+ patterns and haven't had a single refund request.
In fact, I'm so confident with my work and so sure you'll absolutely enjoy sewing bags with Sew Some Stuff patterns, that I'm making this promise…anyone who requests a refund will receive, without question, hassle or delay immediate refund!
List of Supplies for Seema Crossbody Bag
• 1 yard main fabric (upholstery or quilting cotton)• Fat quarter of accent fabric 1 (upholstery or quilting cotton)• 1 yard of accent fabric 2 (upholstery or quilting cotton)• 1 yard lining fabric (upholstery or quilting cotton)• 1 yard woven interfacing (Pellon Shapeflex SF101)• 1/3 yard of fusible fleece (Pellon Thermolam TP971F)• 2 1″ D-rings • 2 1" swivel clips • 2 8″ zippers• Walking foot • ¼ yard of Plastic canvas• Magnetic snaps – 1 pair• Fabric Glue• Wonder clips• Fabric Markers
Trendy Trapeze Satchel Made by Others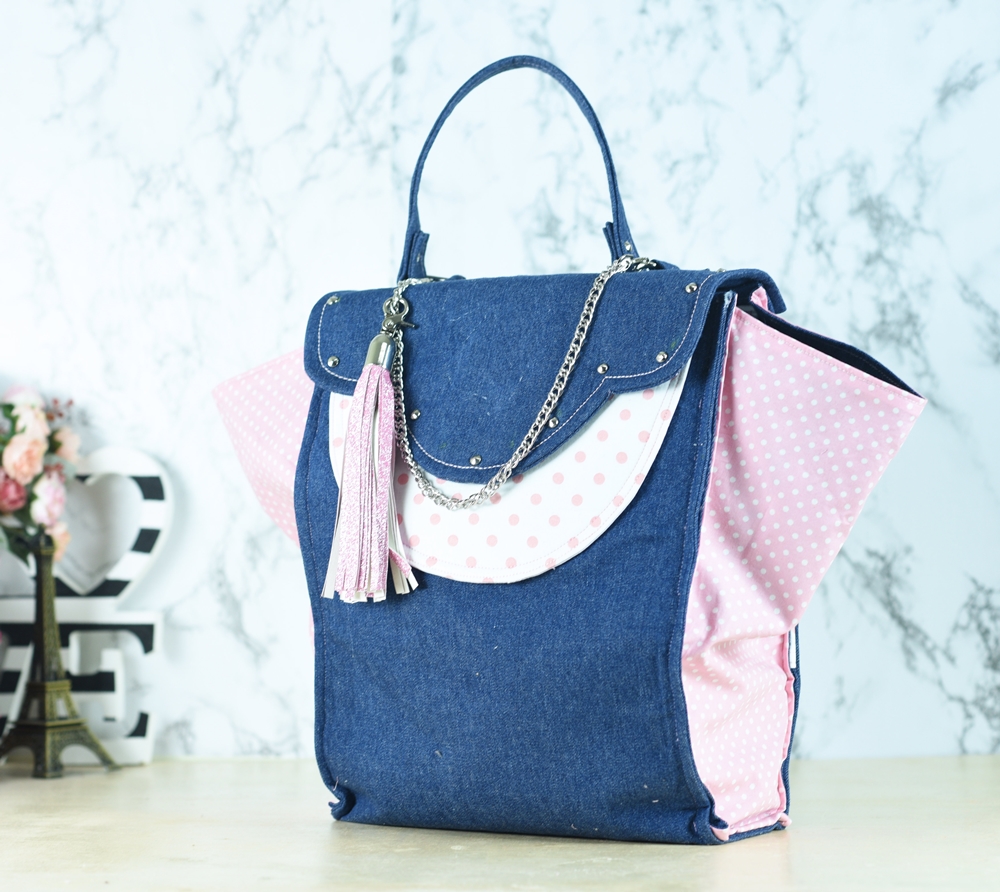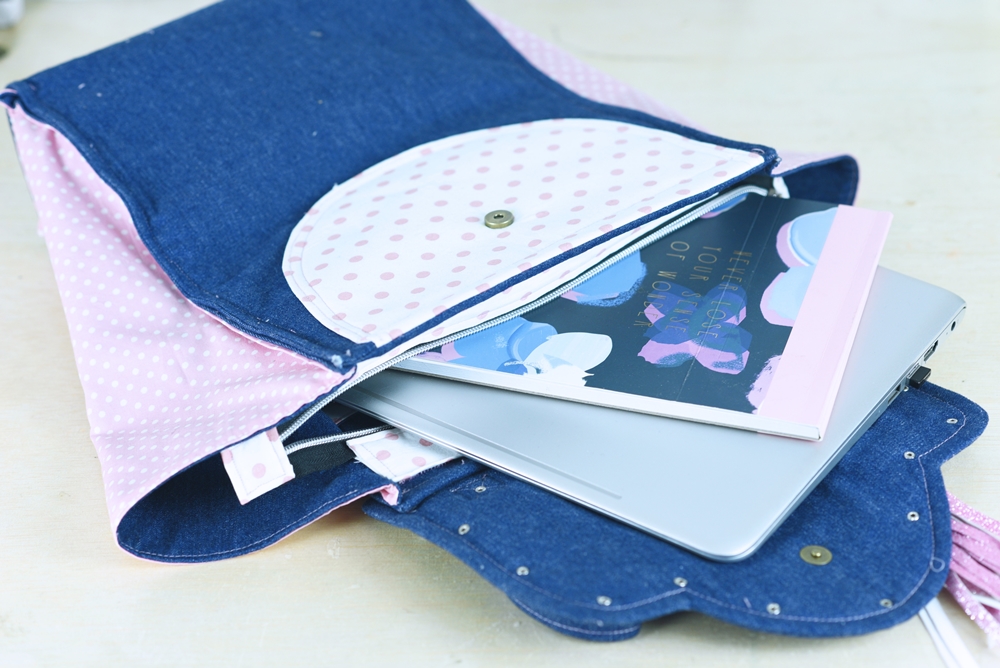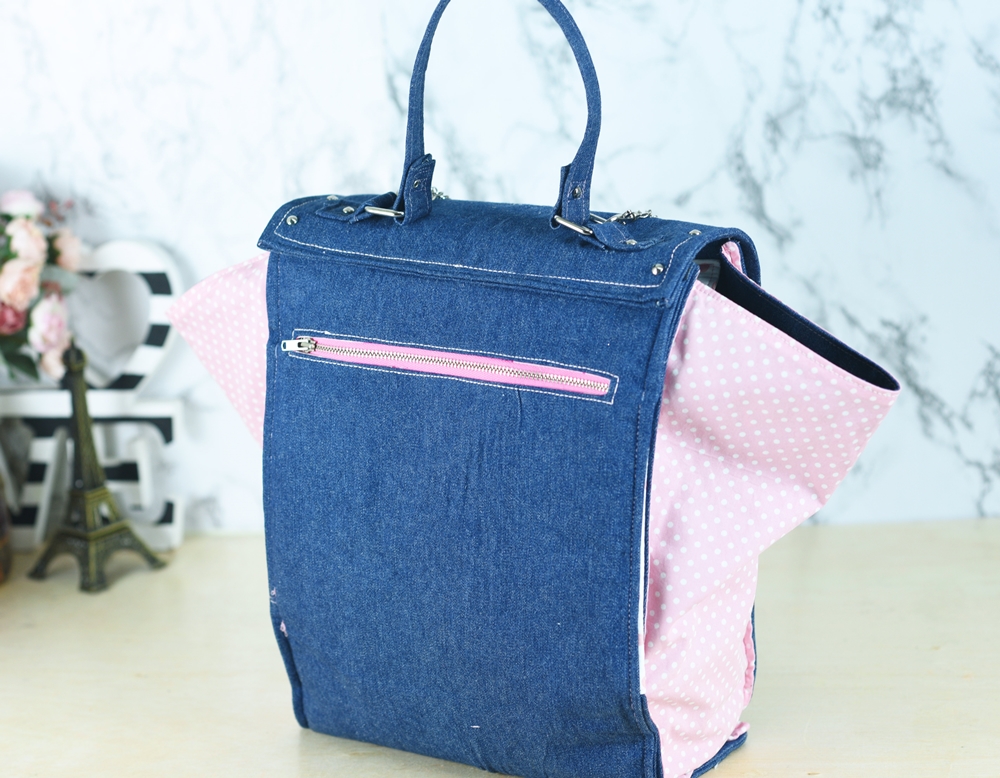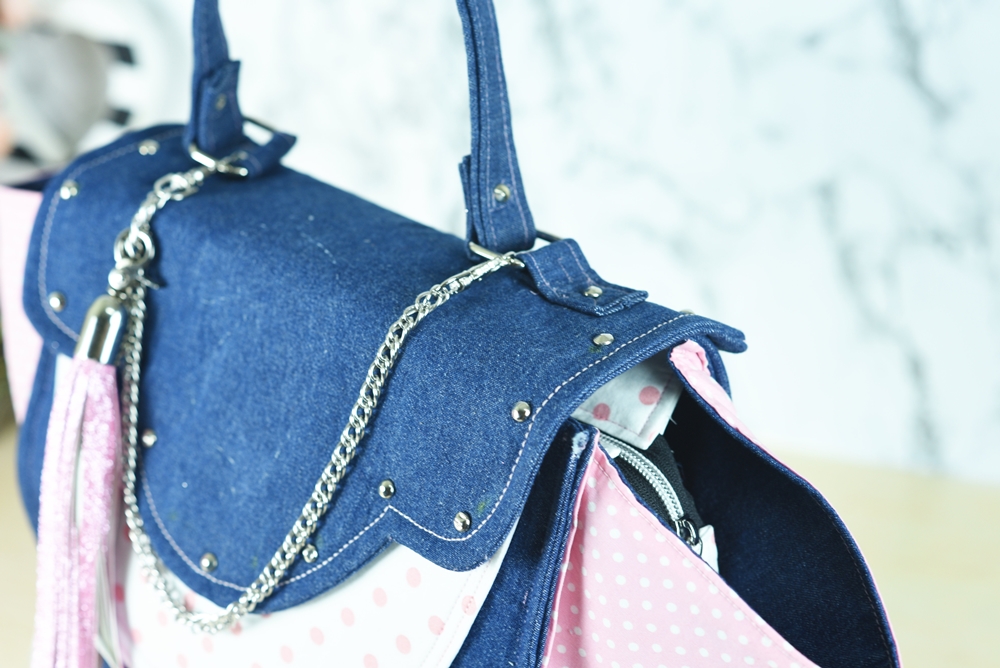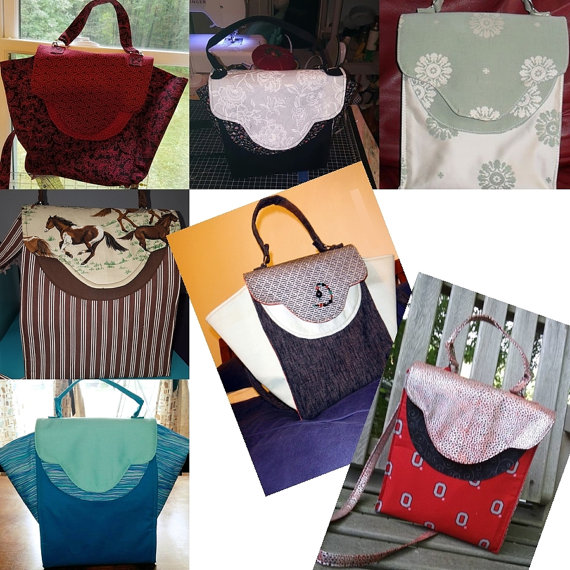 Take handmade bags to next level!
Make a special, functional bag with a professional, store bought look using Trendy Trapeze Bag sewing pattern.
BUY TRENDY TRAPEZE NOW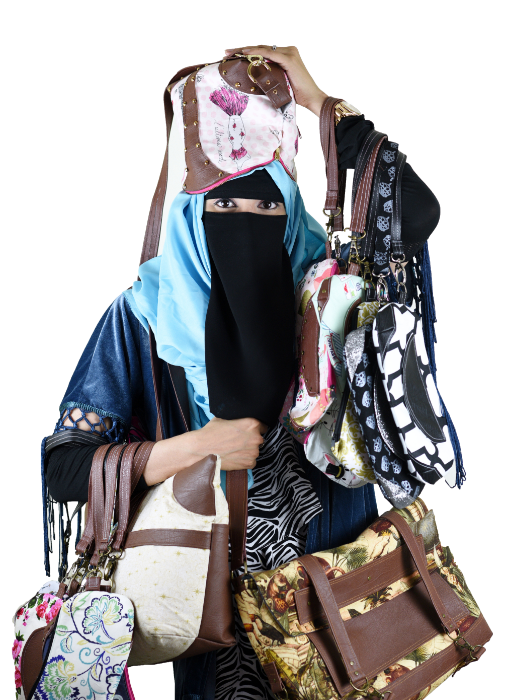 About the Designer: Javeriya Sayeed
I'm Javeriya, author and pattern designer at Sew Some Stuff. I LOVE designing anything and everything, but, most of all I enjoy designing and sewing BAGS, especially in PINK! Glitter and sparkly stuff are my weakness, also, cats and horses. 😀
Reviews
Terms and Conditions
Before purchase you must agree to the following terms and conditions.
1. Written permission is required to copy and or distribute copies of this pattern or instructions.
2. If you sell bags made from Sew Some Stuff patterns, please include a credit to all your online listings stating that your item is made from a Sew Some Stuff pattern. A link to my Etsy shop would be appreciated.
3. Patterns can be only used for home sewing. Mass production of bags using the purchased patterns is not allowed
[tcb-script src="https://gumroad.com/js/gumroad.js"][/tcb-script]
{tcb_current_year} Sew Some Stuff. All rights Reserved | Disclaimer