In this post, you'll find sewing pattern storage ideas with sewing pattern storage cabinets, pattern file boxes, pattern keeper organizers, sewing pattern organizer box, and sewing pattern storage binders.
Last week I got the real taste of what it actually feels like to write an Honors thesis. We worked in the lab for around 17 hours, literally. I left my room at 9 am and came back at 1 am, the next day! By the time I got back my back muscles were so sore that I forgot I actually had a back.
Also, this month I went out of the way and SPLURGED on new fabrics and bag hardware. Got myself these beauties from Hawthorne Threads. Although the original cost of the fabrics wasn't much, I had to pay almost double for shipment to Malaysia. But, it's okay, I promised myself this would be the first and last time. Also, whatever bag I make from these I plan to use them for at-least a 100 years (if I live that long), or pass it to my offspring. And, to make sure the fabrics stay as clean and lovely as new, I have just placed an order for a fabric protector. Let's see how it goes.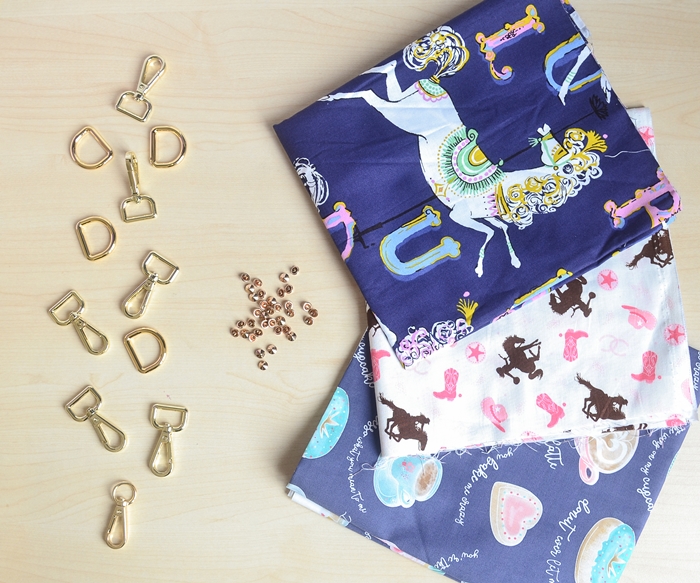 Onto today's post…
9+Brilliant Sewing Pattern Storage Ideas To Rock Your Space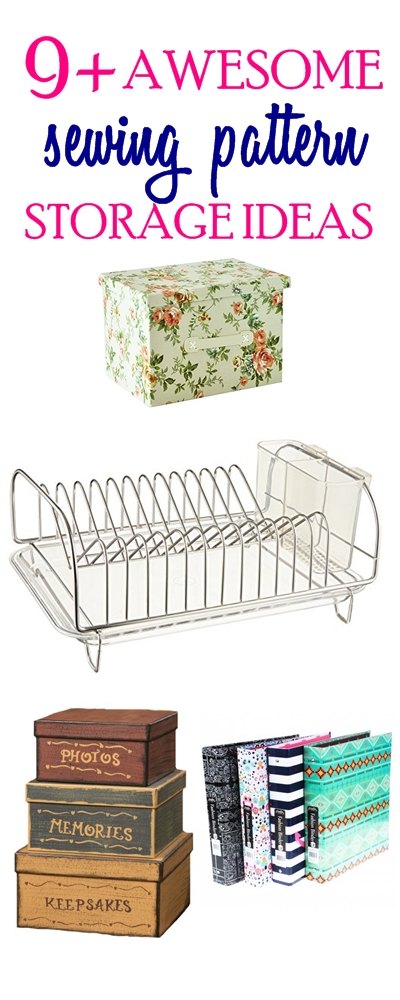 I'm truly a digital person. I barely print out stuff as it reduces a lot of useless mess created by papers and saves up ton of storage space. And thanks to this my desk remains clean and clear and perfect for sewing. But there's no alternative to printing sewing patterns unless of-course you could wear a digital outfit. Will that be ever possible? I hope not.
Any way, once the sewing patterns are in hard copy, it's really a challenge to organize them so that you don't have to turn the whole room upside down next time you want to sew.
Here are some super cheap and easy ideas to organize sewing patterns for a perfectly neat and inspiring sewing room.
"DISCLAIMER: Sew Some Stuff is a participant in the Amazon Services LLC Associates Program, an affiliate advertising program designed to provide a means for us to earn fees by linking to Amazon.com and affiliated sites.
This post contains affiliate links."
---
1. Cardboard Boxes as sewing pattern storage boxes
Check out this perfectly affordable idea by Colette blog. All you need are these simple cardboard boxes and post-it notes to get all your sewing patterns organized and sorted out. You can easily divide all dress patterns in one box, tops in one, bottoms in one, bags in one etc.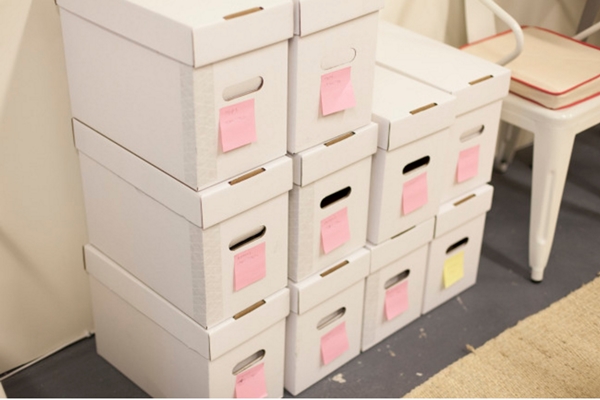 Source: Colette Blog
Here are some cheap but fancy boxes you can buy to give your sewing room a cheerful and inspiring look.
b. Flower Pattern Foldable Storage Box
c. Antique Looking Storage Boxes
---
2. Ring Binders for storing PDF sewing patterns 
For storing PDF patterns ring binders are a MUST HAVE. They make it REALLY EASY to organize all the pdf patterns based on the category. You can even get some fancy ones to match your room decor.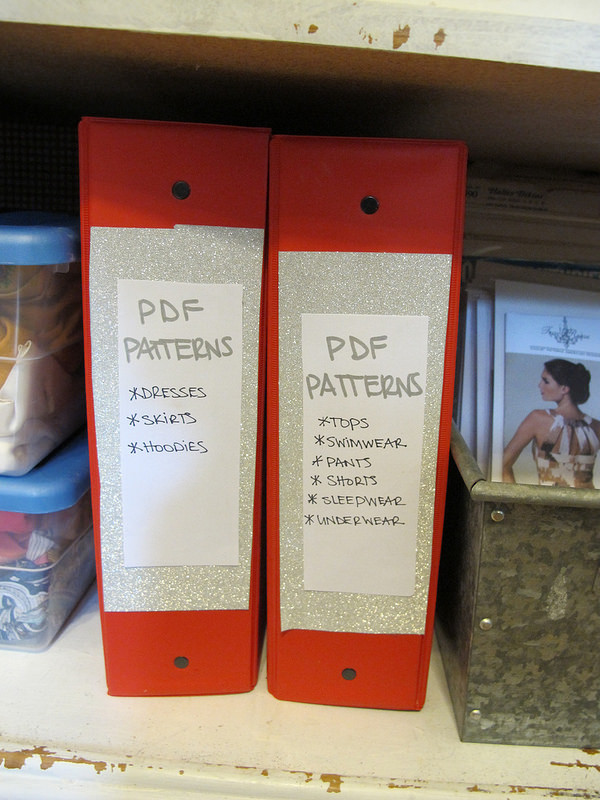 Source: Lady Bird
Here are some gorgeous binders to spice up your sewing room and store patterns at the same time.
b. Vintage Rose Cage Shabby Chic Ring Binder 
---
3. Dish Drainer Stands
Shocker! Seriously, Crafty Gemini is a real genius to come up with this hack of using a dish stand to store patterns.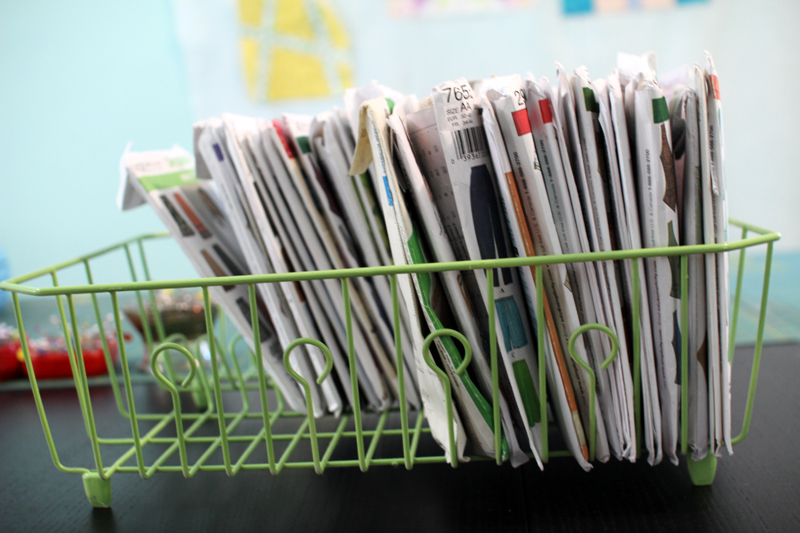 Source: Crafty Gemini
Buy a dish drainer stand NOW and get those patterns organized in an instant!
---
4. Steel hooks
If you don't have a lot of space or shelves you can simply hang the patterns using hooks. It also prevents them from folding. LOVE this idea by You Sew Girl.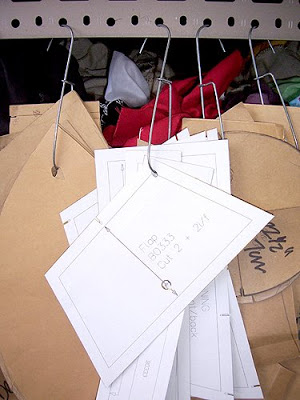 Source: You Sew Girl
Get your hooks now here:
---
5. Storage Baskets 
Lined baskets are also quite awesome for storing sewing patterns if you have a lot of shelving.
Here are some really cute ones that you can buy on Amazon. Just add a label on it and you'd be good to go!
---
The End
Okay, so that was the last idea to store your sewing patterns.
Sooooo, are you all inspired now to get your sewing patterns organized? I sure do hope so! Oh, by the way, I've also got some posts on storing and organizing threads and fabrics. You can check them out by clicking the links below.
That's all for now!
Don't forget to share this post with your sewing buddies if you enjoyed it. 🙂 You can use the sharing icons on the left.