In this post, I'm sharing some amazing Fabric Storage Ideas for Sewing Rooms and sewing corners. These fabric organization ideas are perfect for any kind of sewing room and are some of the perfect storage for sewing rooms. Fabric storage can be a problem if there's no space but with these sewing room fabric storage ideas, you can store your fabrics however you like.
It's a lazy Tuesday afternoon, kids are at school, you have ample free time, so, you decide to sew that super cute crossbody bag using the pattern you just bought.
But, before you can start sewing, you've got to overcome this MAJOR hurdle…
Choosing the RIGHT fabric! It's like a time-sucking vacuum.
I know this because it is ONE thing on which sometimes I end up spending minutes and minutes on. Yep.
And, it just gets WORSE if the fabrics aren't ORGANIZED.
Allow me to make things easier for you. Here are some great fabric organization ideas that you can easily incorporate into your sewing room to make your next fabric picking task smooth.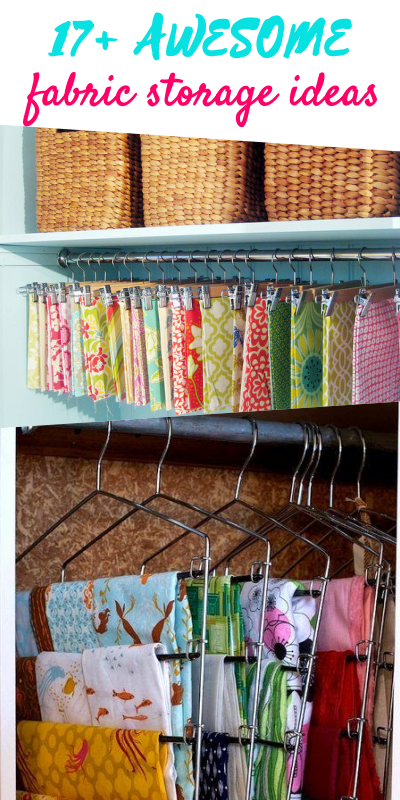 Pin this image for future reference!
11+ WONDERFUL Fabric Storage Ideas for Sewing Rooms
These fabric organization ideas can easily be adapted based on the size of your sewing room. You can either pick one of these fabric storage ideas or use a combination of them all for organizing your fabric stash.
There are several different furniture and tools that you can use to store your fabrics in the sewing room, ranging from a file cabinet to a bookcase or even a trolley for pants. Below you will find all of these interesting ideas along with examples on how to use each of them. Let's get started!
"DISCLAIMER: Sew Some Stuff is a participant in the Amazon Services LLC Associates Program, an affiliate advertising program designed to provide a means for us to earn fees by linking to Amazon.com and affiliated sites.
This post contains affiliate links."
First is the easiest and most common method of organizing fabrics which is using a bookcase. You can purchase several of these to store away your fabrics neatly. Depending on the size of your sewing room/sewing area you can go for very tall bookcases that go as high as the ceiling or you can just buy the short ones if you have lots of sewing space.
 ➡ This bookcase is Amazon Best Seller and is available for Prime shipping.
To make sure your fabrics don't mess up, you can roll the fabrics around a cardboard.
You can easily get a cheap bookcase on Amazon or maybe if you're lucky you might spot one on your next thrift store trip.
Here are some amazing fabric organization ideas using a bookcase.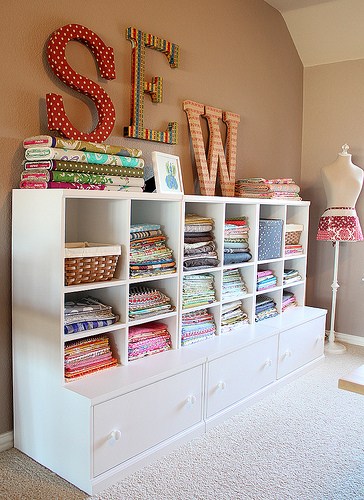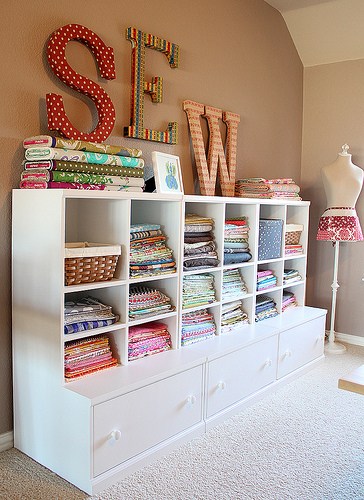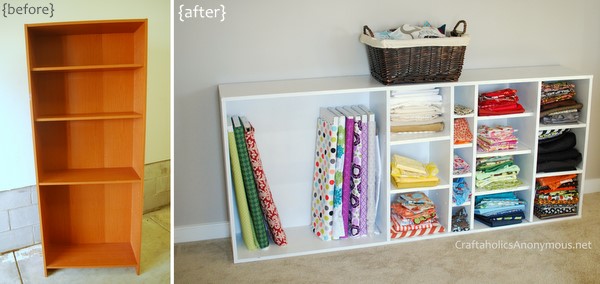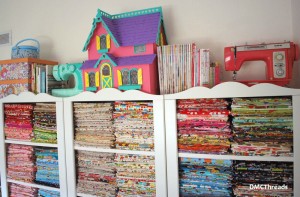 Check out how Stef from Girl Inspired used these special fabric organizers to sort out her stash below. CLICK HERE to get one for yourself.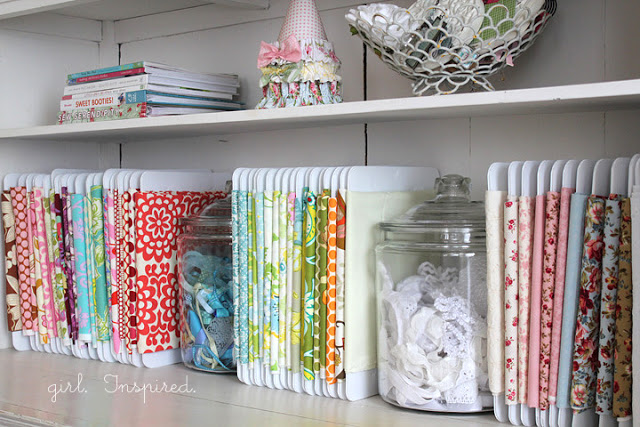 ---
File cabinets can also come in handy for organizing sewing fabrics. Who knew right? You can easily get one of those from a thrift store and paint it the way you like to make a gorgeous fabric storage. Or order this one at a super affordable rate from Amazon.
Here are some Fabric Storage Ideas for Sewing Rooms using a file cabinet.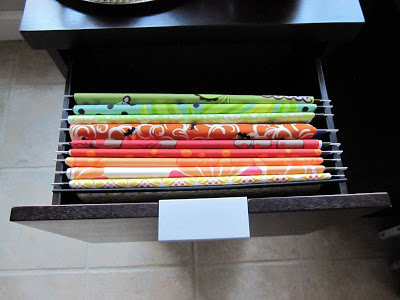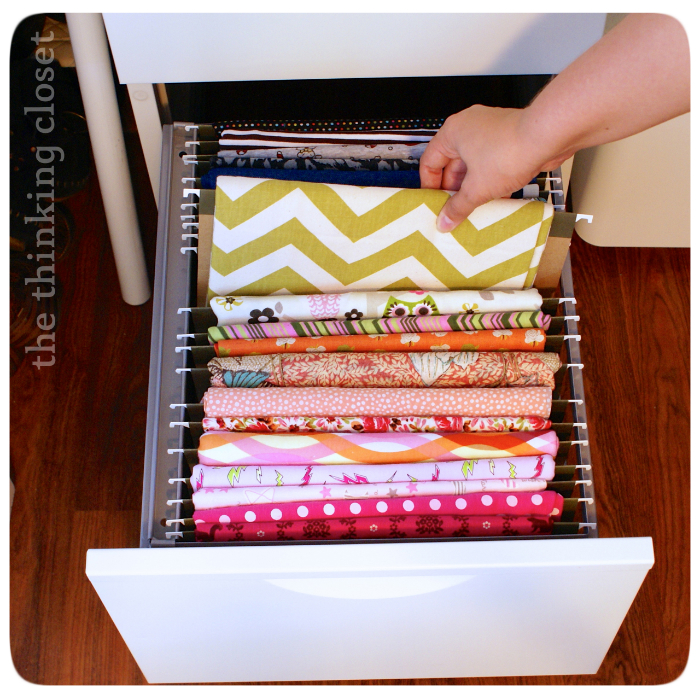 ---
If file cabinets are way out of your budget, don't worry I have another great fabric storage idea for your sewing room. Which is using plastic drawers. You can easily find a lot of them on Amazon. Click here to check them out.
Now, a normal plastic drawer might just look downright ugly and may not go with the look of your sewing room but, don't worry you can always customize it.
Here's a great example of how to use plastic drawers for storing fabrics.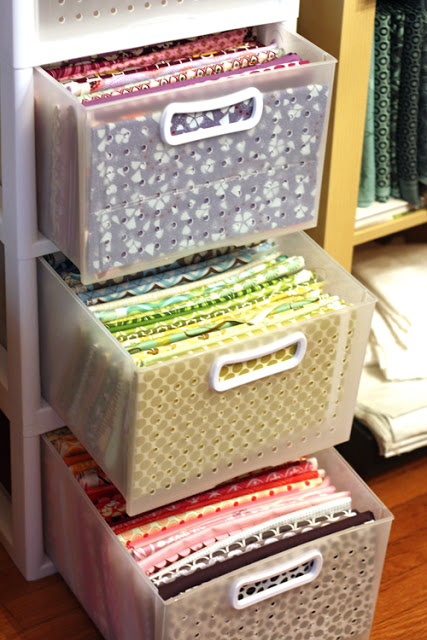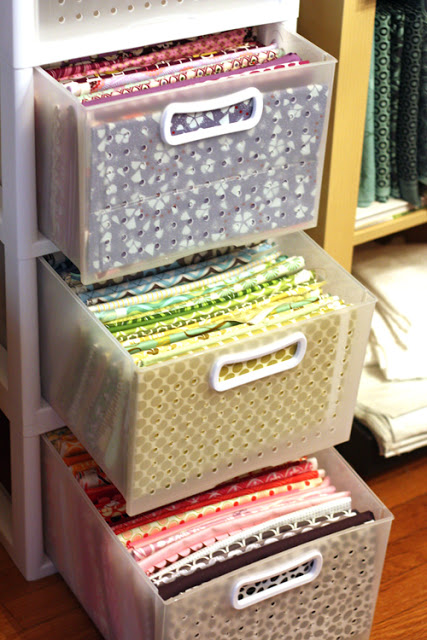 Fabric Storage Ideas Part: 2
Get Part 2 on the next page.