In this post, I'm sharing different Sewing Room Organization Ideas. Learn to organize sewing supplies with these cheap sewing room organization ideas. These sewing room storage ideas are perfect for all kinds of sewing room organization and storage of products.
Lack of organization can kill.
Yes, it kills, if you ask me.
It kills my mood and it kills my creativity. Although at times I really don't feel like cleaning up the mess, I do eventually end up cleaning it because it bugs me… A LOT, especially because I sleep, eat, pray, lounge and sew in one room.
I do all my sewing in a small corner of the dorm room which demands the place to stay well organized all the time. I know, you all are sewists like me and at some point, you go through the challenge of keeping the room organized every once in a while because keeping everything organized in a sewing room is such a DIFFICULT TASK; especially, if the area is small. You need to come up with some really creative sewing organization ideas to store all the different sized items ranging from small buttons and snaps to big scissors and cutting rules. The list is just endless. Therefore, in this post, I'm sharing a list of some cheap sewing room organization and storage products that would be perfect to use in a sewing room to keep things organized. These ideas are great for organizing sewing supplies.
"DISCLAIMER: Sew Some Stuff is a participant in the Amazon Services LLC Associates Program, an affiliate advertising program designed to provide a means for us to earn fees by linking to Amazon.com and affiliated sites.
This post contains affiliate links."
6 SUPER Cheap Sewing Room Organization Ideas
First, let's take care of the small stuff. I think, for storing buttons, snaps, pins etc. this 12 pieces jar set would be a perfect thing. Plus, this set would look perfect on the shelf with all the colorful lids. CLICK HERE to check it out on Amazon.
---
2. Spool Organizers
A perfect place to store thread is this plastic spool organizer. Currently, my thread collection fits in one plastic box but I guess with time I would be needing several of these spool organizers. CLICK HERE to check it out on Amazon.
---
Another cool idea is to use this thread tray. However, I don't think it would be a very good ideas to keep this thread out in the open in place where it can get covered with dust. The best thing would be to keep it inside a cabinet. CLICK HERE to check it out on Amazon!
---
Organize your bobbins using this handy bobbin organizer. I'm just in love with this bobbin organizer. I use something similar for storing my bag hardware but I would love to have one of these boxes. Right now I just use a small transparent vinyl pouch. If you want one, you can ORDER IT HERE.
---
A cool way to organize the fabric or project that you are working in is using this rack. 
I SO want this rack! What a perfect way to hang fabrics that you are planning to use in future projects. 
CLICK HERE to get one for yourself from Amazon!
---
And finally, I think this hanger would be perfect for organizing zippers. If you want this for your room, CLICK HERE to get it now!
Andddddddd….. on a personal note, here's my mini collection of sewing supplies. Like I said earlier, I sew in a corner of my dorm room, so I don't have a lot of stuff. Mostly, everything fits in the long rectangular pink box which I have been using since the time I started college. I later bought the box with compartments to keep craft supplies (that explains all the glitter) but now I use it to store my bag making supplies. All the bobbins go in the clear vinyl pouch.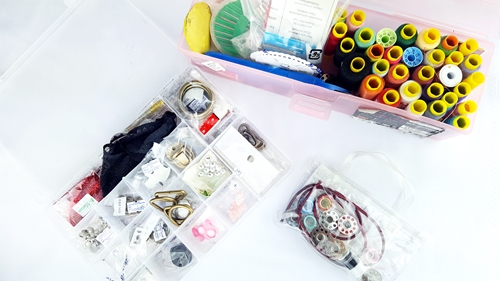 Okay, so that's the end of the list of supplies for Sewing Room Organization Ideas. Each of these sewing supply organizers are quite affordable and you would consider them a HUGE blessing once you see your sewing space perfectly organized. But, if you want more options you can check out these recommended products.


Also, check out:
If you found these ideas helpful do share them with your Facebook friends or you can just pin it to your sewing tips board.