In this post, I'm sharing some amazing sewing thread storage ideas that you can use for your sewing rooms to keep your threads organized.
I was 5 years old when I went to my aunt's house this one day. She was sewing and in front of her on the table was a butter cookie tin box. YUM!
Suddenly, I was craving for the delicious looking cookies staring at me. All I wanted at that moment was to devour those cookies.
My aunt was smiling at me. She offered me the box. It was such a joy!
But, can you guess what happened when I opened the lid?
There are several places you can store your threads in. Some are very practical and straightforward and hold no beauty, they just serve the purpose. But, some can turn out really pleasing with a little creativity.
In this post, I'm sharing several thread storage ideas that either falls into the first or second category.
The post is divided into three sections:
The first section features all the store bought, quick and easy thread organization solutions.
The second section is especially for all those who enjoy a little bit of a DIY and would love to make their own thread storage. Some of these ideas are very affordable and really great for small sewing areas.
In the third section, I have shared how I organize my small collection of threads.
Read on for lots of sewing thread holder ideas!
"DISCLAIMER: Sew Some Stuff is a participant in the Amazon Services LLC Associates Program, an affiliate advertising program designed to provide a means for us to earn fees by linking to Amazon.com and affiliated sites.
This post contains affiliate links."
SUPERB Sewing Thread Storage Ideas
Store bought sewing thread organization ideas
A thread organizer rack is one investment that you will never regret if you would like to set up a lifelong sewing room. It comes in several different sizes and you can choose the one you want based on the number of threads you have. It's a quick and easy storage solution and does not require any DIY. Click here to get more information about this thread organizer rack.
---
This sewing thread box is perfect for a small collection of threads, especially if you're on a tight budget. It's spacious enough to store several threads and can be easily placed anywhere you like because it doesn't take up much space. Click here for more info on this sewing thread box.
---
---
This sewing thread organizer can be placed in drawers and is perfect to prevent threads from winding up together. Click here to find out more about this sewing thread organizer tray.
---
This is a great vertical thread holder but it can hold LOTS of thread. Click here to get more information on this sewing thread rack.
---
6. Large Bobbin Box Sewing Storage Container
The tiny compartments in this bobbin storage box are specially designed to store ALL your bobbins. This is a perfect bobbin storage solution which is also very affordable.
---
DIY Thread Storage Ideas
Let's move to the next section of the post. In this section, you will find some amazing and creative ways sewists around the world organize their threads.
1. DIY Thread and Bobbin Storage Rack: This thread rack for the wall is perfect for small spaces as it makes great use of vertical space. You can easily hang it behind your door or on top of your table to get easy access to your sewing threads.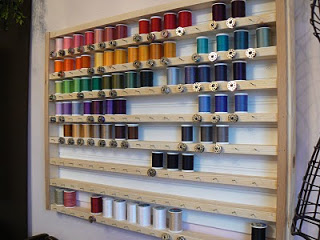 2. Using jars for storing threads based on their colors. So smart!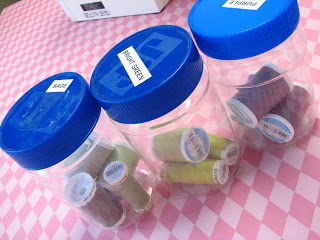 3. DIY Thrift store tray turned to thread organization tray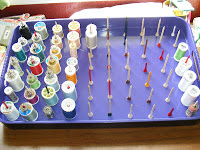 4. Stitched by me did an amazing job storing threads in a drawer. JUST LOVE how it turned out! So organized and neat.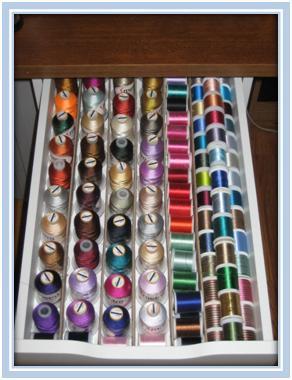 5. This is the DIY thread spool holder from Instructables. You can get a complete tutorial there. It's easy and cheap and takes very less space. Perfect for small sewing rooms and sewing nooks!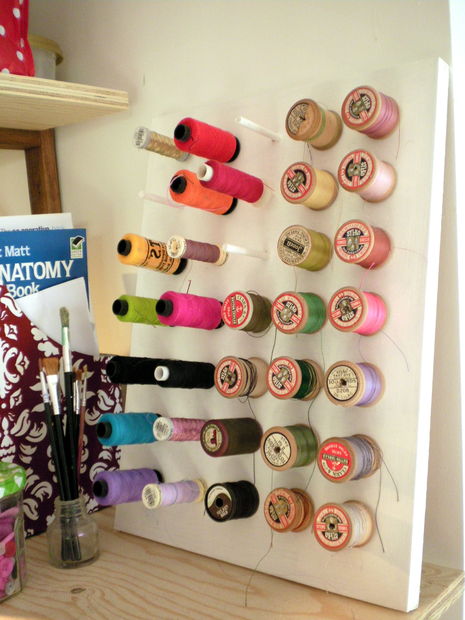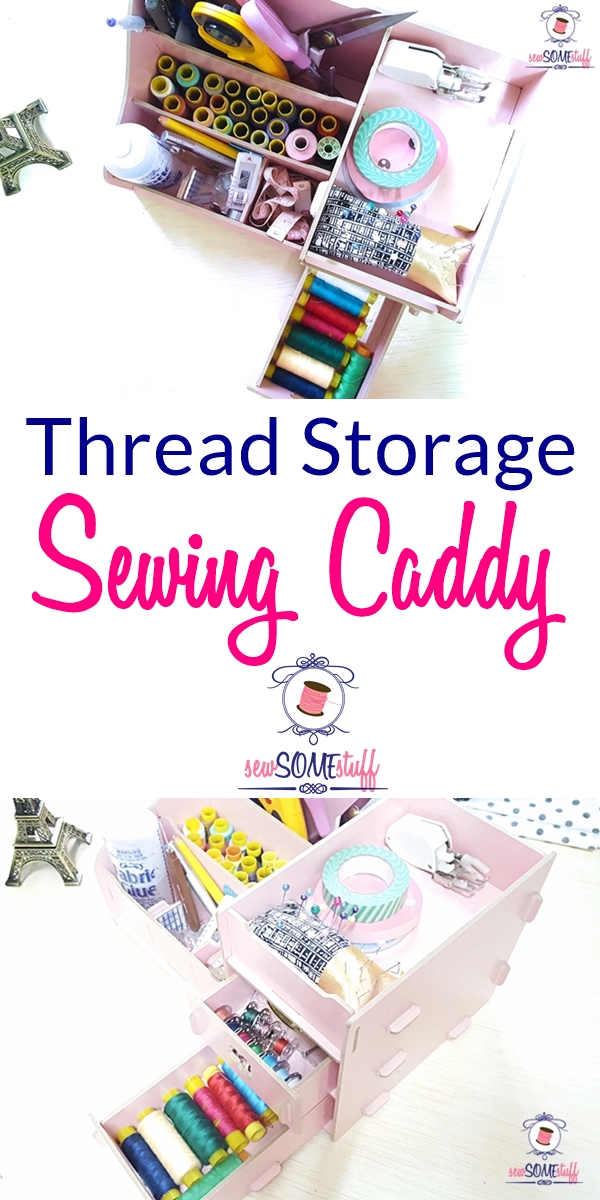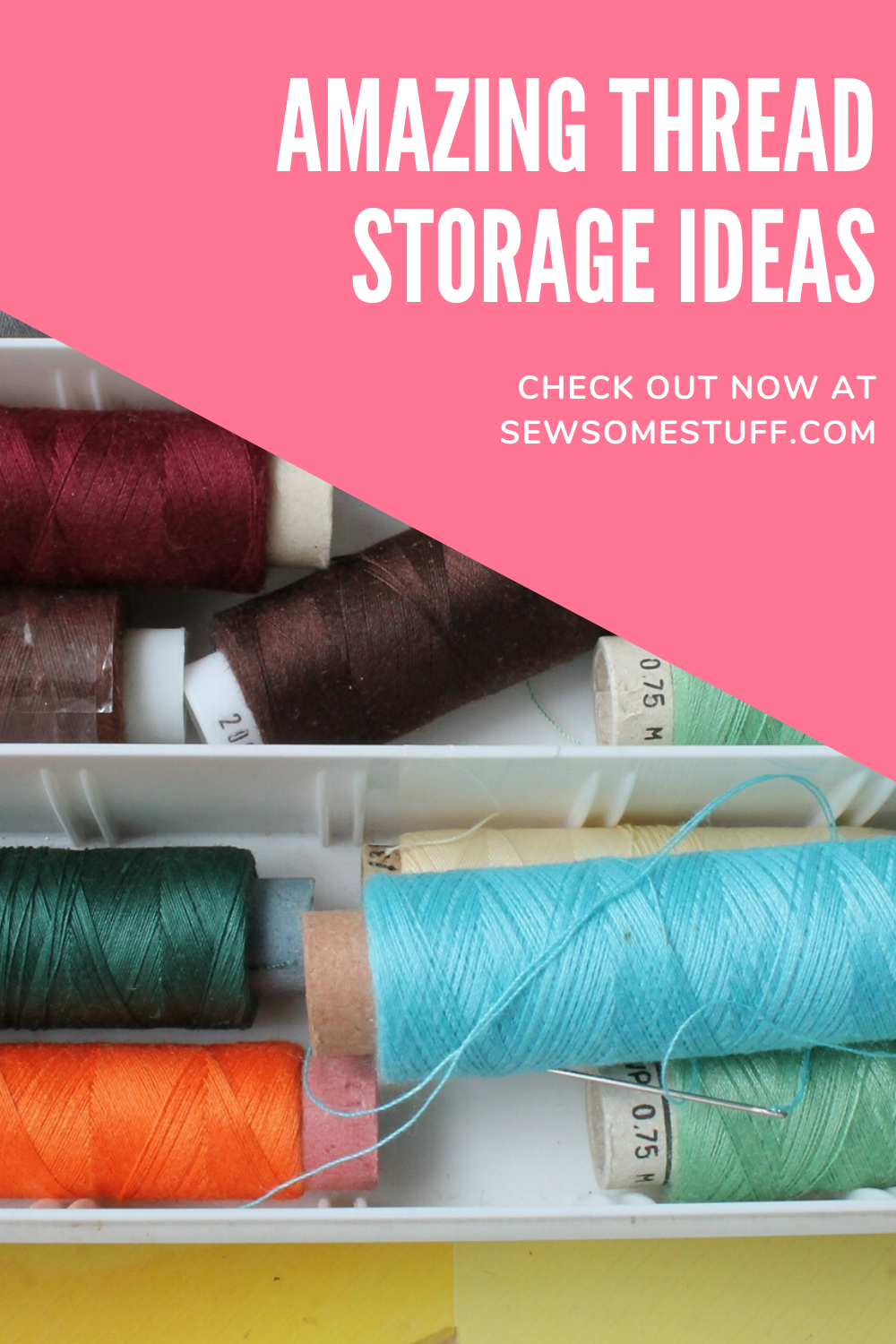 Thread Storage Ideas Part 2
For Part 2, go to the next page.