In this post, I'm sharing the best inexpensive sewing machine for beginners.
When I first started sewing it was on a Toyota sewing machine which belonged to my aunt. I was only twelve years old and hates sewing by hand. Later I started using my mom's Janome sewing machine. I didn't actually buy my first sewing machine until I was in college. That's when I purchased my first beginner sewing machine, a very basic Brother sewing machine. I think that machine is the best inexpensive sewing machine for beginners.


Best Inexpensive Sewing Machine for Beginners
Choosing your first best inexpensive sewing machine for beginners can be a VERY intimidating process, especially when you don't have someone to guide you. The experience was quite different for me, as I started sewing on my aunt's machine then switched to mom's so by the time I had to buy my own machine, I knew exactly what I wanted and I went for the most affordable basic sewing machine which I think is also the best inexpensive sewing machine for beginners.
In this post, I'm sharing some of the best inexpensive sewing machines for beginners that will help you narrow down your search for sewing machines. Use the table of contents on the right to quickly navigate to what you want to read the most.
"DISCLAIMER: Sew Some Stuff is a participant in the Amazon Services LLC Associates Program, an affiliate advertising program designed to provide a means for us to earn fees by linking to Amazon.com and affiliated sites.
This post contains affiliate links."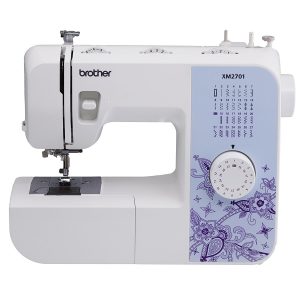 In the picture: Brother XM2701 Lightweight, Full-Featured Sewing Machine – – Very affordable. Lots of options – get more info: http://amzn.to/2szSSOp
Top 3 Brother Sewing Machines for Beginners
The 3 sewing machines given below are the TOP most brother sewing machines. The first sewing machine is EXTREMELY popular on Amazon and was bought more than seven thousand times! It's also my dream brother sewing machine. Click on the links to check out each of the brother sewing machines.
If you're on the lookout for a new machine, you will find this post helpful in figuring out what's best for you.
Do keep in mind all these machines are home sewing machines and will only be able to handle medium weight sewing.
I have included two different lists; one containing brother sewing machines and the other for singer sewing machines. I'm assuming that your maximum budget is $200 so all the sewing machines included in this list are either $200 or below. All of those machines have received 4.5 stars or above ratings.
➡ If you're in a hurry…
Amazon Best Sellers
Today's BEST SELLING Sewing Machines

Brother sewing machines for beginners
I'm personally a Brother user and I just LOVE my machine. I purchased quite an old model which is no longer available on Amazon but I think you can find it at Walmart. It's the JS1400. Although it's a home sewing machine it allows me to sew bags on it if there aren't many layers. But, the task becomes quite challenging if the layers increase. So, I will not recommend these machines if you want to do some serious bag making. Anyway, let's look at the list of best inexpensive sewing machines for beginners by Brother.
This machine comes with 37 unique built-in stitches, including a great selection of decorative stitches. Also included in the package are 8 sewing feet, with buttonhole, zipper, zigzag, blind stitch, button sewing, narrow hemmer, walking and quilting feet. It also has a top-load bobbin which is way easier to handle than the other type of bobbin loading mechanisms. I've used machines with both the mechanisms and by far my favorite are the ones with top load bobbin.

I think it will make a perfect sewing machine for the very beginner. Also, the price is quite affordable considering all the different type of stitches that are included. My machine does not include all these stitches yet I paid way more for it than the price of this machine.

This machine was reviewed by 215 Amazon users and 83% of them gave the machine 5 stars which shows it's totally worth buying. Click here to check out the recent price.
This is the MOST affordable and best sewing machine for a beginner on the list and I think would make a PERFECT gift for someone enthusiastic about sewing. It fits in the budget and comes with 17 built-in stitches and also my favorite top-load bobbin system. And the best of all is the 25-years limited warranty.

People who have bought this machine are crazily in love with it based on the 4.8/5 stars it got on Amazon. So, if you know someone in your family who wants to start out with sewing and if your budget is less than a $100 I suggest you buy this machine as a holiday gift. It will DEFINITELY make the receiver's day. You can check out the recent price here.
This is another machine which is great for someone with a budget of $100. It's almost like the XR3774 but this one comes with fewer stitch options. Instead of 37 stitches, there are only 27 built-in stitches in this one. However, more people bought this one compared to XR3774. It also has a built-in needle threader which I wish I had on my sewing machine as it would've made things SO MUCH easier. Plus, it comes with

1-Step Auto-Size Buttonholer. I think these are some great features for a $100 sewing machine.

This machine got 4.6/5 stars from the customers on Amazon where 76% gave it 5 stars. Get the current price here.
This machine is above $100 but then I think it's totally worth it due to HUNDRED built-in stitches it has which includes decorative and heirloom stitches. And you know what's my favorite part about this machine? You can do Basic Monogramming with it! Oh, if only I had this machine available near me at this price.

This sewing machine comes with a quilting table too. So, if you're looking for the best sewing machine for beginner quilters as well as sewists, I think this sewing machine would be a perfect fit. Click here for the current price.
This is another great investment for a small price if you have a budget of $200. This is a computerized sewing machine which has 70 stitches that can be customized in style with built-in clothing, decorative, heirloom and quilting stitches. It also comes with an extra wide table which can be very helpful while dealing with large projects. This machine is especially designed for couture sewing so if sewing LOTS of BEAUTIFUL clothes is your goal this machine is for YOU. Want to know the current price? Click here.

That was the list of the best sewing machine for beginners by Brother. Now let's have a look at the inexpensive sewing machines for beginners by Singer. Click the image below to go to the page with the list of Singer sewing machines for beginners.
Once again, here are top 3 Brother sewing machines in pictures.
Singer sewing machines for beginners
Singer offers a variety of sewing machines for beginners that are great for sewing simple projects and easy bags. There are a lot of models which can be bought in less than $200. However, I haven't ever used a Singer sewing machine so I can't say anything about them from my experience. I'm assuming these machines are quite good based on the reviews they have received on Amazon. I still suggest that you also do a bit of your own research before purchasing the machine.
Singer 1304 Start Free Arm Sewing Machine
This will be the cutest machine to gift to a twelve year old who is enthusiastic about sewing. Why? Because it's so inexpensive and comes with 6 built-in stitches; straight, zigzag, satin, blind hem, scallop, buttonhole.

It can perform all the basic functions and can be used for easy sewing projects. Great machine to practice sewing and is also quite popular among the customers as it received a rating of 4.3/5 stars. Get the current price here.
The best thing about this machine is it's extra high sewing speed. It also has a Heavy Duty Interior Metal Frame which ensures that the machine remains still for skip-free sewing.

It comes with 11 Built-In Stitches – essential, stretch, decorative, 1 automatic 4-step buttonhole.

It was bought by 1000+ customers and 66% gave it 5 stars so it must be quite good. Get the current price here.
You can consider this as an upgraded version of the Singer 1304 mentioned above.

It's a simple home sewing machine with 19-stitch built-in stitches. It does not have a top load bobbin system though, which I think is most common for Brother models only.

It's rated as 4.3/5 which is also quite good.
This machine is actually a better version of Singer 4411 as it comes with 32 built-in stitches – 6 essential, 7 stretch, 18 decorative, 1 fully automatic 1-step buttonhole as well as automatic needle threader is the biggest time saver which you do not find in Singer 4411.

This sewing machine received 4.4/5 stars on Amazon. Get the current price here.
And now coming to the LAST machine on the 10 Best Inexpensive Sewing Machine for Beginners list which is the SINGER 7258 an award-winning machine.
THIS machine is also best rated in consumer reports. It's also "Prime eligible".

I think this would be the best buy among ALL the singer machines for a $200 budget as it's

Computerized
Comes with 100 stitches.
TEN presser feet that can be used for sewing as well as quilting
Automatic needle threader
Top load bobbin (MY FAV as I said earlier)
Electronic auto pilot through which you won't have to use your presser foot and you can just adjust the machine to sew on its own. Awesome right? You can check out the current price here.

Plus, I think by far this is the machine that was bought by MOST customers (2,190) and 72% gave it 5 stars. So this one's definitely a winner.
➡ BEST Sewing Machine For Beginners
So, what's the best cheap sewing machine?

Based on my opinion and 7k+ reviews this sewing machine is THE best in terms of affordability, return on investment, technology and durability.

What I LOVE about this machine is that it's computerized plus it's super affordable and comes with A LOT of stitch options which makes it a perfect new toy for adventurous beginner sewists.

Watch the in-depth video of this sewing machine to find out all the specs.

Also, check out pre-owned offers on this machine here complete with Prime and free shipping.
Want more? Check out this list!


Handheld Sewing Machine vs. Normal Sewing Machine
To be honest, if you want to sew on a regular basis, you should stay away from a handheld sewing machine.
Handheld sewing machines are made by small unknown companies with limited warranty period which means they can break down anytime. They might seem practical for small nick nacks but to the idea of having to sew a project that takes hours and hours to complete just doesn't sound practical. Imagine how much pain it will give to your hands!
You can keep them around as a substitute to a real home sewing machine and use it for basting when you don't want to hand baste a project but don't buy a handheld sewing machine if you want to sew a complete project on regular basis.
But, if you're looking for a machine to do small jobs like fixing a small hole in the seam or maybe if you want a small and portable sewing machine that you can carry around with your while touring the world, you can absolutely go for a handheld sewing machine.
Mini Sewing Machine vs. Usual Domestic Sewing Machine
A mini sewing machine works in a somewhat same manner as a handheld sewing machine. Again, these machines are made by unknown small companies meaning they won't last long.
I once purchased a small machine that was extremely light and easy to carry. However, after 1 year of use, it got busted. It wasn't that cheap either just half the price of the simplest Brother sewing machine.
My cousin got the same machine to use in a different country but for her, the machine never worked good enough to sew. It would work and stop all of a sudden. And now the mini sewing machine just sits there in her closet.
The best thing to do if you want to sew a lot is to invest in a proper domestic sewing machine from reputable companies like a brother sewing machine or a singer sewing machine.
Sewing machines from these companies are reliable and long lasting. They have a fully supported customer service that you can take help from if you run into an issue. The machines from small companies do not come with any such help. When my mini sewing machine got busted I just sat there helplessly and eventually I had to throw the sewing machine out.
The End
Okay, that brings us to the end of the post where I shared 10 Best Inexpensive Sewing Machine for Beginners. I hope you gained some great information through this post and if you did do share this post with your friends who love to sew too.
Also, check out:
6 Best Sewing Machines for Making Clothes
15+ SUPERB and Affordable Sewing Thread Storage Ideas
11+ WONDERFUL Fabric Storage Ideas for Sewing Rooms
6 SUPER Cheap Sewing Room Organization Ideas to ROCK your Room