Okay, IT'S OFFICIALLY FINALLY HERE! Sorry for the caps and all the excitement, but I just can't help it. Today I'm releasing an official SEWING PATTERN which went through all the official stages of reviewing and editing. You must have seen it earlier on Facebook so it won't be that much of a surprise.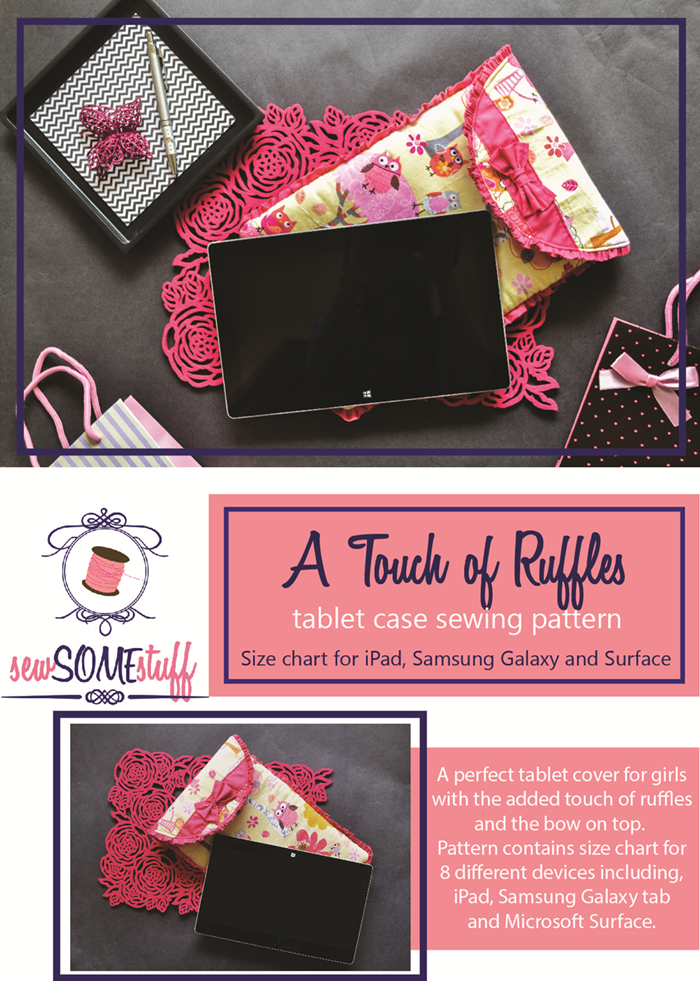 The pattern was born because I purchased surface tablet and needed a tablet cover pattern to make one for myself. But, as usual nothing looked fancy to me so I designed my own with ruffles and all. The whole sewing was done way back in January, followed by the whole process of writing the pattern, looking for testers, working with testers, editing and final publishing. Whew! It was quite a long journey. It was my first experience and  truly speaking I learnt quite a lot of new things. The most exciting part was seeing how the testers' sleeves turned out. 😀 That was one thing I had been waiting for quite impatiently.
Now let's talk about the details of the pattern.
A Touch of Ruffles – Tablet Cover Sewing Pattern
One thing I've always wanted to do is to keep my readers always happy and this thought drove me to the idea of giving the future customers value for money. I wanted everyone to be able to sew this pattern no matter what type of tablet they had, without frustrations about the sizing and measurements. I thought that a lack of size chart would just kill the buzz from the start. Don't you agree? So, I included a table and a set of flap templates so that you can easily sew this pattern for not one, not two but EIGHT different devices that means now you can use it as iPad sleeve pattern, Nook tablet cover pattern or as a pattern for any of the other 6 devices listed!
Since mine is a Surface the finished size of my case is 12.5″x8″.
Here's a list of supplies and notions used for this tablet cover pattern:
Supplies
½ yard of exterior fabric

½ yard lining fabric

½ yard accent fabric one

½ yard light- weight fusible interfacing

¼ yard fleece

½ yard batting
Notions
Since there were different types of devices involved, my aim was to find at-least one tester for each device. But, I guess the other devices aren't very common or something because I mostly got people with iPads. Nevertheless, the couple of testers that I selected did quite an amazing job. I'm so thankful to them for providing me with their honest opinions which helped in improving the pattern. Love you girls! Here are their reviews about the pattern and some of their works.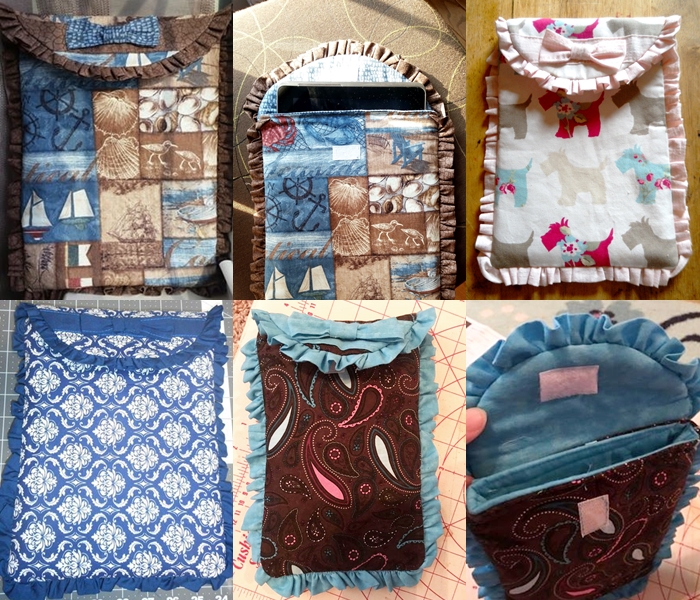 "The ruffle made it look cute. The pictures are helpful to us visual people. I loved working on this pattern. I would make a couple of small modifications. I would increase the size of the ruffle and I would also suggest Timtex or heavy weight interfacing under the snaps for stability. I also found the by bringing the ruffle to the top of the pouch it got caught in the seam and curled under. Basically I think the final product is cute and the padding will definitely protect the device."

 

"It is super adorable. I really liked the pattern. But as I typed before Threw experience I'D rather Sew when possible then Glue. Even if gluing is recommenaded. That's Me !! I like your style, it's great. I like the way you wrote the Pattern and you make it come out "Wonderful" I just have a habit of re- reading patterns. Sorry. It's not you, it's the way I was taught."

"Everything" !! Thank You. I sewed it with no problem.The pattern was right on the money. This pattern is too cute. Love the edge ruffle accent. Pattern is well written."

 

"The flap was so quick and easy to make. Except for difficulty keeping the ruffle from disappearing into the seam I found the entire pattern a lot of fun to out together and would definitely make it again. This tablet sleeve pattern is very feminine and great for an adult woman or young girl. Detailed pictures throughout the pattern are a great reference for times that you may be feeling like you did something wrong. A great weekend sewing project that will up your tablet street cred."

 

"The design is very feminine and would work well for an adult and child. I like that you provided links on how to cut with rotary cutter and without. I enjoyed the pictures that went along with each step, it was very helpful. What fun I had making this cute tablet sleeve! The hardest part of making it was choosing what material to use. Too many choices! Pretty straight forward instructions. The ruffles may take a little patience for a new sewer but well worth the time. Just beautiful when done!!"
Hope you all enjoy sewing this pattern and won't have to go through any troubles. I have received so many compliments on it and I hope the same for you. Thanks so much for reading this post. 🙂