Today I'm sharing some more information about the Seema Bag sewing pattern which will be releasing soon! There's something VERY special about this sewing pattern which makes it different from other sewing patterns. Read till end and you will find two awesome surprises!
But, before we proceed, I would like to introduce everyone (who are not aware yet) to the Seema Crossbody Bag sewing pattern.
Disclaimer: Some of the links in this post are affiliate links and I will receive a small compensation for any purchase made through these links.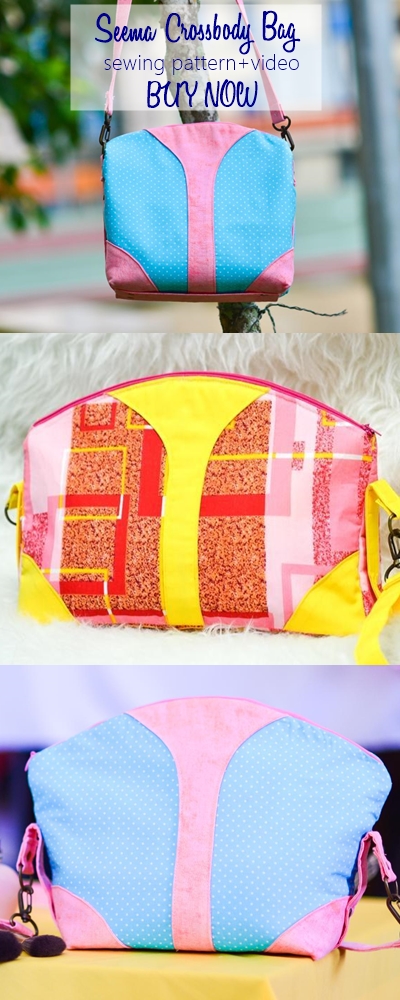 Seema Crossbody is the new bag pattern which is now available on the Etsy shop. I designed it for everyday use and quick shopping trips as it's big enough to hold wallet, keys and other small stuff. 
Features of the bag
Two design options: the bag comes in two different designs, version A (I'll save that look for later) and version B (template is included for both).
Two zipper pockets: one inside the bag and one outside at the back. The inside zipper can be used to store important stuff whereas you can use the outside pocket to keep a pen or your phone to access it quickly. Personally I use the outside for the phone. 
The best thing I like about the bag is the side support and the rivets, I just LOVE how it turned out and I really recommend everyone to have it to get the best out of the design.
Two printing options: the pattern also contains to different sets of templates. One graded for letter size template for US customers and the other graded for A4 sized papers for international customers.
How awesome is THAT!

Problem….
Okay now I want to ask you a question. Have you ever found yourself stuck at some point in a pattern not knowing where to go? Wishing, if only you could SEE the whole step LIVE? I know how it feels. Once I was stuck in a place for THREE days! How I wished someone SHOWED me how to do that step. 
And… I don't want MY customers to feel that way. I want to make lives easier and the sewing process a complete FUN. Therefore….I have something great for you. Read on.
Even better 
Now, coming to the special thing about this bag pattern which is while buying this pattern you will have the option to either just purchase the pdf file with written instructions and pictures OR buy the file WITH a COMPLETE video tutorial showing you live how to do each of the steps on the bag so that you would be able to follow all the steps without getting stuck. The aims of the video tutorial are:
to make the bag sewing process easy for the beginner

to clarify any confusion regarding the steps

videos are just so much easier to follow.
Are you excited about THIS special feature in the new bag pattern? What are you waiting for? Get the pattern now and start sewing! Just click on the red button below.

Check out some of the awesome tester photos below: