In this post I will be introducing you to the BRAND NEW Trendy Trapeze Bag sewing pattern.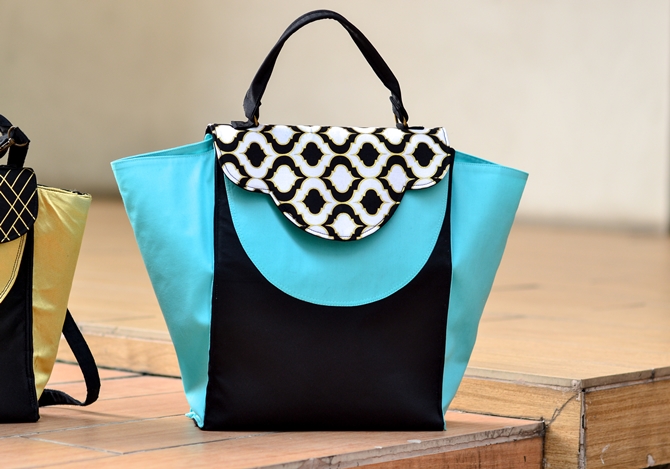 I had been thinking of making this bag for almost a year now, seriously. But, just didn't get the time. This is also a good thing as I got time to improve my pattern designing skills and now I can provide you with an easy to print and use perfectly designed patterns. 😀
Details of the Bag
This trapeze bag has very simple sewing steps. There are only 7 important pieces of the bag. Can be 3 more if you count the zipper and organizer pockets which are totally optional. This means you can finish this bag real quick once you get the gist of it. The bag can be made using any type of fabrics; quilting cotton, upholstery, canvas, denim, etc.
The best thing is that the bag comes together quite easily. No tricky parts I promise and since there are no tricky parts I have skipped the video tutorial for this bag.
There are two sizes of the bag. Smaller version for everyday use and bigger version, PERFECT for office use as it can easily fit my (affiliate link) 13″ Hp laptop both horizontally and vertically. These are the sizes for the small and big version:
Small Trendy Trapeze
Height: 10″
Width: 10″ from the bottom; 16″ from the top
Depth: 3.5″
Handle drop: 6″
Big Trendy Trapeze
Height: 12.5″
Width: 10.5″ from bottom; 19″ from top
Depth: 3.75″
Handle drop: 6″
The outside pocket serves as a hassle free spot for storing keys, access cards and small change. Whereas the easy to access inside space is great for keeping wallets and pouches. You can also add a zipper pocket inside if you like.
Comes with directions for recessed zipper at the top.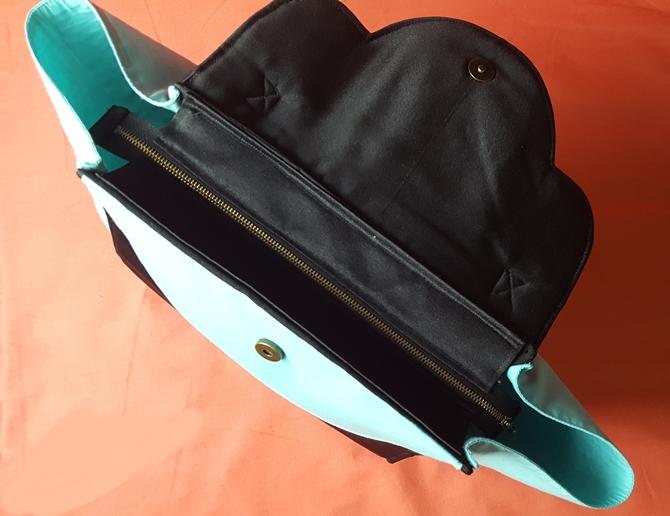 Get the pattern now.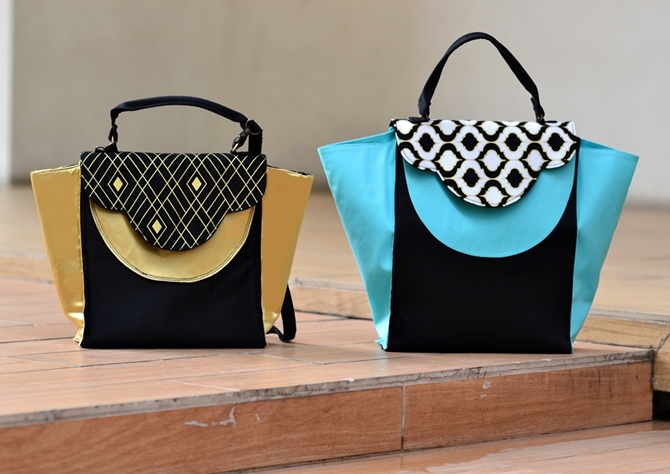 Supplies
• 1 yard main fabric (upholstery or quilting cotton)
• Fat quarter of accent fabric 1 (upholstery or quilting cotton)
• 1 yard of accent fabric 2 (upholstery or quilting cotton)
• 1 yard lining fabric (upholstery or quilting cotton)
• 1 yard woven interfacing (Pellon Shapeflex SF101)
• 1/3 yard of fusible fleece (Pellon Thermolam TP971F)
• 2 1″ D-rings
• 2 1" swivel clips
• 2 8″ zippers
• Walking foot
• ¼ yard of Plastic canvas
• Magnetic snaps – 1 pair
• Fabric Glue
• Wonder clips
• Fabric Markers
Check out the pictures below by the amazing testers.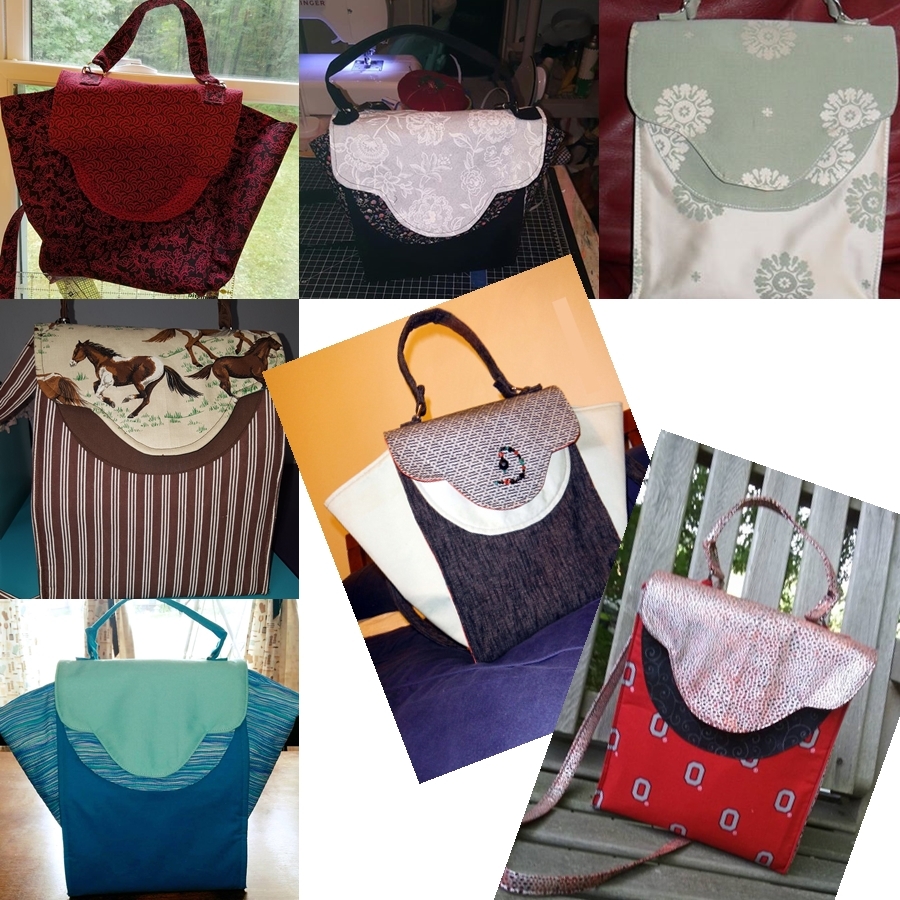 Here's what the pattern testers had to say about the bag when asked what they loved most about the bag:
"Ease of just top stitching everything to finish and size."
"The overall finished size and look."
"The different pieces & the juxtaposition of the shapes."
"The flap and zipper pockets."
Soooooo, would you like to get the Trendy Trapeze sewing pattern? Buy it NOW!