Black and white with gold accents is one combination that NEVER gets old and is quite trendy these days. I myself am a HUGE fan of the combo and in this post I'm sharing 13 super UNIQUE things that would make PERFECT gift for anyone who LOVES the combination of black, white and gold. 
These ideas are a perfect substitute to the boring old mugs and are quite affordable as they all fall below $50. So check them out and buy the perfect gift for your loved one.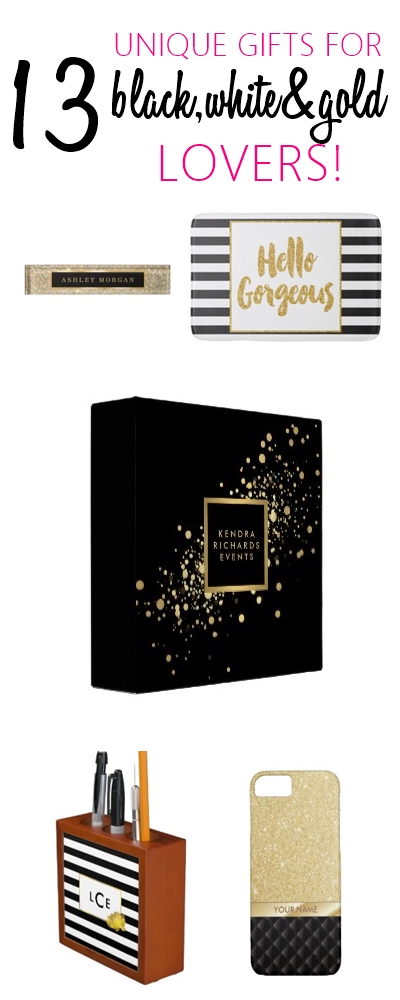 Pin this image on your board for reference
Disclaimer: This post contains affiliate links and I will receive a small compensation for any purchase made through these links.
13 Unique Gifts for Black, White&Gold Lover Under $50
Desk Organizer
Anyone who LOVES black and white stripes would definitely go nuts for this one. You can even get a custom monogram on it. I think this desk organizer would be perfect for any working woman and college student. Buy it now.
2. Mouse Pad
This is another example of a great personalized gift for literally any girl no matter what the age. Get it now.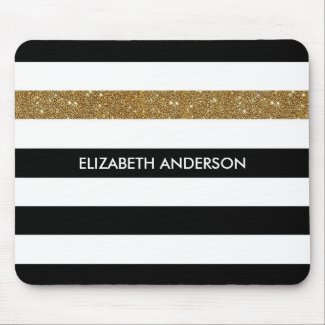 Modern Black Stripes FAUX Gold Glitz and Name Mouse Pad
by ohsogirly
3. Fleece Blanket
Check out the measurements and details of the blanket here.
4. Quote Wall Art 
Perfect room decor accent for a teen girl or a college girl who LOVES stripes. Click here to find out the size.
5. iPad Air 2 Case
This striped iPad case with the cute little heart would just make anyone's day who can't get enough of stripes. It makes a bold fashion forward statement. Get it now!
6. Gold Throw Pillow
A must have for anyone who LOVES bling-bling. Get one now!
7. Bath Mat
Oh this is my FAVORITE gift on the list. Stripes + gold and the message on the mat just make this mat a total MUST HAVE.
8. Desk Name Plate
9. Chevron Tote Bag
10. Passport Holder
Great for someone who LOVES to travel all the time.
11. iPhone 7 Case
12. Flash Drive
13. Binder
Want more ideas? Check these out below:
That's the end of the list where I showed you 13 UNIQUE gifts for black, white and gold lovers. Thanks so much for reading! Do check out the other gift guides below.