I LOVE Instagram. It's a PERFECT place to find inspiration for anything and everything, without having to click over. If you ask me, I personally LOVE stalking bag makers to drool over their gorgeous handmade bags. And that's how I found Cheryl – the craft show Queen – as I like to call her and you will find out why, in this post.

Hey! Pin this image on your Pinterest board to refer to it later. Also, share with your friends on Facebook
I got the amazing opportunity to interview Cheryl all the way back in the beginning of this month. I had plans on sharing it right away instead of today but things didn't go as planned.
You must be wondering now what on earth happened in those roughly 29 days that sucked the time out of my life. Well, a lot. I had my FINAL semester FINAL exams followed by submission of a super fat Bachelors thesis, plus I had to finish off sewing Busy Bee Wristlets that I planned on selling online as you might have read in my previous emails. Now, with the end of the month, all of that is behind and I finally got the time to share with you the interview packed with golden nuggets on how to rock your craft booth sales.
---
How to Rock Craft Booth Sales 
Before we begin, let me give you a little intro. Like I mentioned earlier, I LOVE stalking talented crafters on Instagram and that's how I stumbled upon Cheryl's profile. I was AMAZED by her craft booth set up and all the supplies she had stocked. And every few days she would post a picture of her booth at a new place which blew me away more. Like, HOW DOES SHE DO THAT. And that's how I began to address her as the Craft Show Queen. Really you need to check out her Instagram profile to know what I'm talking about. I thought this girl's got some superb talent and experience which could benefit ALL the crafters/sewists etc. out there and that's how this interview came to be.
I would like to thank Cheryl from the bottom of my heart for taking her time out to patiently answer the questions in the interview and helping us all out.
Let's begin!
Craft shows are really great to make a solid income by selling your handmade beauties. They CAN help you earn a full time income by doing something you truly, madly love BUT….you need some solid tips to make it right.
Sadly, very little info is available on the internet about excelling at craft shows for home based business owners which is why I thought an interview with Cheryl can help all the stay at home moms out there who would love to turn their crafting hobby into a full time income making more money than Kim Kardashian (hopefully) one day.
So without further delay, here's the interview with Cheryl where we talk about making the most of craft booths. You can listen to the entire interview through this audio file.

Or if you would like to catch the summary, you can read the post below.
---
Quick Tips to Increase Craft Booth Sales
DISCLAIMER: Some of the links in this post are affiliate links and I will receive a small compensation for any purchase made through those links.
Do not get discouraged. You might have to do several shows to finally make the first few sales, but if you really want to make it work, you need to keep on going.
If you are looking for a long term success, you need to look at it as a job and not a hobby.
Give a lot of thought into setting up the display. That's what attracts the customers.
You can easily find the locations for shows using Google search especially if you live in a big city.
You need to be a people's person to be a successful craft show host because you need to interact with the people and build a relationship to eventually get them to become your customer.
Wristlets sell the most because they are lower priced items.
Use a craft calculator app to figure out how much you should charge.
Sew in bulk (production line sewing) to save time.
Keep some lower priced items as they sell fast and helps in bringing repeat customers.
Using grid walls is the best way to display your stock.
Don't forget to put a price tag on everything because sometimes people are too shy to ask.
Lastly, always have your business cards on hand to give it out to people so they can reach out to you later.
---
More Craft Booth Help
Want more tips on boosting your craft booth sales?
Check out this amazing book "Make More Money at Craft Fairs" by someone who earns full-time income from craft booth sales.
Click here to check out more info about the book and download the FREE chapter!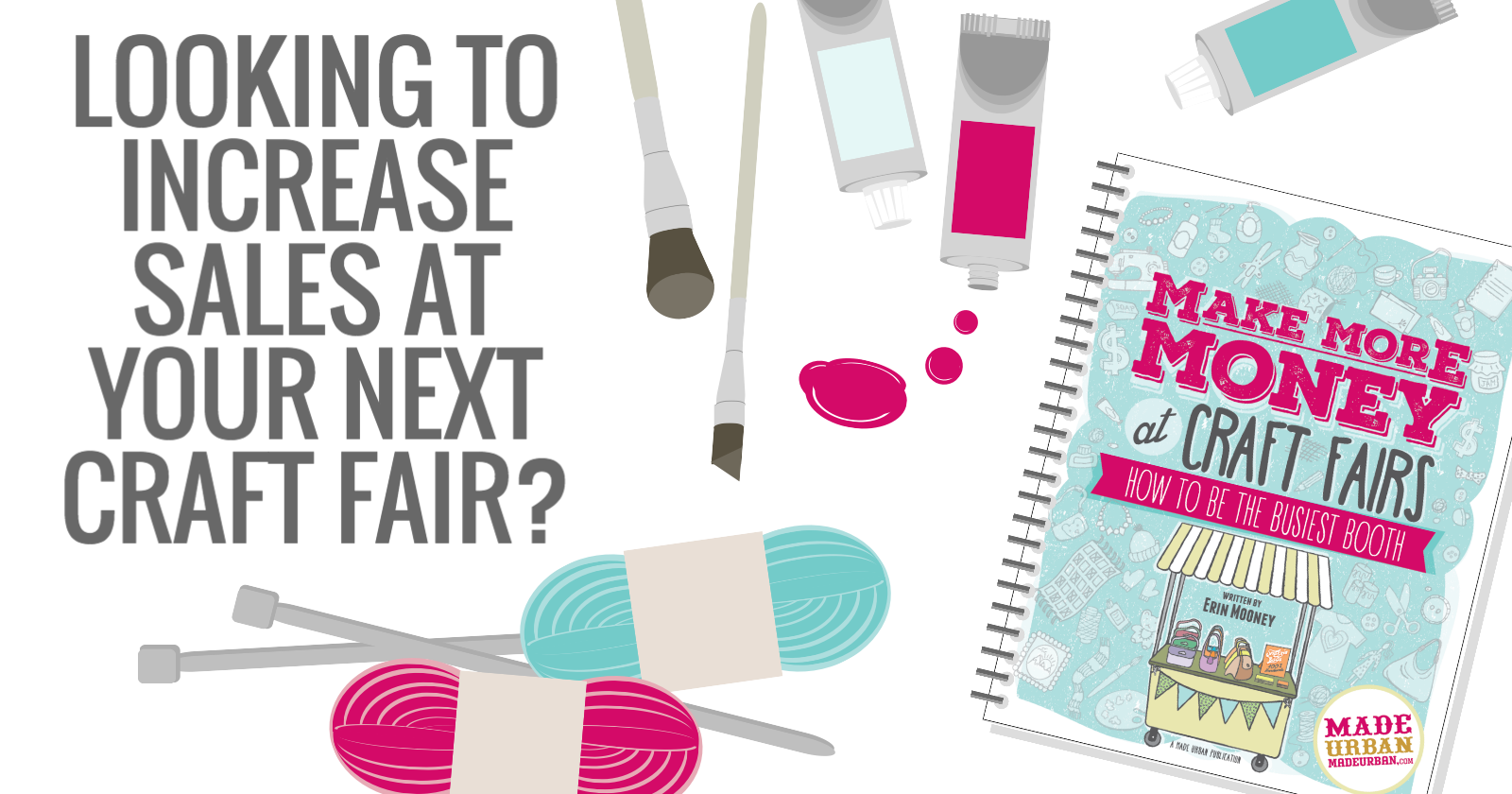 ---
The End
Alright, with that we have reached the end of this wonderful post where you learnt all about making the most of your craft booth and increasing your sales. I hope this would help you in turning your side hobby into a full time home based business.
Make sure you visit Cheryl on Facebook and Instagram and thank her for sharing all this wonderful info.
That's all for now!

Hey! Pin this image on your pinterest board to refer to it later. Also, share with your friends on Facebook
---
PS. Not Interested in Craft Shows?
If you would like to try your hands on something other than craft shows like selling online through Etsy or your own site, subscribe to the newsletter below and stay updated with online handmade business tips. You will receive an email every now and then with lots of tips and how-tos.