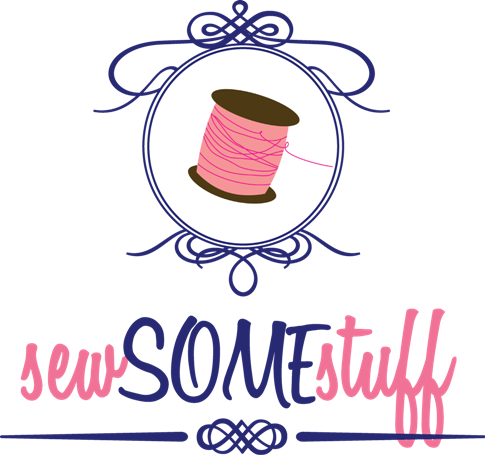 Monscorn Bag Sewing Pattern+Lesson
Say NO to boring, low quality backpacks! Sew Monscorn Backpack, something your kid can't wait to take to school!
[tcb-script src="https://gumroad.com/js/gumroad.js"][/tcb-script]
Are you looking for an adorable yet easy backpack to sew?
Something which can be passed down from older child to the younger one?
Something which can easily fit an iPad and other important school stuff?
Well, I have an AWESOME backpack pattern+lesson for you!
MEET MONSCORN BACKPACK (lesson+pattern)!
A detailed step-by-step sewing lesson for a functional and sturdy backpack.
Monscorn Backpack – something guaranteed to bring smile to your kids' adorable face.
What's so Awesome about Monscorn Backpack?
features a simple yet unique design perfect for beginners

has an optional external lunch box pocket to store your kids' lunch

includes a tablet pocket inside the bag with extra padding

pattern contains instructions for sewing the Monster or the Unicorn version of the bag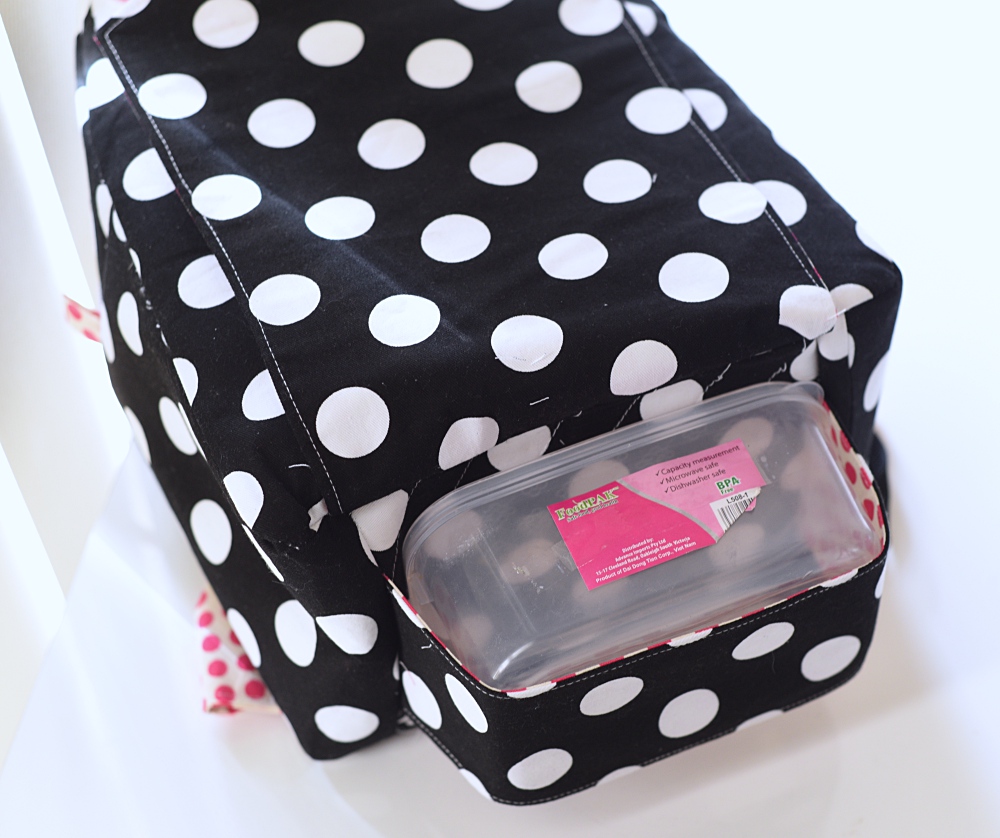 What you will get when you purchase this lesson:
24/7 Facebook group support for any questions
24 pages of step by step detailed tutorials with pictures with pattern to cut out the shapes for the bag pieces
Can be printed on both "letter" and "A4" size pages.
Instructions on using both vinyl and woven fabric for accent pieces (vinyl makes your bag look more pro 😉 )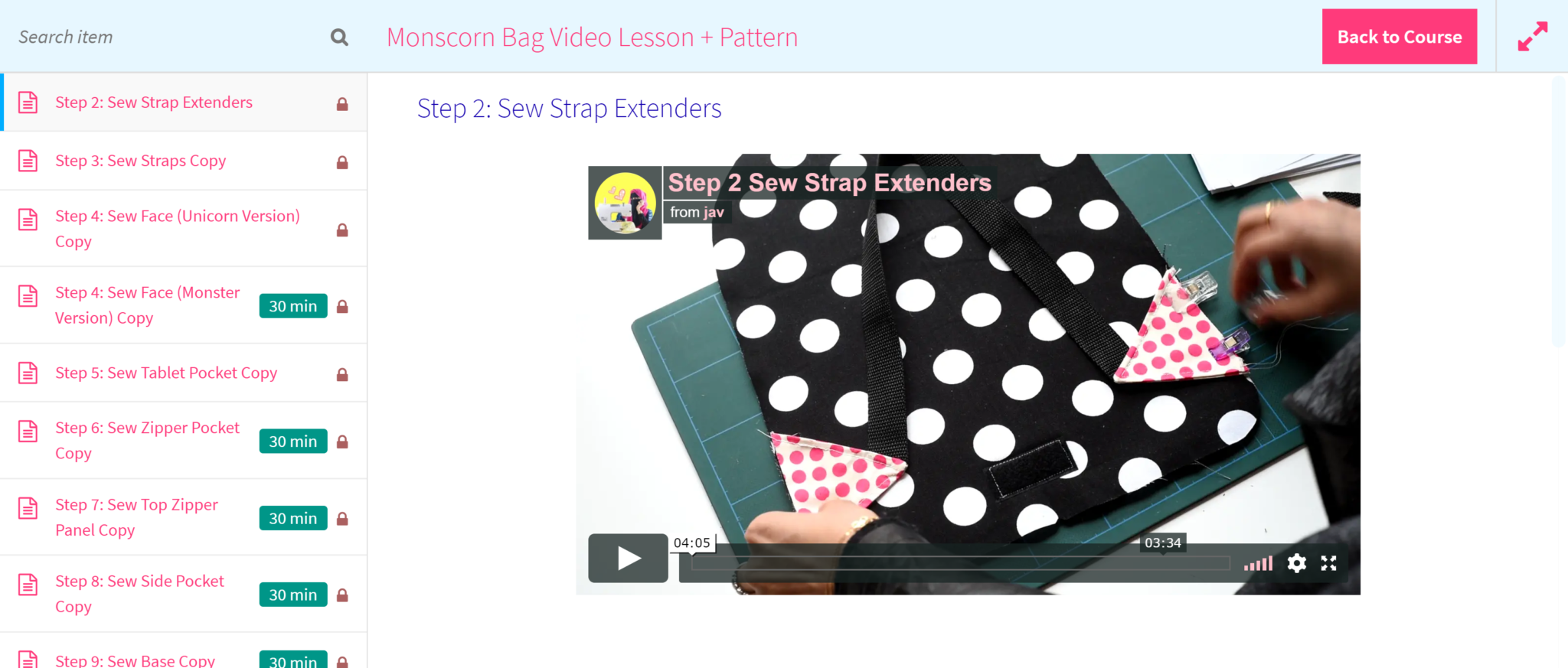 PROFESSIONALLY HOSTED 24/7 ACCESS TO VIDEO LESSONS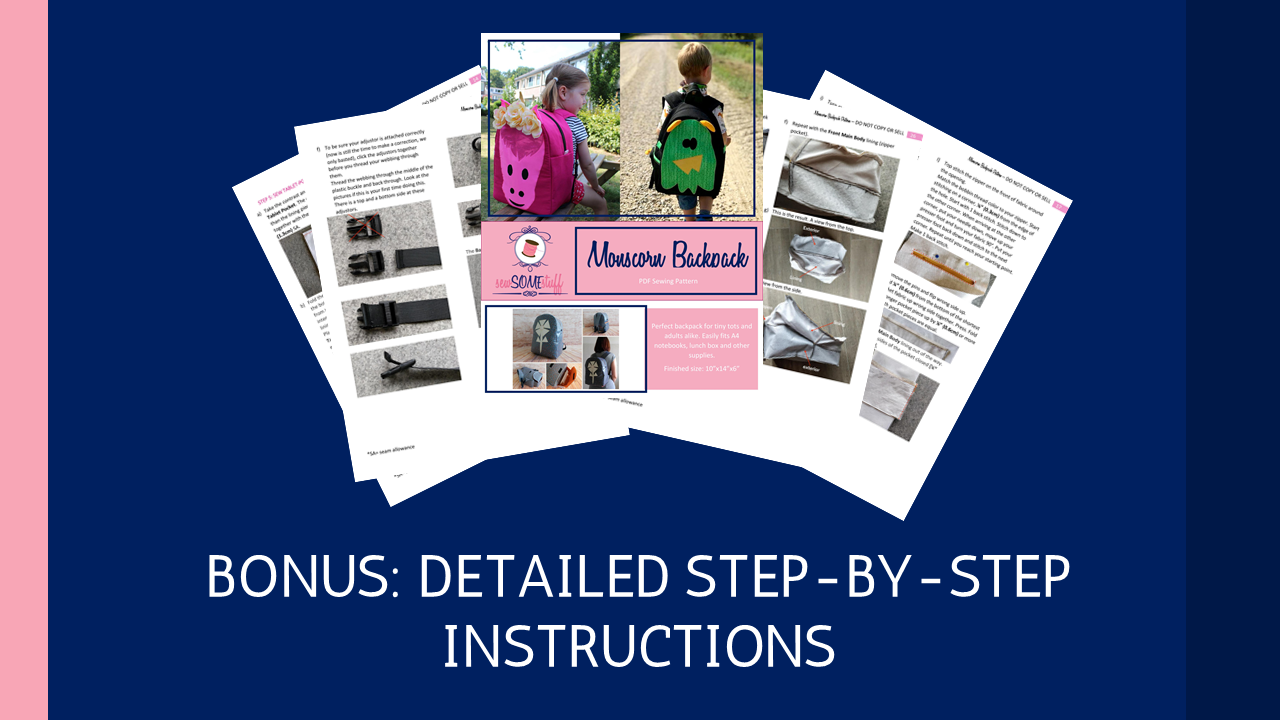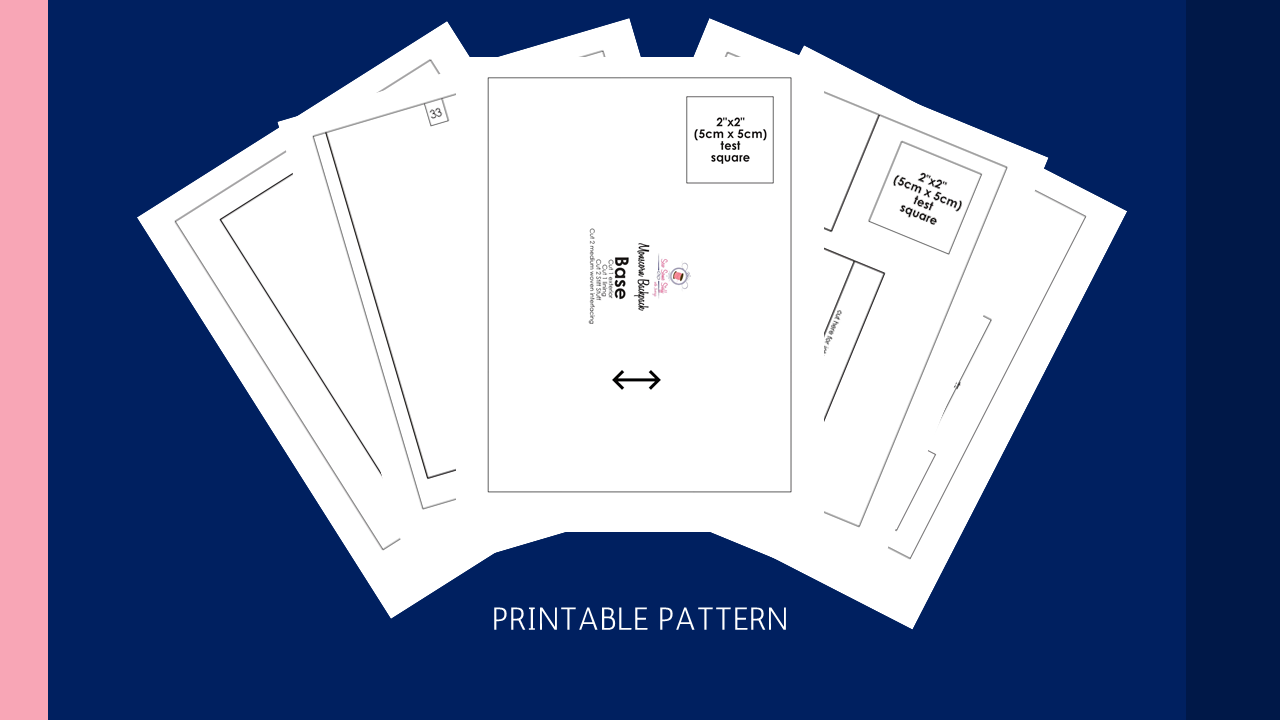 ALL THIS FOR ONLY US$15.99
A little about Sew SomeStuff
Sew Some Stuff sewing pattern store is home to fun and unique collection of bag sewing patterns with friendliest customer service on the market.
All sewing patterns in the shop first go through a detailed round of testing where 8-10 awesome bag makers read the patterns, make the bags, point out the mistakes which are then fixed. The bag makers then proofread the sewing patterns again before it is made available for purchase. We only give you the best! I promise.
Make bags from this lesson and sell them at craft shows. With one sale, you can get back on the amount you spent on buying this lesson.
SEW SOME STUFF NO-HASSLE 100% MONEY BACK LIFETIME GUARANTEE
Sew Some Stuff patterns come with a 100% money-back guarantee…but I don't stop there. I promise, with these bag sewing patterns you will make a STUNNING bag that will turn heads and make people wonder where on earth you got such a beautiful looking bag, without struggling through the patterns.
I take your bag making love very seriously, and you have my personal promise that I will not rest until you have made a bag that you love.
I believe in my work so much, I guarantee it for life. If you find any mistakes in the pattern or you are unable to finish your bag because of some difficult step, just send me an e-mail at [email protected] and I will immediately give you a COMPLETE refund.
If you aren't happy, I wouldn't feel right keeping your money, so I make it easy to get a refund. And just to be clear, there are absolutely no strings attached, no forms to fill out, nothing to prove and I promise I won't question you. I won't even ask for the pattern back.
Just make sure you include your name and e-mail address that you used to perform the transaction.
Just for the record, I've sold 100+ patterns and haven't had a single refund request.
In fact, I'm so confident with my work and so sure you'll absolutely enjoy sewing bags with Sew Some Stuff patterns, that I'm making this promise…anyone who requests a refund will receive, without question, hassle or delay immediate refund!
List of Supplies for Monscorn Backpack
1 yard (1m) of exterior fabric (oilcloth, PUL, canvas or another dirt-friendly fabric)
½ yard (0.5m) of contrasting fabric (canvas or quilting cotton)
1 yard (1m) of lining fabric (quilting cotton)
Depending on the monster or unicorn face you want to place on the front of your bag, you'll need some different colors of vinyl/felt/canvas. See cutting list on page 4 for information.
1 yard (1m) headliner (substitute with Vilene Style Vil or Pellon Flex Foam FF77)
1 yard (1m) of medium fusible woven interfacing (Woven Fuse, Pellon ShapeFlex SF101 or Vilene G700,)
½ yard (50cm) Stiff Stuff® from Sew Lazy® (substitute with Decovil I Light® NOT with Pellon Peltex®)
1 zipper #5 (or 4,5): at least 20" (50cm)
1 zipper #3: at least 9" (23cm)
Velcro strip: 2" (5cm) (substitute with a heavy duty snap)
2 plastic buckles 1? (25mm)
38? (100cm) webbing 1? (25mm)
Praises for Monscorn Backpack



ENROLL IN THE LESSON NOW FOR ONLY US$15.99
Monscorn Backpack Made by Others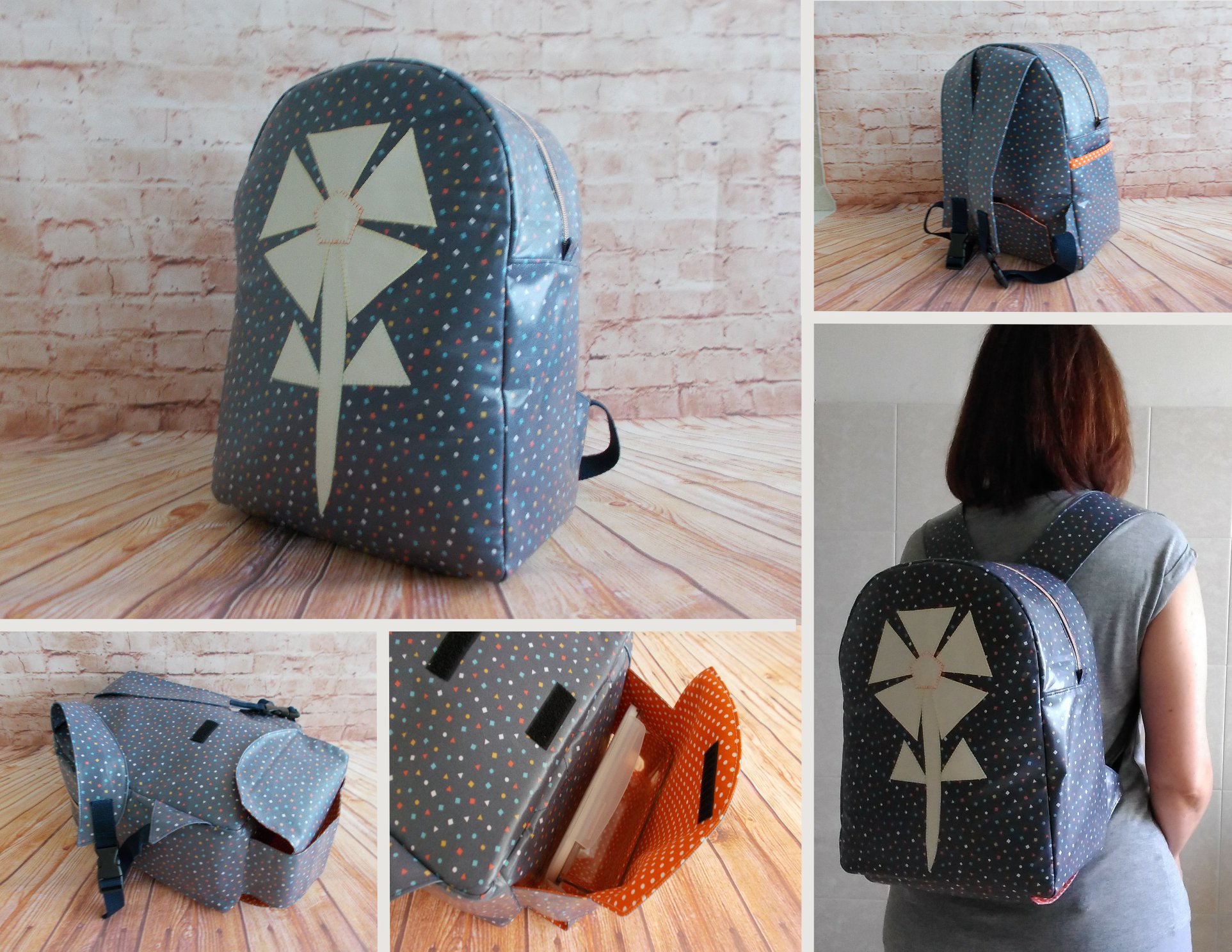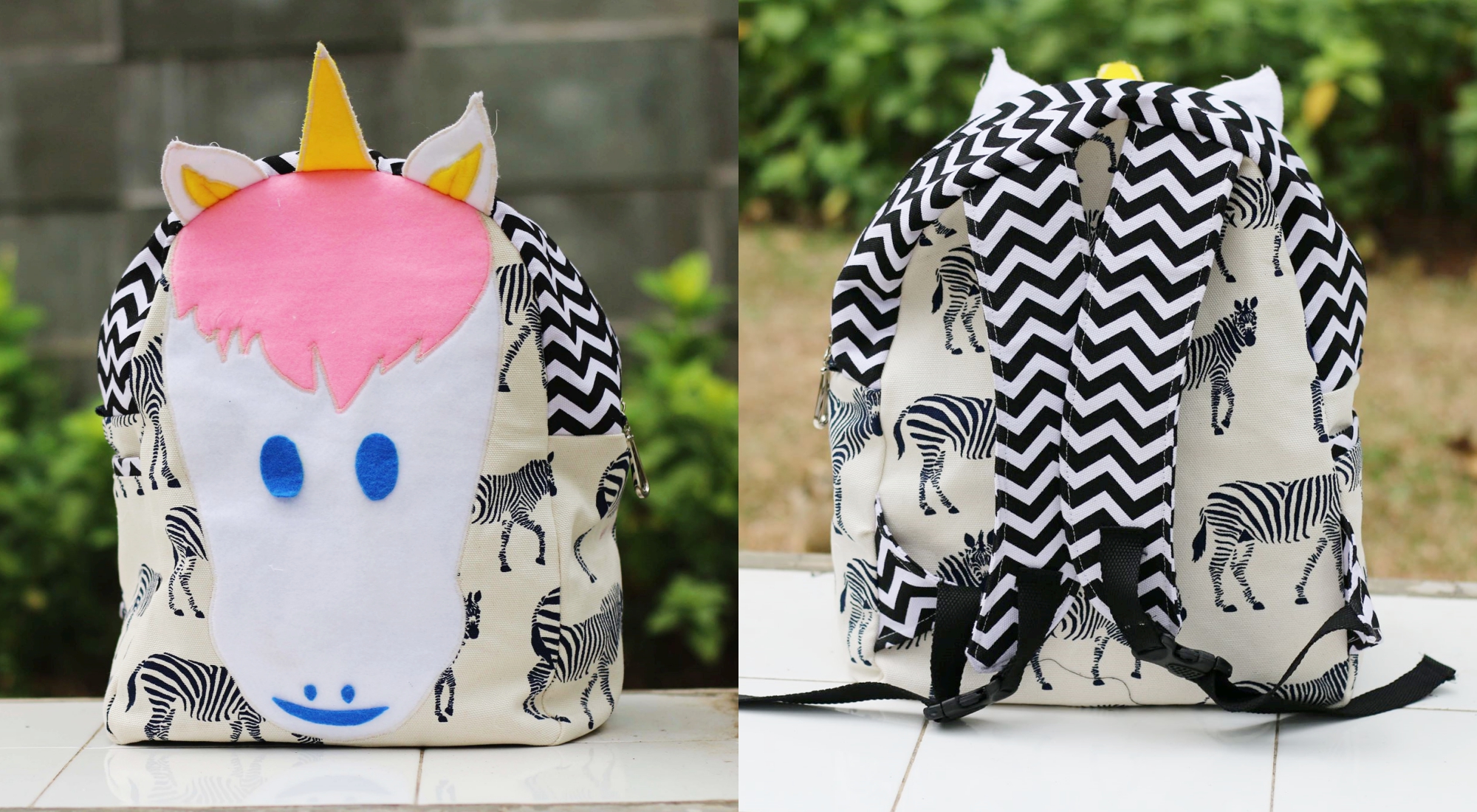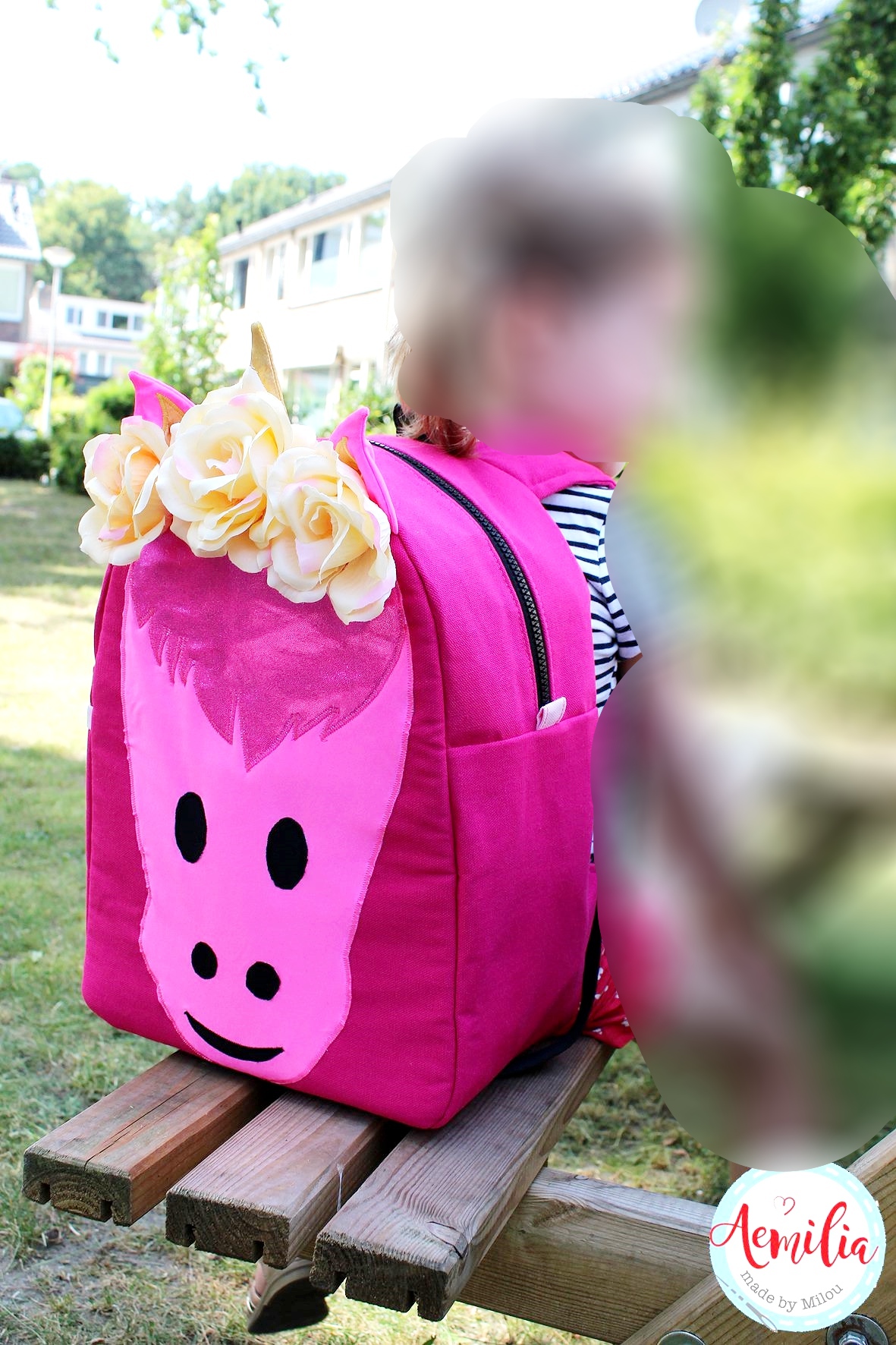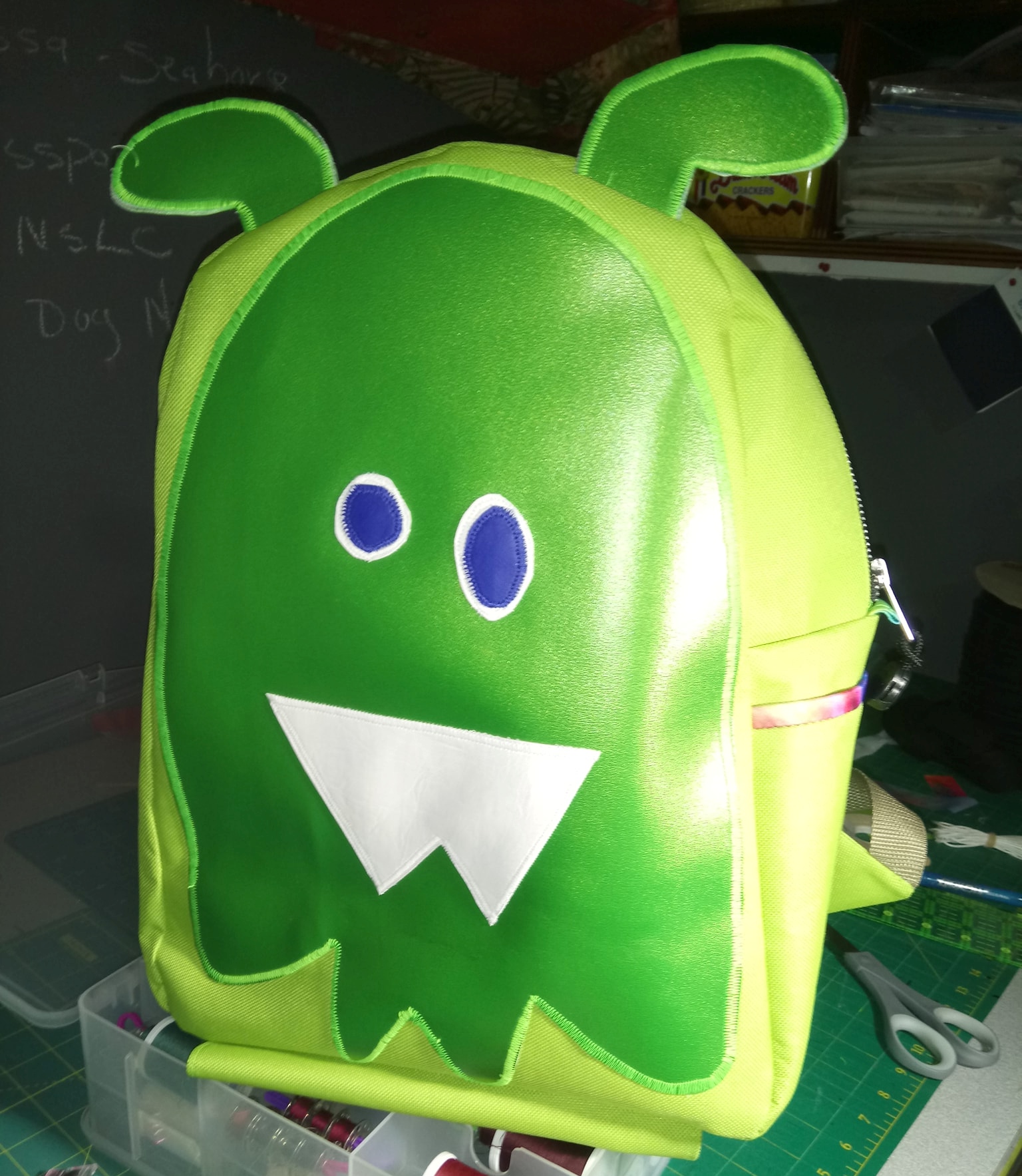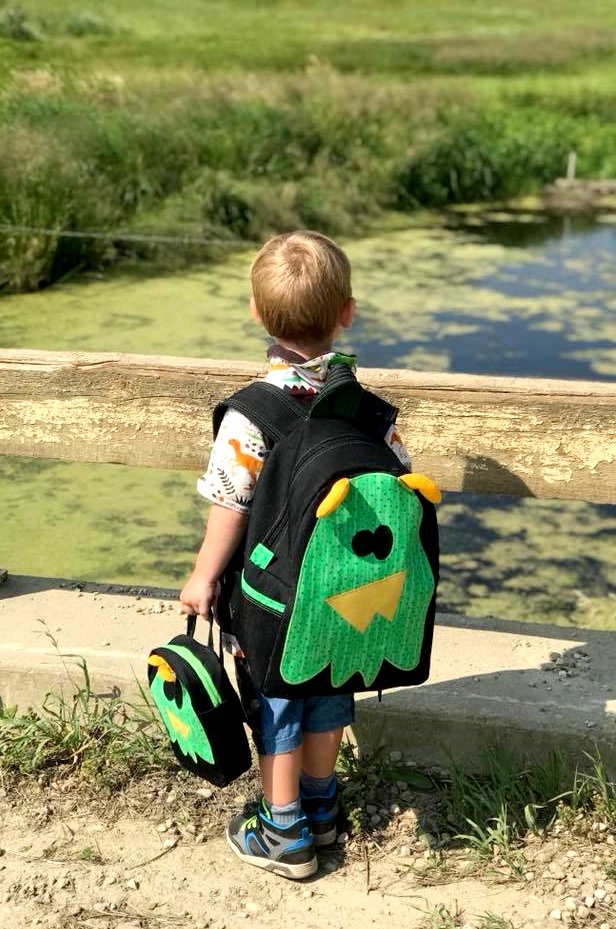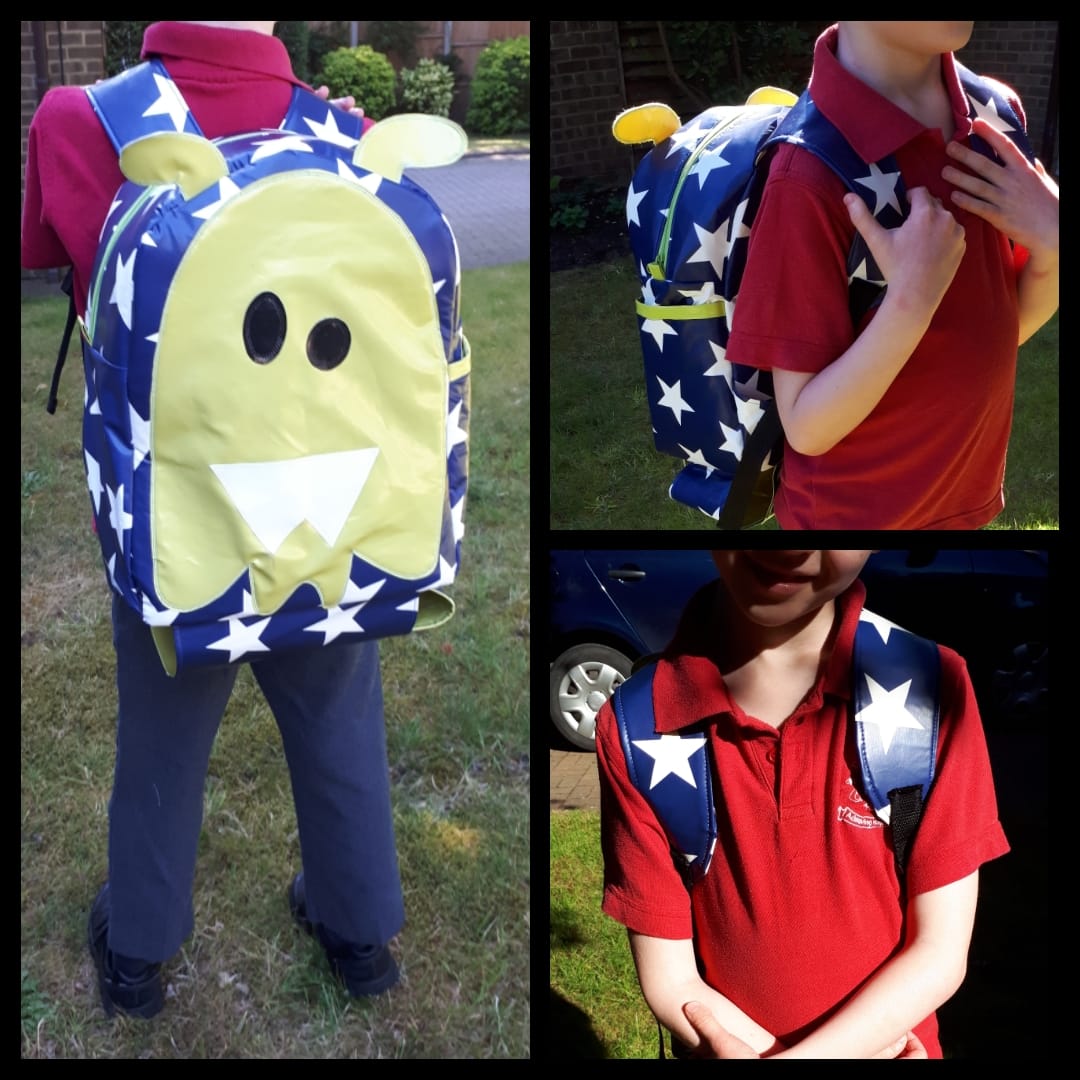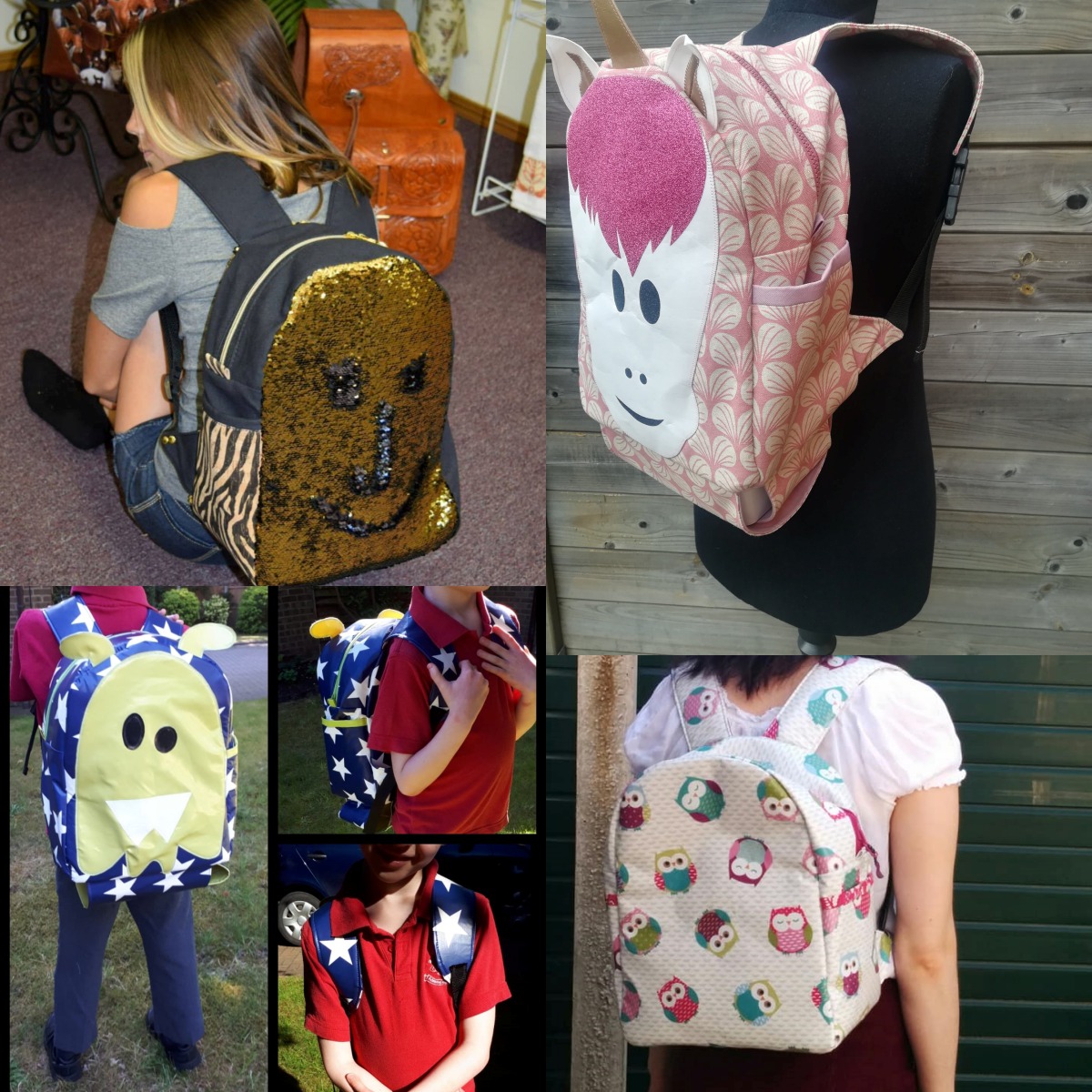 Take handmade bags to next level!
Make a special, functional bag with a professional, store bought look using Monscorn (Monster/Unicorn) Backpack sewing lesson.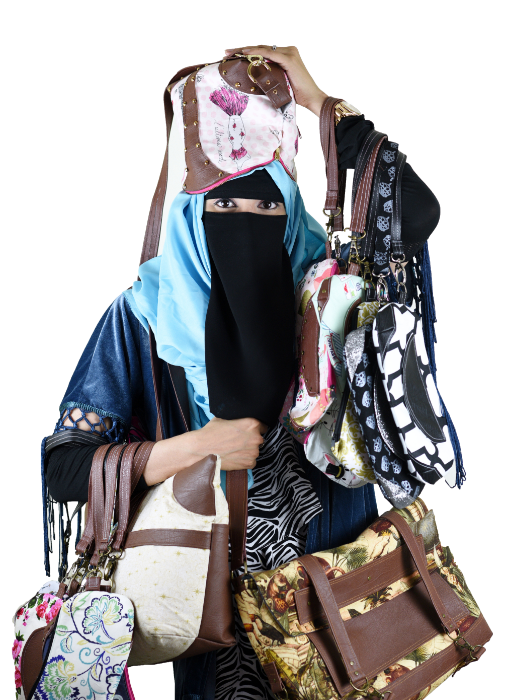 About the Designer: Javeriya Sid
I'm Javeriya, author and pattern designer at Sew Some Stuff. I LOVE designing anything and everything, but, most of all I enjoy designing and sewing BAGS, especially in PINK! Glitter and sparkly stuff are my weakness, also, cats and horses. 😀
Terms and Conditions
Before purchase you must agree to the following terms and conditions.
1. Written permission is required to copy, translate and or distribute copies of this pattern or instructions.
2. If you sell bags made from Sew Some Stuff patterns, please include a credit to all your online listings stating that your item is made from a Sew Some Stuff pattern. A link to my Etsy shop would be appreciated.
3. Patterns can be only used for home sewing. Mass production of bags using the purchased patterns is not allowed
[tcb-script src="https://gumroad.com/js/gumroad.js"][/tcb-script]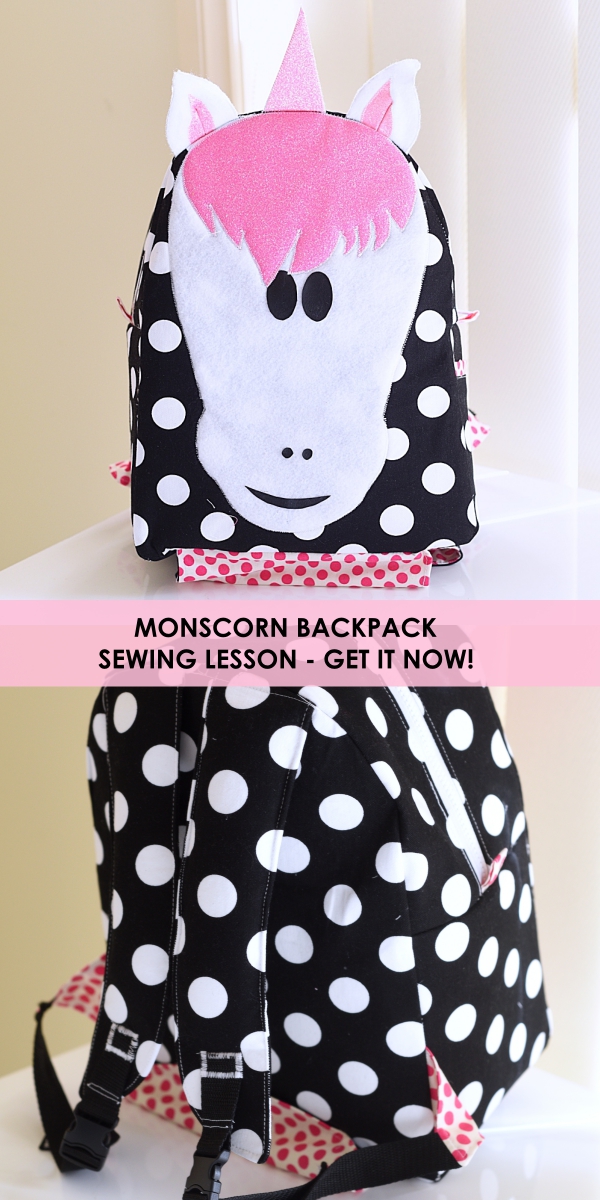 {tcb_current_year} Sew Some Stuff. All rights Reserved | Disclaimer