Did you ever find yourself asking the question "where on earth did this mess comes from?" or in a situation where you have just 10 minutes to fix the entire house/room for a surprise guest? Well, then you have come to the right place as in this post I will be sharing some quick tips by following which you would find your place guest ready all the time.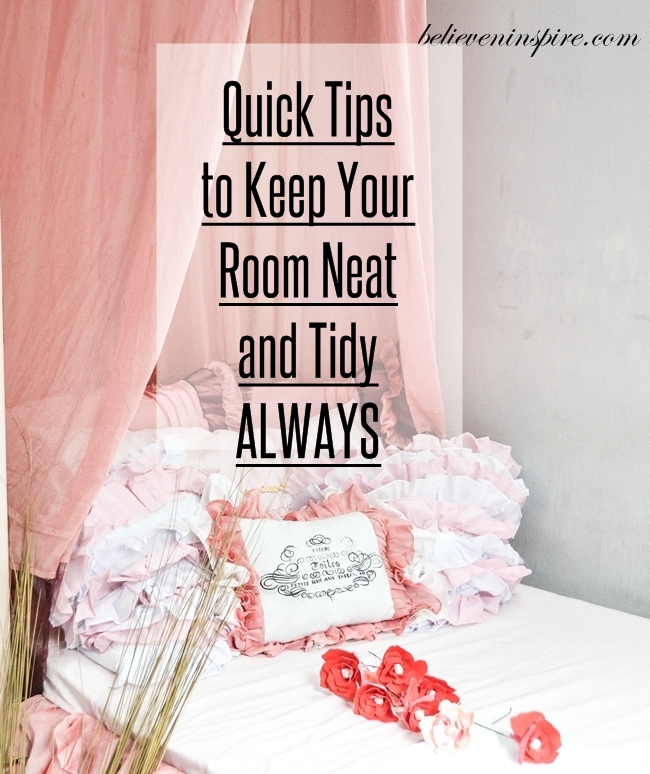 Pin this image on your tips board to refer to later.
Before we proceed, let's look answer the question "WHERE does the mess come from?" If you're staying alone you definitely know who the culprit is. The truth is we create the mess ourselves by being lazy. Yup, the more you delay the cleaning, the uglier it gets. So the first thing to do would be to change ourselves. Train your brain in such a way that you feel uneasy to stay in a messy room. If you follow these tips and make them a part of your routine, I'm sure in one month you would have a room to be proud of any time of the day and you wouldn't mind having those surprise guests.  So, are you ready for the tips?
Quick tips to keep your room clean:
1) Make the bed: best way to clean is to make your bed as soon as you wake up. I usually do it right after I am done with a trip to bathroom and before going for breakfast. Just takes few seconds but the peace it gives later when you look at it cannot be described in words. Ahh!

2) Put the stuff back: make sure you keep your stuff back in place from where you picked it. Like, if you used your hair brush, make sure you keep it back in the holder rather than throwing it on the bed or desk.
3) Organize everything: keep your books organized in a proper stack rather than keeping them spread out here and there, all over the desk and bed after you are done studying.
4) Dust away: Dust your room at-least once a week.
5) Clean: Vacuum or clean the floors on alternate days.
The last two are a MUST as, if left untouched for longer period of time it will cause you troubles and you would know of what all sorts! 😉
So these were my tips for keeping my room clean and tidy. They are great to keep a small room clean or when living in a dorm because the space is so less, a little mess makes it look like hell. 
Now, it's your turn, how do you keep your room clean and organized?
PS This picture is of my previous dorm room that I decorated with a romantic, feminine theme. For the complete dorm room tour and project tutorials click here.
Don't forget to pin this post on your cleaning board for future reference. You can use the icons at the bottom.