They say best things are "free" in life and indeed they are right. Wanna know why I think that? Well, it is because of Craftsy.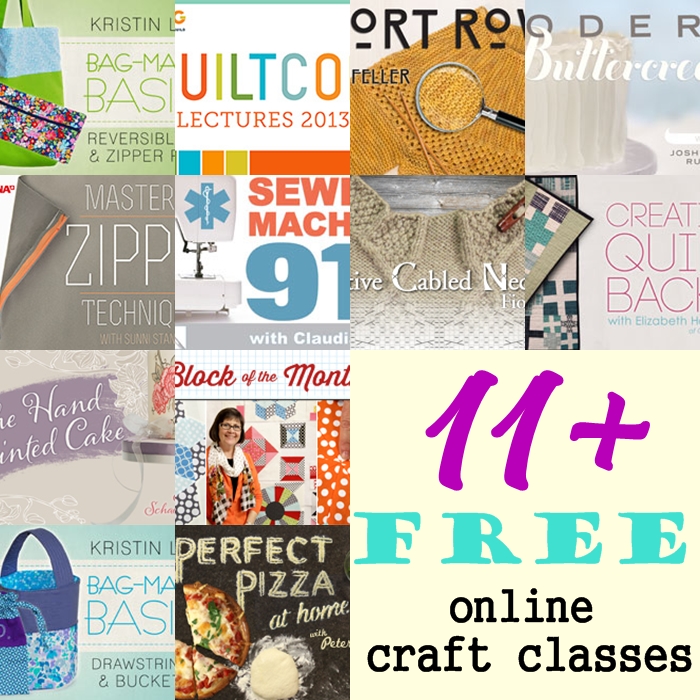 For those who don't know Craftsy is an online crafting institute you can say, where they teach you all kinds of crafting, from sewing, cake decorating, knitting, embroidery, crocheting, spinning, weaving, quilting and much much more.
Did you know about all the free classes they are offering?
There are many to choose from!
Disclaimer: The links contained here are affiliate links for the products I adore.
In the sewing section:
You can take a FREE bag making class where they will teach you how to make totes, zipper pouch, drawstring and bucket bag. Plus they also have FREE printable patterns!
Having problems with adding zippers? Don't worry you can learn a LOT from this FREE zipper mastering class.
The FREE sewing machine 911 class is a must for beginners and pros alike. I have myself taken this class and the tips I learnt from here were AH-mazing. You can read all about it here.
In the quilting section:
Well, I'm not really into quilting so I haven't taken any of the quilting classes but I am sure they are amazing too from the brilliant reviews posted by the students.
The free classes that you can take include 
In the knitting section:
Again this isn't the place I am much interested in at this point but you can still check them out.
In the cooking section:
Perfect Pizza at Home: I have this class in my to-do list. As soon as I get back to my dorm in Malaysia I will be enrolling into this one.
In the cake decorating section:
You can learn modern buttercream techniques as well as hand-painted techniques for FREE. My sis is a cake decor fanatic and I have got her enrolled into these, will be sharing her views soon!
 Other classes that I am looking forward to, which are NOT for free are Paper Arts and Felt Holiday Crafts. I have kept the felt class for winter holidays.

PS You might also wanna check out over 5000 free sewing patterns on craftsy.
So, what are you waiting for? Make most of these free classes while they last! Enroll away! xo
Don't forget to sign up for our twice a month newsletter for FREE printable!