Hola hola! I made my very first mug rug! Woohoo! I really needed one especially because I'm always munching onto something while studying and use my books as (ahem) mats. But, not anymore because now I have my darling mug rug. 🙂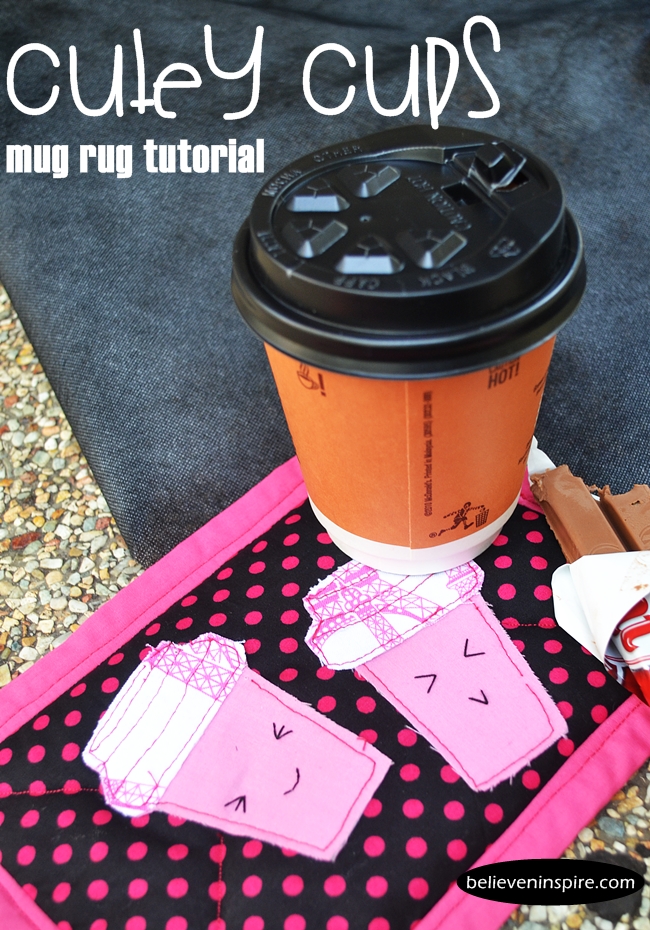 Ofcourse, the theme color of this project is pink again, because honestly speaking, I lose my creative senses if there's no pink. I hope that made some sense. If I make anything that doesn't have pink I don't get that satisfaction.
Okay, enough talking, onto the easy mug rug tutorial now.
How to Sew Cutesy Cups Mug Rug (Homemade Gifts)
Sew mug rug using these supplies. Some links might be affiliate links.
Supplies
¼ yard fabric for the mat

Scrap of fabric for the cups

Scrap of fabric for the cups' covers

½ yard fabric for the bias tape

Matching thread

Free template for the cups
The finished mug rug size is 7″x 5″.
Procedure:
1)      Cut out two rectangles measuring 8"x6" from your main fabric.
2)      Cut out the cups and covers from the template. 2 from the fabrics and 2 from the fusible interfacing and fuse them together.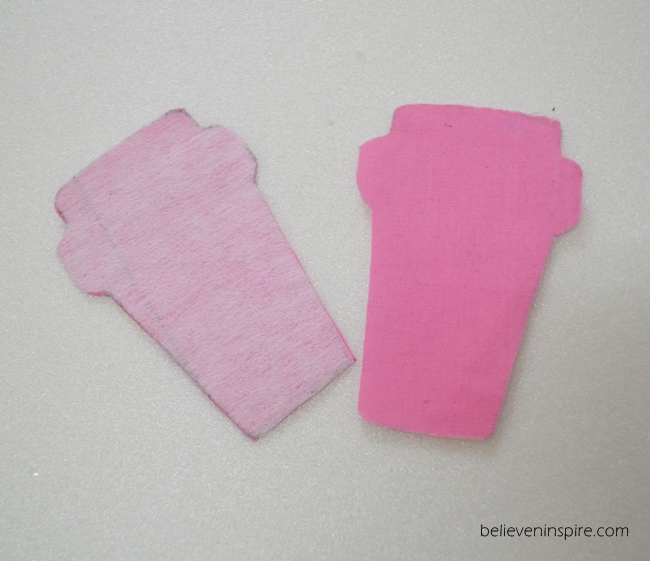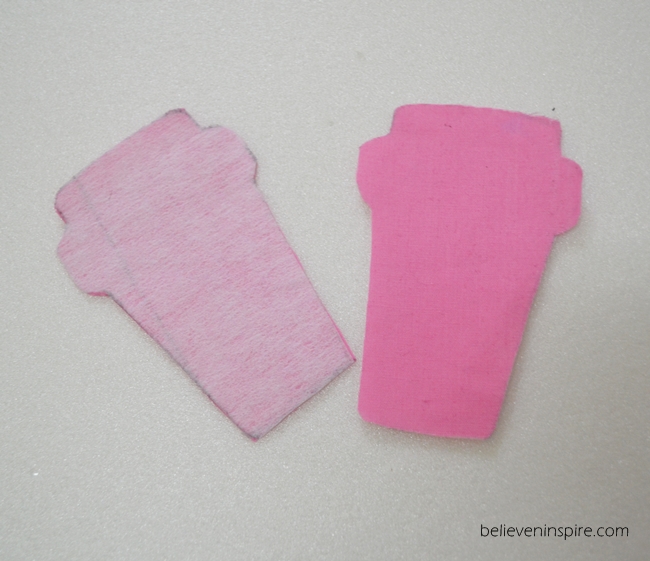 3)      Place the cups onto one of the rectangles and if you're using double sided fusible interfacing fuse them together. Or else just pin.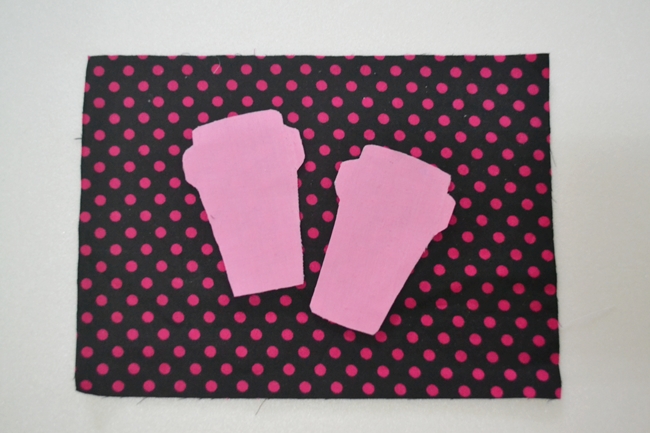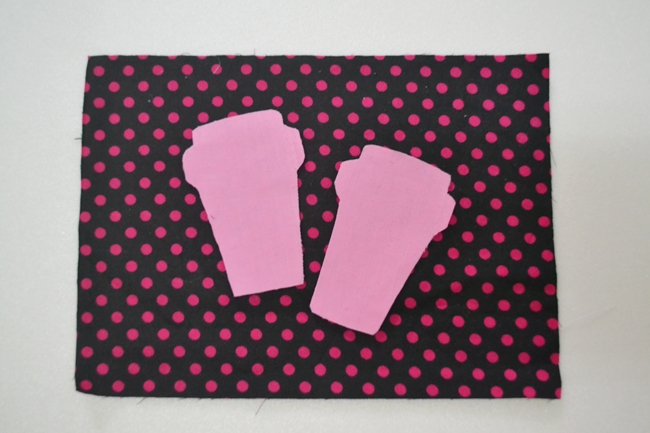 4)       Sew with a straight stitch to make the outlines.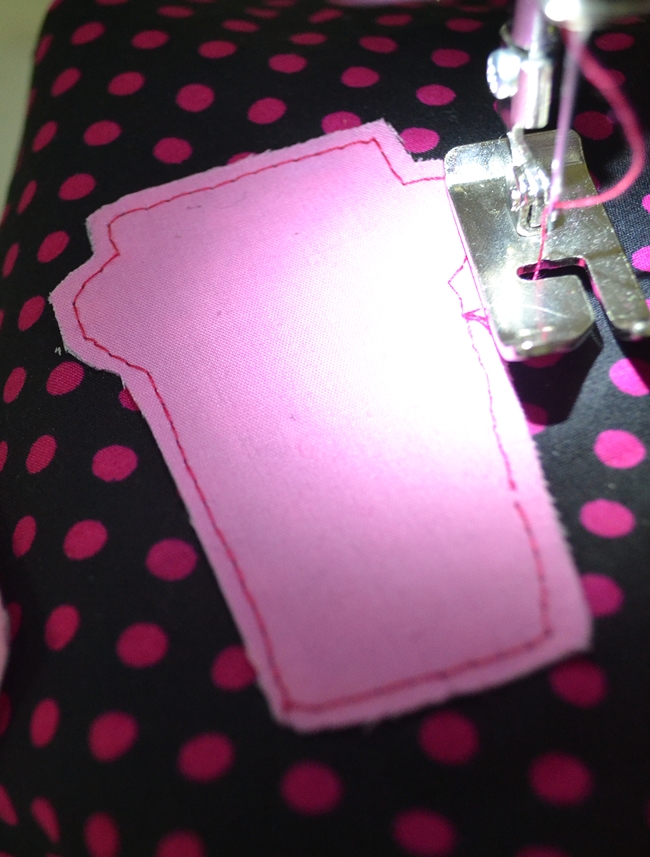 5) Pin your covers and sew. To sew the outlines perfectly, you can first draw them using an invisible marker.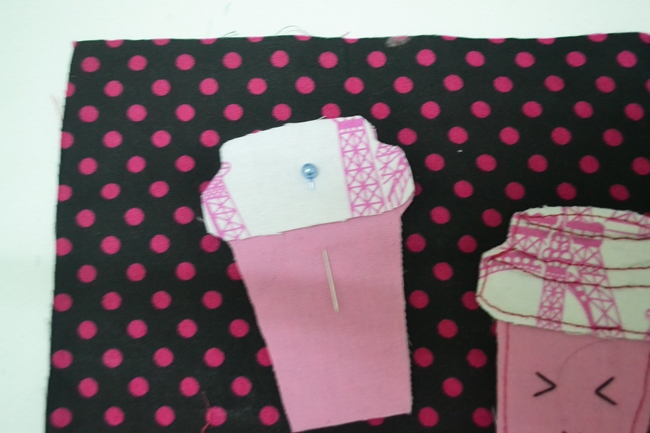 Or baste it roughly with by hand sewing it, then place on top of the cups and sew.
(WARNING: Do not use pencil like I used it for my previous cup or else it'll end up looking super dirty. I learnt my lesson 🙁 )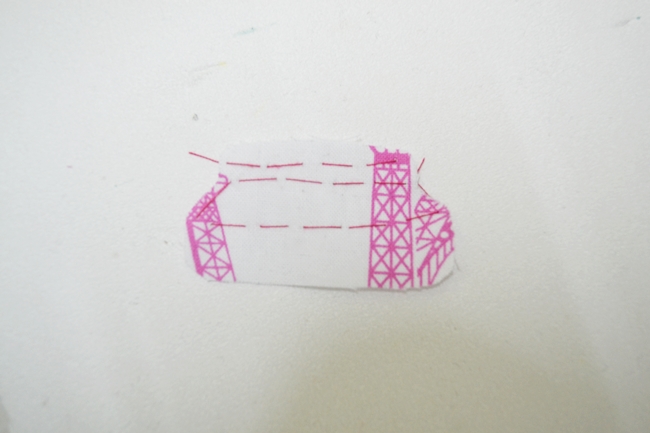 6) Next, using a black thread make two "V"s for the eyes and using back-stitch sewing technique stitch the lips or just make another "V"
7) Next, sandwich the batting between the two exterior fabrics and pin.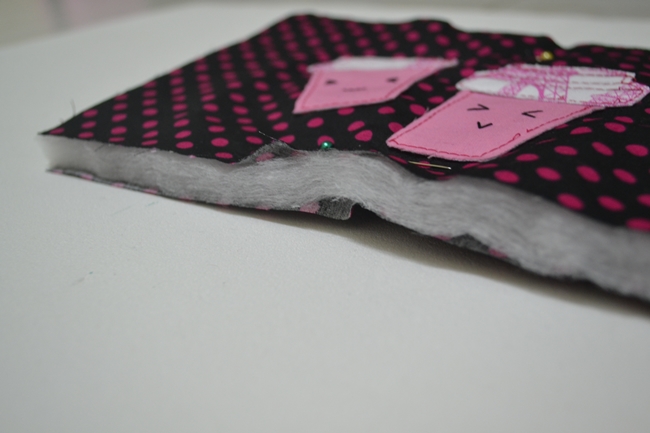 8) Sew around as shown by the dotted lines.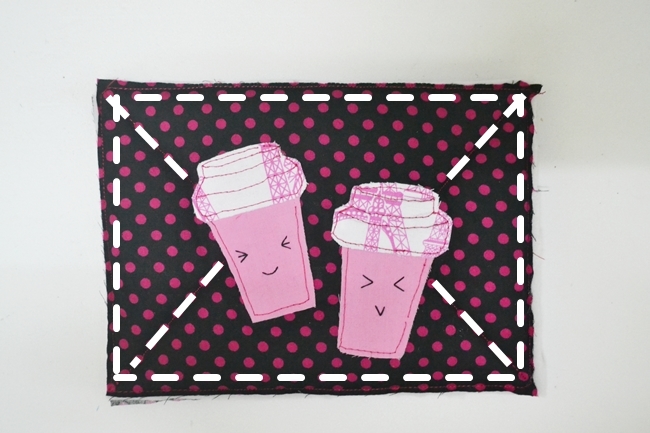 Make the bias tape:
Fold the piece into half length wise and press.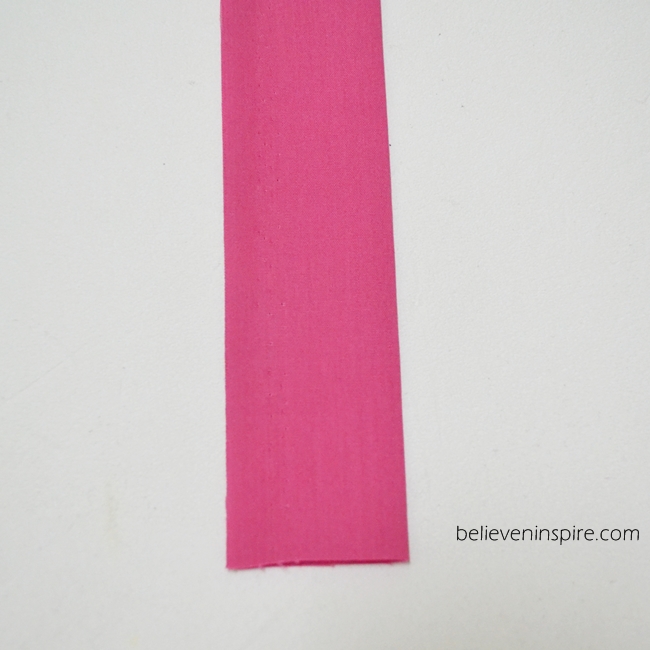 Next, open, turn the outer sides towards the center and press again.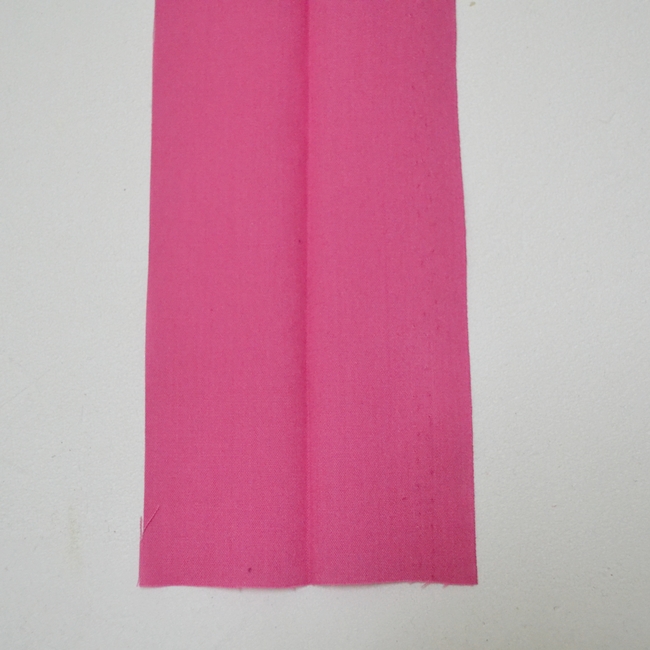 Like this.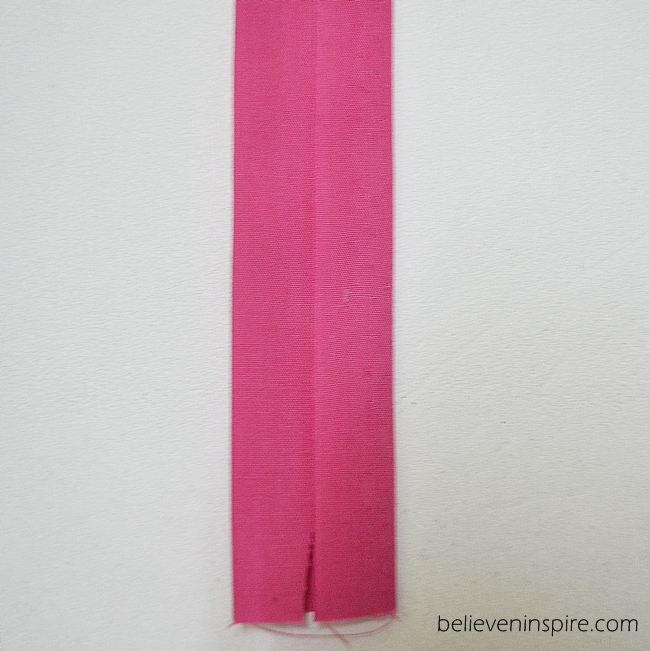 Sew along the pressed edged as marked by the dotted lines.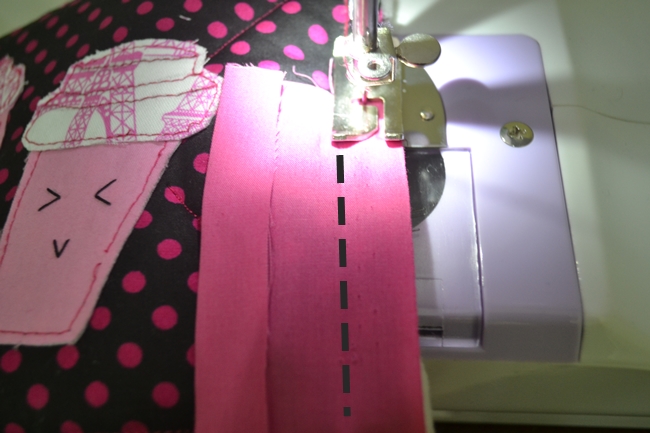 When you come across the corner, pinch the fabric as shown, turn and continue.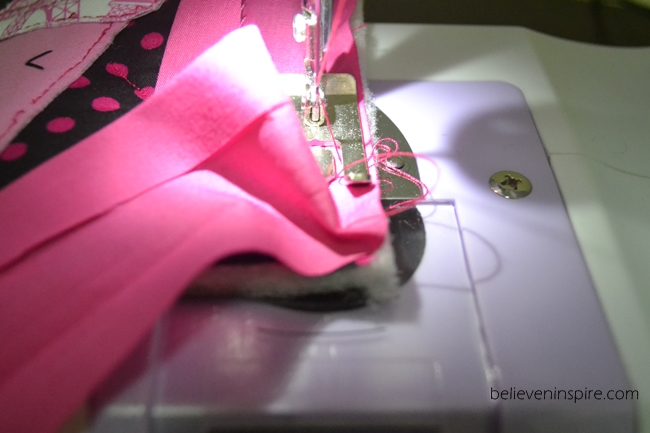 Next, turn the tape fold the exposed end diagonally inside.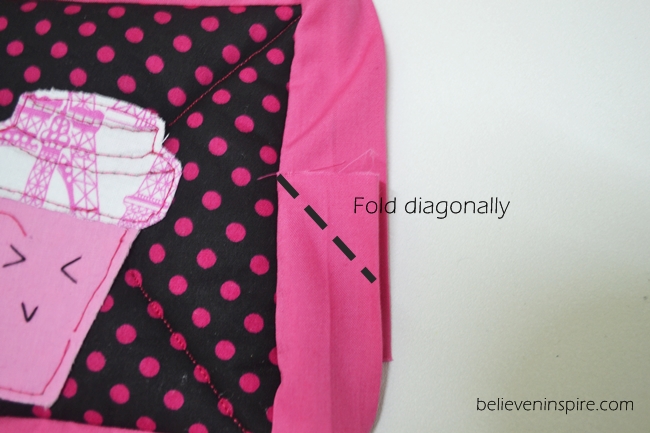 Like this, turn and sew like a normal mug rug.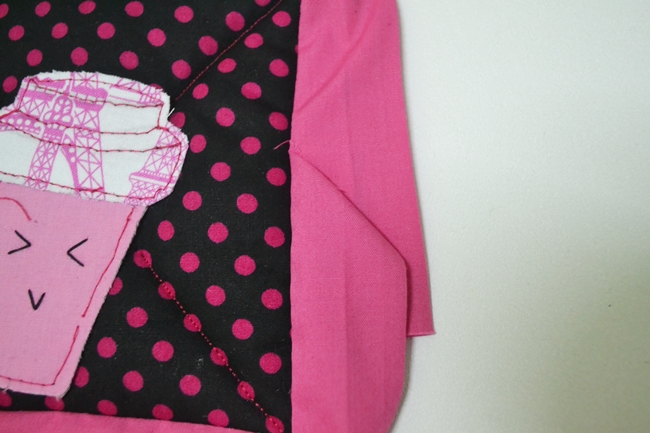 Press in the end, wrap it up and proudly gift it with your other homemade gifts. 🙂 Or keep it for yourself like myself. 😉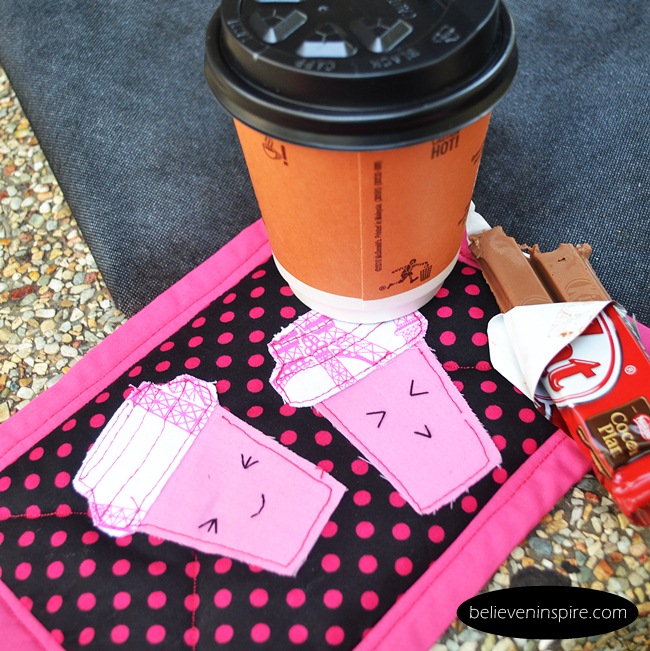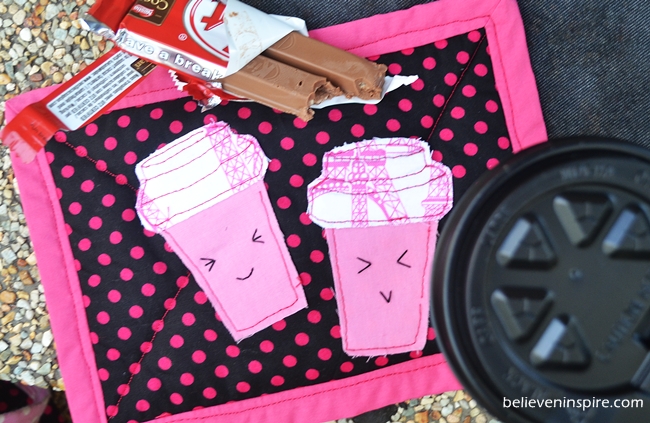 Psst. Do you wanna know a little secret?
That cup is actually empty. 😛
Yea; hot drinks are really a no no for me, so I just went to our nearest Mc D and asked them for an empty coffee cup for the photo-shoot.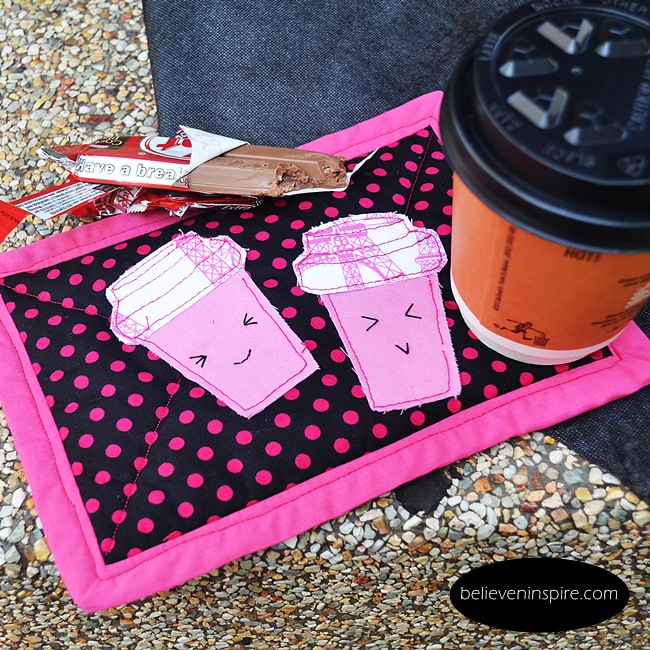 So, did you like this cute mug rug tutorial? If yes, then do check out the sewing tutorials category for more projects. You can also find more mug rug patterns in 70 things to sew for home.
You should also check out 6  must sew things for 21st century girl, I'm sure you can make one of those as gifts too. 🙂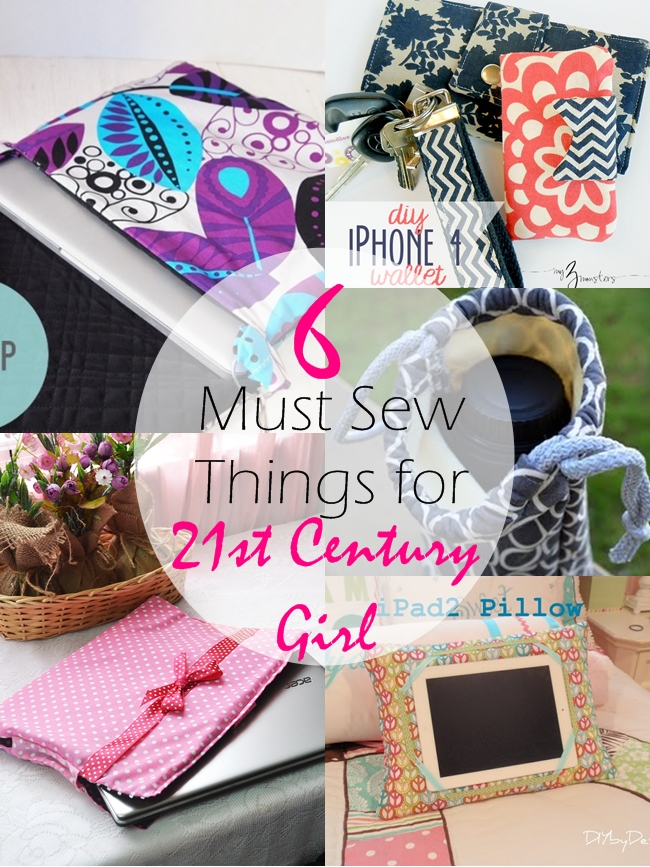 Linking up to these blogs:
Not just a housewife, Savvy Southern Style, Funky Junk Interiors, French Country Cottage, Six Sister's Stuff, Sew Much Ado, DIY Show Off, I heart  Naptime, Craft berry Bush, Coastal Charm, DIY by Design, Too Much Time , The Charm of Home, Flamingo toes, Flour Me With Love, Someday Crafts,  What's Cooking Love, The Crafty Blog Stalker, Create Craft Love, My Romantic Home, Sugar Bee Crafts, Time to Sparkle @ The Gunny Sack, Home Stories A to Z,  The Girl Creative, Kathe With an E, The 36th Avenue, Lil' Luna, http://freshideastudio.com, My Re-purposed Life, 2 Crochet Hooks, It's Overflowing, Live Laugh Rowe, One Dog Woof, One Project Closer, Glitter Glue and Paint, Natasha in Oz, Lolly Jane, The Pin Junkie, Gina's Craft Corner
This post first appeared on Believe&Inspire.
© Copyright believeninspire.com 2011 – 2013
Don't forget to sign up for our weekly summary of blog posts. Psst. there are FREE printables hidden inside! XD
Don't forget to check out these awesome posts too!
By signing up you also agree on receiving weekly newsletters & marketing emails. Unsubscribe anytime.