One thing I wanna tell you girls today, I'm a true winter person. Frozen has become my most favorite Disney movie and guess what I'm sharing today, a DIY Snowman mug mat that I saw on pinterest and absolutely fell in love with! It's so darn cute! Why not have a little winter reminder in this blazing heat? XD That said, let's begin our tutorial now.
This can make a great gift for teachers, considering how sweet it looks and it only takes an hour to make. Talking about teacher's gifts, you can also sew this cute manicure pouch for them.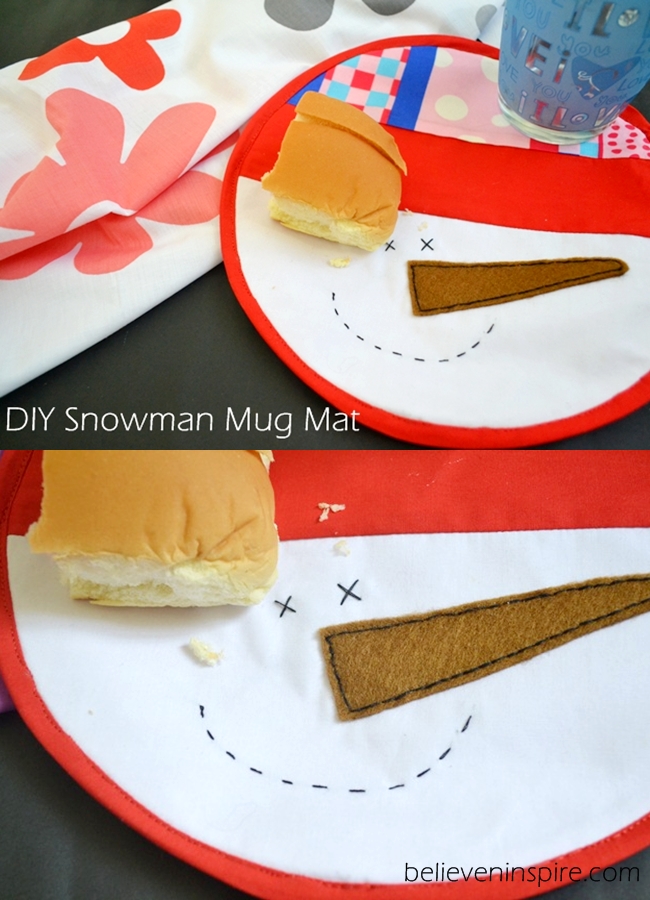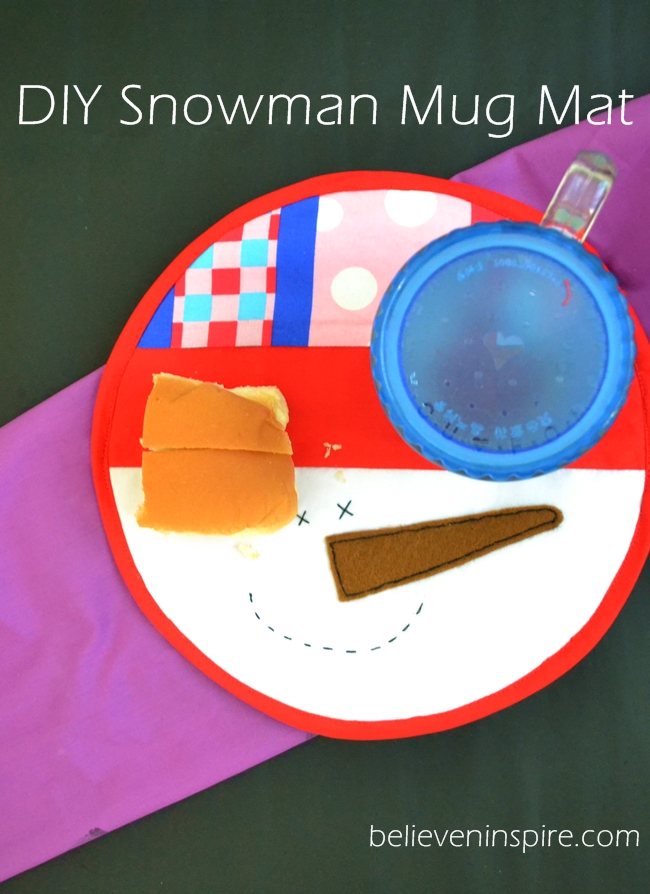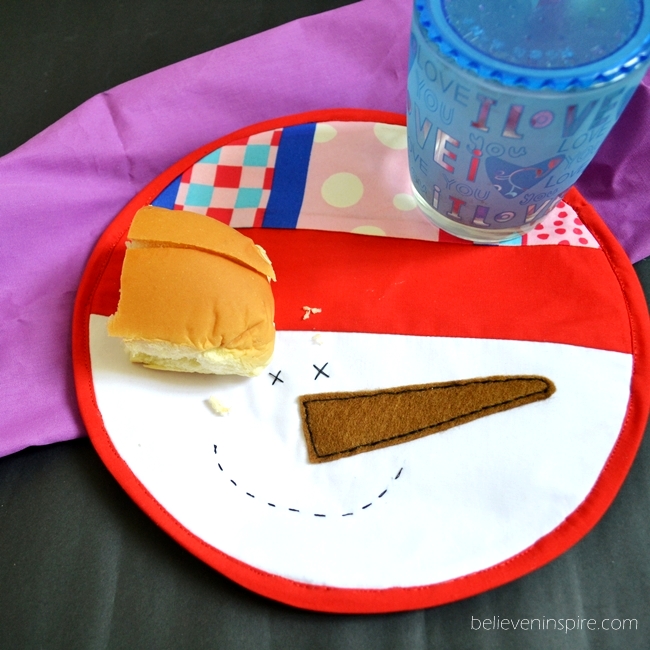 Snowman Mug Mat Sewing Tutorial
Supplies:
1/4 yard of three different types of fabrics

1/4 yard white fabric

Fusible interfacing

Non-fusible interfacing

Sewing supplies

9″ plate

Black Embroidery thread and embroidery needle

Brown felt
One of my fabric is a left over from the bag I made out of the pillow case. You can find the tutorial here.

Directions
1) Cut the following pieces of fabrics.
A = Same size as the circle. This will be the back of the mat.
B = From the white fabric 9.5″x5″
C = From red fabric 10.5″x2″
D = From printed fabric 9.5″x4″
E = From red fabric 30″x4″
2) Trace out a circle onto the non-fusible and fusible interfacing using your plate and cut.

3) Place the non fusible circle, B and C pieces on top of each other as shown. For the B and C piece, the right sides should be facing each other. Make sure everything is centered and symmetrical. Pin and sew.

4) Turn and press. Repeat the same step with the printed fabric.

You will get something like the picture below.
5) Cut out the nose from the template, pin and hand-stitch.

6) Mark the eyes and lips and embroider with embroidery thread.

7) Turn over and cut the extra pieces out staying as close as possible to the circumference of the circle.

This is how it should look like.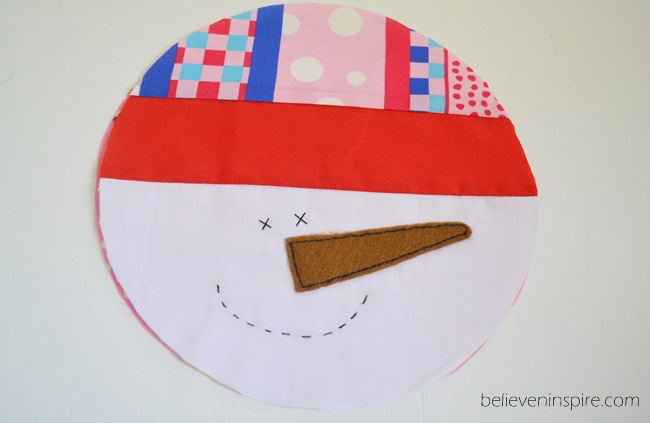 Now this is a bit tricky part.
8) Take your E part, fold into half and press. Fold the edges into half and press again, so that it looks like in the picture below.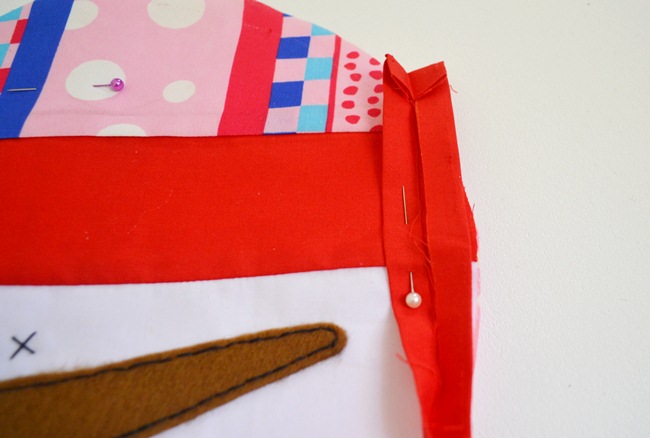 9) Pin and sew as shown. Then turn the fabric and sew another seam.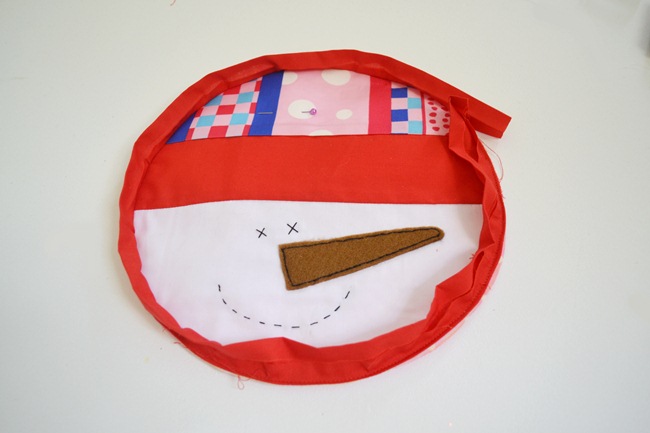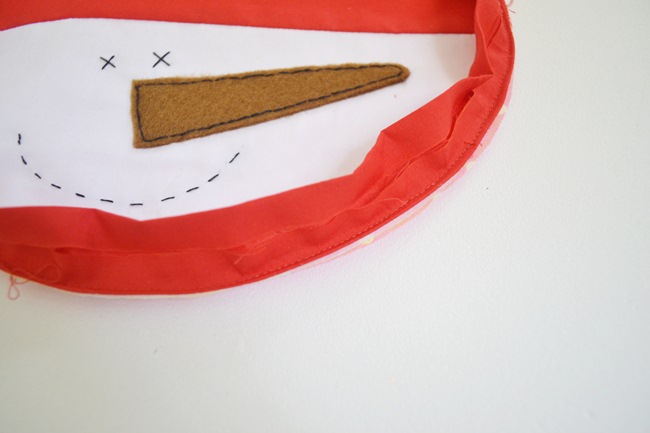 And this is how your finished mat would look!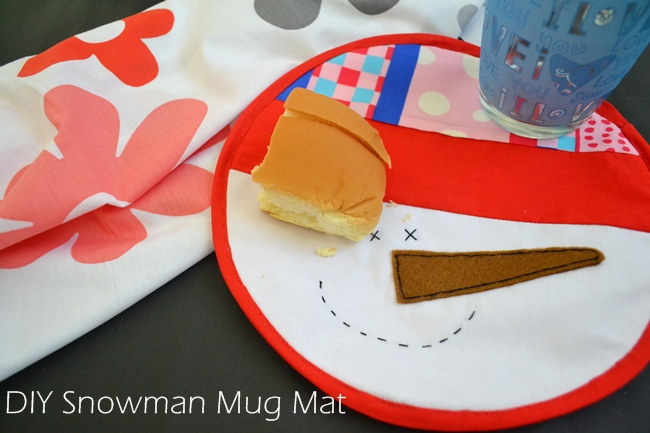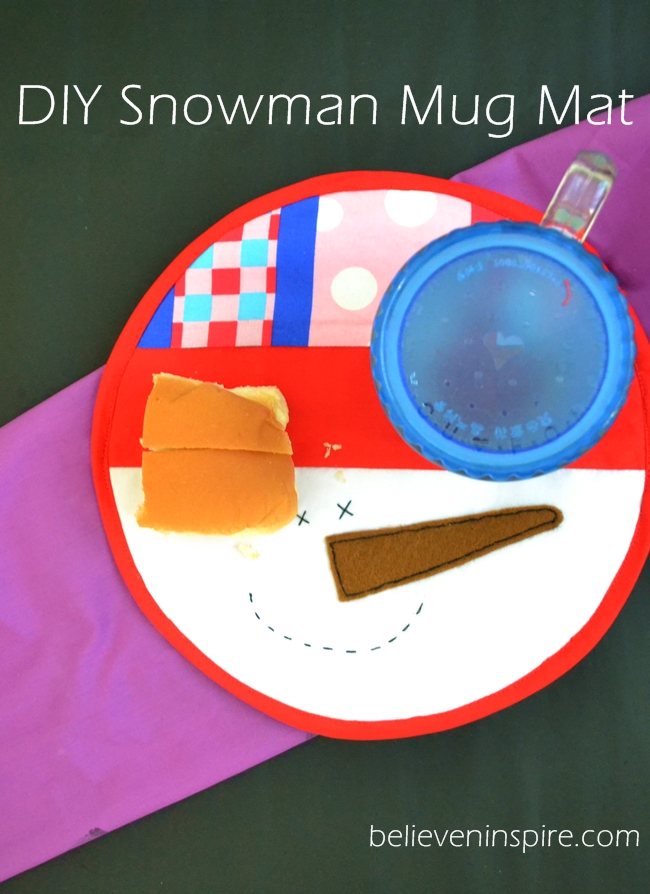 Don't forget to sign up for our weekly summary of blog posts. Psst. there are FREE printables hidden inside! XD