So how do you decide what kind of fabric to use for a particular dress and what sort of needles and threads would be required for each?
Well, the answer to these questions isn't really a straight forward one. It requires a lot of expertise and truly an instructors knowledge to know the secrets of choosing the right fabric which is why I signed up for the Fabric Know-how class by Sandra Betzina on Craftsy.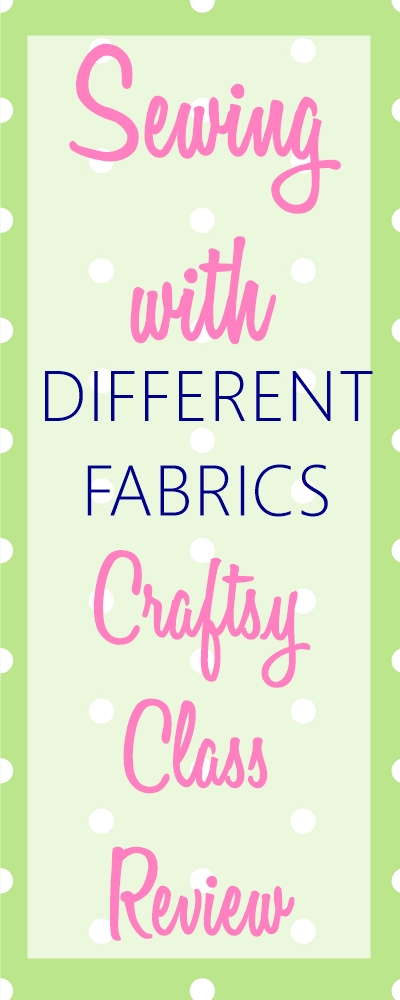 What is Craftsy?
Before I get into the in-depth review of the class, let me first tell you a little bit about Craftsy. One, it's my dream come true place for learning about anything I want, literally. Considering the fact that it's so difficult to find experts in sewing and crafting around the places I live, Craftsy is the perfect platform for me. If you haven't guessed it already, Craftsy is an online platform where you can sign up and buy classes that you can access throughout your life. How cool is that! You can learn anything you want from world class experts from the comfort of your home. I've greatly benefited from all the Craftsy purchases and I just can't stop buying more and more.
DISCLAIMER: This post contains affiliate links. The views are 100% my own. I did not receive any compensation for this post.
Fabric Know How – Choosing and Using Fabrics
Okay now lets talk about Fabric Know-How class.
The reason I signed up for the class was my frustration of tackling knits and all other fabrics beside cotton. Since I'm a self taught sewist I seriously had no idea about all the important information you require for all those different fabrics. Everytime I came across a gorgeous print in anything other than cotton I had to leave it because of inexperience in handling the fabric. But, not anymore.

Fabric Type Lessons
This class is divided into 8 lessons, in 5 of those you would get to know how to choose and work with 5 different fabrics namely knits, cottons and linens, wools, rayon and polyester and silks. Super helpful! I actually got to know so many different types of subcategories of each of these fabrics that it's really hard to keep track of them.
For each of those fabrics Sandra tells you about how the fabric type would look for a particular garment. For example if it's a heavy silk, should you make a trouser out of it or a blouse and many other tips similar to this. 
One of the best tip to learn here is how to cut silks. Here's a screen shot on the detailed process on how you should cut silk to avoid the frustration and mismatched pieces.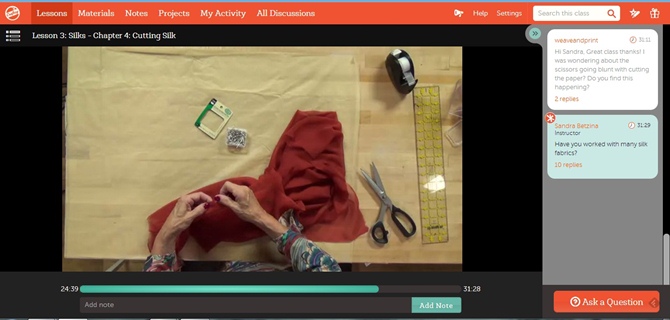 This is followed by the type of needle and thread you would need for each of those different fabrics.
You can actually sit with a notepad and write it all down in points to avoid the confusion and use it for reference later. Although they do give you a printable table that you can download from the materials section.
Seam Finish Lesson
Now if you have ever wondered like me why so many different types of seams exist and where they are used, you can find your answers in this lesson. There are 8 different seams covered in this lesson along with when and where to use them. I've gained a wealth of information in this lesson and I can't wait to try them all on new bag designs and maybe some dresses. 
Here's a screenshot of the beautiful Hong Kong seam. I had never heard about this seam before. It looks so gorgeous and something that you would find in one of those million dollars designer dresses. Isn't it?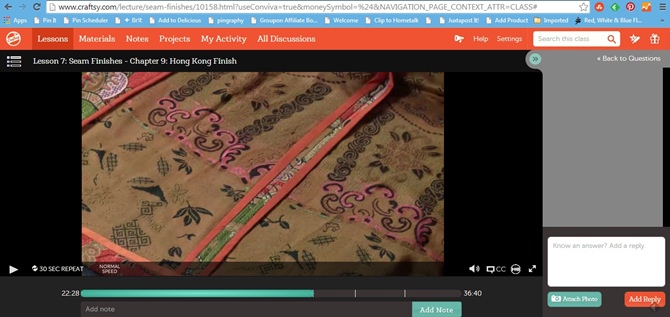 Hem Finish Lesson
The last lesson is all about hem finishes which includes information about sewing 10 different hem types each including the details about the type of garments you would use them for and tips and tricks to make it look the best. 
Overall, I think the class is a bit overpriced but it would be of a great benefit to beginner and self-taught sewists and ofcource experts can learn some tips as well. I waited to get a discount upto 50% before purchasing the class even then it feels like it wasn't worth that much because it's not a step-by-step tutorial and does not require a lot of work; it's basically just tips and tricks so they should've kept the price a bit lower, maybe around $25.
So if you would like to buy the class just click here and you would be taken to the Craftsy page. Thanks so much for dropping by! Do check out the other blog posts. 🙂
© Copyright believeninspire.com 2011 - 2015
Don't forget to sign up for our weekly summary of blog posts. Psst. there are FREE printables hidden inside! XD