Hello girls! This post comes with great news. Get ready for the surprise. Yup, I've finally launched my sewing channel this week and just posted the first video on the site. Since it's the first video of sewing channel, it had to be about basics. I remember getting requests on wanting to learn about basics of sewing so I guess this is a good start. I have linked each of the supply heading to a place where you can purchase them from so that you wouldn't have to spend hours on looking for one by yourself. The linked products are high quality and some of them are used by me for sewing. Click on each heading to go to the page.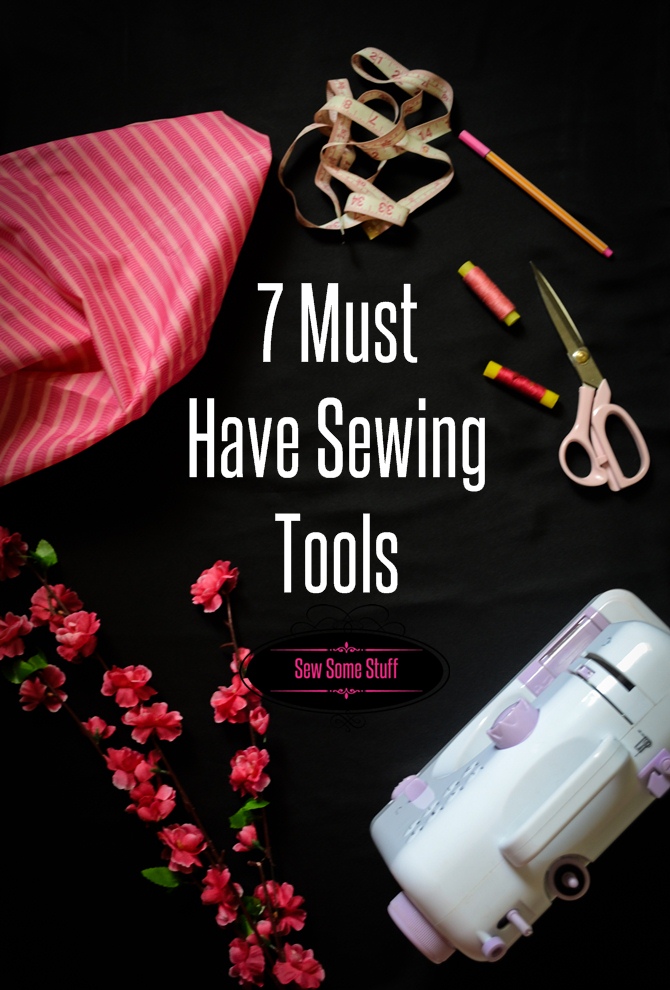 Pin this image on your sewing board for future reference.
7 Basic Must Have Sewing Tools
DISCLAIMER: Sew Some Stuff is a participant in the Amazon Services LLC Associates Program, an affiliate advertising program designed to provide a means for sites to earn advertising fees by advertising and linking to Amazon.com.
In this video, I introduce you to the 6 basic tools that I use for every single sewing project. You can also get an idea of how to use them.
These are the links that I have talked about in the video.
1. How to use the rotary cutter?
2. (Affiliate link) Where to buy disappearing fabric markers and other sewing supplies.
3. (Affiliate link) Sew ready : Machine Basics – Free sewing class.
4. (Affiliate link) Sewing Machine Feet from A to Z – Free sewing class.
5. Sewing with Different Fabrics – Top Secrets Revealed. Check out this post where I review the most important class for beginners where you can find out how to handle different fabrics.
6. Also, check out 12 Online Fabric Stores with Huge Perks for stores where you can buy your fabrics online.
I cannot explain in words how much easier life has become after I met this awesome tool! It's PERFECT for cutting straight edges. I mostly use it while cutting fabric for pillow covers or any small projects mostly. To know more about how to use it you can visit the blog. The link is given in the description.
I mostly use them for cutting larger fabric like while cutting a dress or curtains and stuff like that. Make sure your fabric scissors are very sharp or else you're gonna have quite a lot of trouble so never ever like ever use the scissors roughly.
Umm I'm not gonna say they are VERY necessary but yeah they do come in handy at times. I don't use them much myself though. You can either use chalk or a marker. If you're in the eastern part of the world I don't think you would be able to find the markers easily, but in USA and all I'm sure it's a common thing. I've also included the link in the blog post if you would like to purchase one. 
The measurement tape
I don't think we actually need to talk much. Cant even imagine sewing without measuring. Brrrr
I found it in a random craft store and since then I'm in love. There are many different varieties of scales but till now I've only used this one and I highly recommend it. I promise you would also fall in love with it. This is how I actually use it while cutting something straight and I've never made mistakes with this.
So let's say I want a horizontal length of 13 inches from the side. Ill place the scale 15 inches away, using my measurement tape I measure the length from the edge to make sure it's 15 then I do the same a little higher and then finally the top. This ensures that the scale is straight and then I just use my rotary cutter to cut the whole thing out. Simple and quick right?
Okay, another life-saving tool here. None other than the SEAM RIPPER. Hands down This is the best thing ever invented for sewers. Let me show you how it works. Now let's say you're sewing happily and all of a sudden you realize you've sewn some piece terribly wrong, what do you do? You got it right! Seam ripper to rescue! You just slide the sharp edge under the seam and pull. There's something like a sharp edge which cuts the thread into half and your fabric comes off in a jiffy! Another important tip that I would like to mention here is the importance of REPLACING your old seam ripper with a new one every couple of months. I never knew this until I bought a new Clover seam ripper with an ultra-sharp blade. It made the ripping process 10x faster for me, can't stop loving it. 
I forgot to mention another most important tool; the PINS. Oh, how could I even imagine sewing without them. Pins are very handy for sewing. They hold the pieces together perfectly on a temporary basis as you feed the fabric through your machine. It makes the sewing quite easy too.
Okay, that's the end of the post where I shared the 7 MUST have sewing tools that you need to get started with sewing. Comment below with your favorite sewing tool.  Don't forget to share this post with friends who would find this helpful. You can use the "pin it" button on the left.