Today I'm gonna be showing you how to make your own basic dress pattern from any of your dress that you already have in your wardrobe.
If you're interested in learning more about making your own dress patterns, check out my new post: Ultimate List of Online Sewing Pattern Making Classes & Books
This is the first video in the series "how to sew your own designer grade long dress/modest maxi dress/islamic dress."After this video I'll show you how to make sleeves pattern from any of your existing clothes. And then in the final video I'll show you the detailed process of making your own gorgeous modest maxi dress that would look something like you get from a designer store inshAllah. 🙂
How to Make dress patterns from old clothes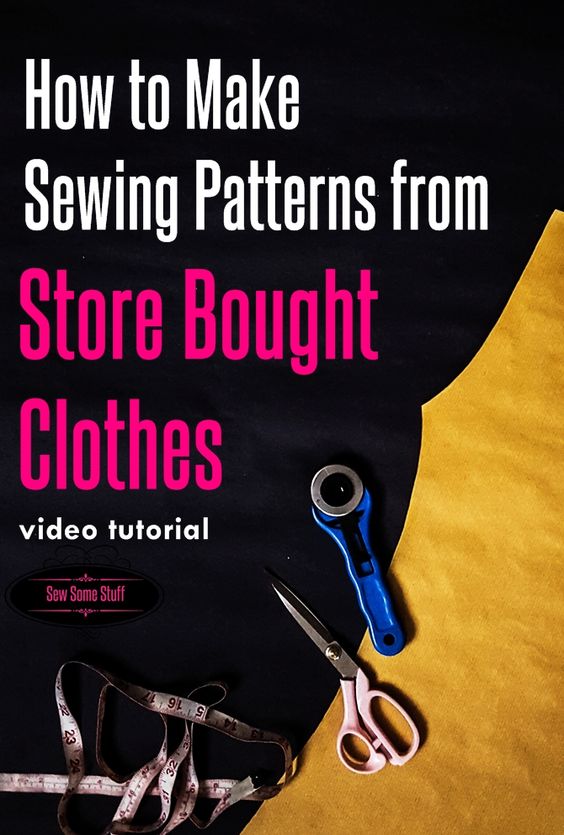 Pin this image on your sewing board so that you can refer to this post later.
Disclaimer: This post contains affiliate links and I will be compensated for any purchases you make through this link but you will not be charged extra. The money helps me in running this site.
Before we proceed I would like to suggest you this amazing online class which shows you in detail how to draft a pattern from an existing ready-to-wear blouse. You can purchase the class on Craftsy and get access to it for the lifetime.

Alright, onto the video tutorial now, in this video I show you how to make clothing pattern from existing clothes. To do this I'm gonna use my abaya which fits me perfectly. You can use this pattern over and over again to make new abaya/long dress whenever you want.
Supplies
To copy a pattern from a garment you'll need:

To make a sewing pattern from the garment that fits me perfectly, first of all I placed and taped the brown paper onto the table so that it doesn't move. Next, I placed my abaya onto the brown paper completely flat folded in half.
What I'm gonna do is just trace the pattern of the abaya from all sides. I'm just placing marks and I'll connect them later.
This abaya has a bit of flare but I want the line to be straight from the neckline side so I'll just adjust the abaya to lie down straight.
For the neckline, I'll just draw a 90 degree angle and later I'm gonna show you how to draw the neckline from the pattern that you have downloaded.
For the arm hole, I place two marks; one at the shoulder and the other under the arm. Now I'm just gonna connect them together roughly.
Now we have a rough sketch of our dress. I'll just connect all the dots together now.
I forgot to add my seam allowance while making the video. Go ahead and add yours now around 5/8th of an inch.
Now I'm gonna take my neckline pattern from the download and place it onto the brown paper. The shoulders are perfect aligned. Even though the shoulder lengths don't match, it doesn't really matter. What I'm concentrating here is on the neckline. I'm just gonna trace the half circle. Next, I'll just cut this whole thing out.
Okay, the pattern for the front part is READY.
Now let's turn to the back part. It's gonna be just the same as the front part but the only thing different here is our neckline.
I'm gonna go ahead and trace the outline first.
Another different thing here is this. Since The dress I'll be making in the next video would have a back zipper, I need to add the zipper seam allowance. So, I'm just gonna extend the margin from the folded side by 5/8th of an inch. Gonna draw a 90 degree line and then I'm gonna work from there.
Now go ahead and add your seam allowance. This is what it should look like as shown by the white line after adding the seam allowance. You should cut on the white lines.
Next, I just added the neckline for the back panel. You can use the pattern that came with your download just as I did for the front and then I'll cut the whole thing out.
The back of my dress is ready. I'll see you in the next video how to make the pattern of your sleeves from existing clothing. Don't forget to pin and share this post if you benefitted from it, others might find it helpful too. You can use our sharing icons on the left or bottom.
PS. For more free sewing patterns do check out my other posts. 🙂
© Copyright sewsomestuff.com 2011 – 2015
Don't forget to sign up for our weekly summary of blog posts. Psst. every subscriber get FREE bag sewing pattern on sign up!