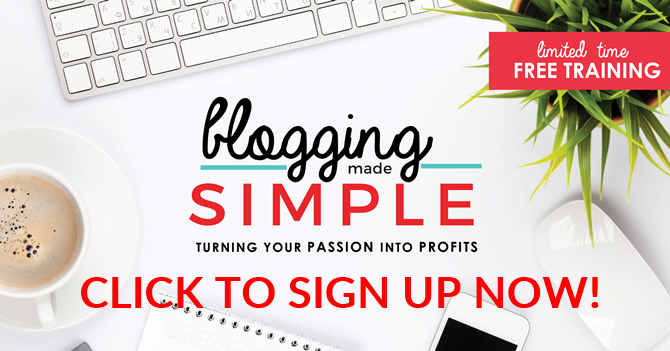 Gone are the days where "slow and steady wins the race" formula actually worked. It might still work now for some but if you do not have the patience to wait for your followers to increase 1 at a time you NEED to develop a STRATEGY. In this post "How to Get Lots of Pinterest Followers – FAST" I'm sharing what I did to DOUBLE my Pinterest followers in just two and half months from 8k to 16k. This is not a review post instead in this post I am sharing the exact strategy that I used for 2.5 months.

Pin this image on your blogging board to refer to it later
Here's a summary of what I will be discussing:
The tool I use
Why I love it?
What I dislike about it?
My actual pinning strategies

for brand new posts
for pinning other people's content
Lastly my ULTIMATE pinning schedule
If you are looking to grow your Pinterest followers quickly, read on.
DISCLAIMER: This post contains affiliate links and I will receive a small compensation for any purchase made through the links. For more info read my Disclosure policy.
How to Get Lots of Pinterest Followers
The short answer:
By pinning 25-30 pins a day which is 900 pins a month. Nope, not kidding. It might sound crazy but that's actually what I did by simply spending 1 – 2 hours per month!
Want to find out how? Read the long answer.
The long answer:
So, how did I actually pin SO many pins a day without actually spending crazy amount of hours. The credit goes to:
TAILWIND – Pinterest pinning app – A MUST have for EVERY blogger
I had been a member of Pinterest for quite a long time but my followers were quite low compared to the other bloggers who had joined way after me. It seemed like every blogger I knew had 5 figure followers while I was just stuck with my 4 figure followers but then I came across TAILWIND and everything changed in 2.5 MONTHS.
You can see below how my daily re-pins increased which in turn increased my followers since the time I joined Tailwind in the mid of March.

Every time I looked at a blogger's Pinterest profile I couldn't stop wondering JUST HOW are things working for them but not for me even after reading tonnes and tonnes of Pinterest tips and implementing them as best as I could. You see, pinning 30 pins is SO not possible manually especially if you're a part-time blogger and a full time student, so I was just pinning 5-10 pins per day during my free class hours, but that wasn't enough.
Something was MISSING…
And that thing was a helpful hand and a strategy.
I considered hiring a VA but after checking the rates that plan failed as I just couldn't afford them at this time. And then I purchased the 1 year plan at Tailwind and have seen drastic improvement in my followers since then.
The mistake I made….
I had come across Tailwind last year but I never took it seriously. Secondly, I just didn't want to spend any money on blogging for an extra tool as I thought it was just a waste of money and I didn't need it. But, oh boy! I was so wrong.
Things changed….
But… this year I was determined on INCREASING my followers and traffic no matter what. I didn't care if it costed some investment, I just wanted an INCREASE and I came across Tailwind. I was confused about their service, so when I saw their 15 days FREE trial offer I signed up for an account IMMEDIATELY. And after using the app for 15 days I LOVED it SO much that I went ahead and purchased the 1 year plan on Tailwind. 
Yep, I jumped right in.
Before signing up for tailwind I had been using Viralwoot. I had considered purchasing the Viralwoot plan but I did not go ahead with it for three reasons:
It seemed more expensive compared to Tailwind
Tailwind is officially supported by Pinterest.
For viralwoot I had to schedule the pins manually every single day which was very time consuming but with tailwind it's a breeze as I can schedule pins for an entire month!
Why I purchased the 1 year plan?
Although, I was a bit short on cash, I compromised and went for a whole year plan paying $199 upfront.
I had considered buying a monthly plan but that came with limitations. With a monthly plan I could only pin 400 pins a month which wasn't according to my strategy as I needed to pin up-to 900 pins per month and with the yearly plan I could get the freedom to pin as many pins as I wanted.
I can schedule unlimited pins per month with the yearly plan
I can schedule pins for the ENTIRE month and forget about it.
I can track which pins performed well and how many repins they got. This has become very useful since the time Pinterest changed.
Their free video classes on improving performance on Pinterest.
Their bulk scheduling feature that makes scheduling a breeze
Their awesome browser icon that can be installed on chrome and allows you to schedule from anywhere on the web.
What I don't like about Tailwind?
The fact that I can only see the growth analytics for 7 days because I like to compare the performance on monthly or quarterly basis so this feature is not helpful for me. And finally…
My actual strategy on "How to Get Lots of Pinterest Followers"
Like any other social media, if you want to increase your followers you MUST engage on the Pinterest platform as much as you can. Which means pin lots of awesome content throughout the day. But, who has the time for it? I'm sure most of us are already running short on time. But, don't worry Tailwind has the solution for it. In this section I share my actual strategies that I use to pin great content in very little time which indirectly increases my followers.
These strategies can be divided into several sub-topics and I will share them below:
1)Strategy for brand new posts
Right after publishing a new post I just go to the post and click on the "schedule" button.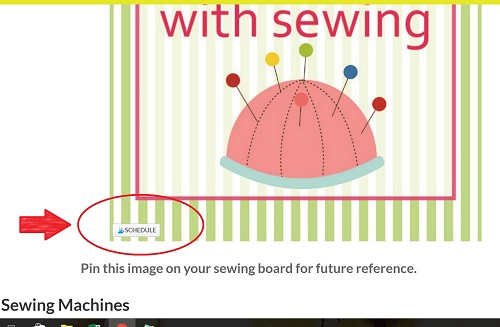 Clicking on this button pops open a new window which looks like this: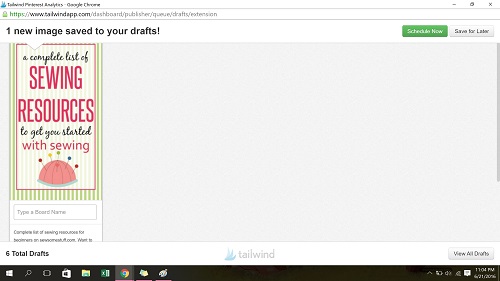 In the type a board name section I can enter the name of as many boards as I want that are relevant to my posts. Since this post is related to sewing I can publish it on all of my sewing boards. So, I enter the name of all the boards as you can see below and just click on add to que and ta-da! My post will be shared on it's own based on the given time slot.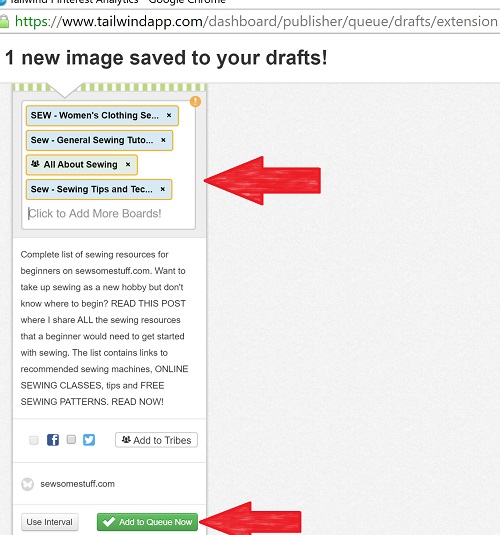 If I want to schedule this post based on special posting time say 6 pm I can also do that by just clicking on "use interval" option and setting a time. I can even do this for old posts or seasonal posts.
One thing to note here is another feature of tailwind where you can use the board list feature to create a list of your similar boards based on the topics. Then, when scheduling you can just type the list name in the board name section and all your boards will appear in an instant. Such a time saver!
2) Scheduling other people's content
Group boards are LOVE and good ethics of being on a group board requires that you repin as often as you pin on the board. But for someone who is on 10-15 group boards this can be a tiring task. With Tailwind, this becomes a breeze as I can easily select pins in bulk by going to a group board and clicking on the Tailwind Chrome extension at the top right.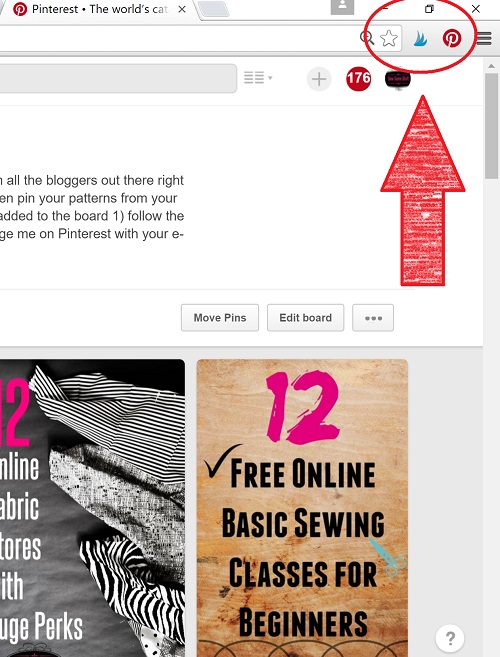 This pops open a new window where I can easily click on the pins that I want to schedule and then finally click on the button at the bottom to schedule.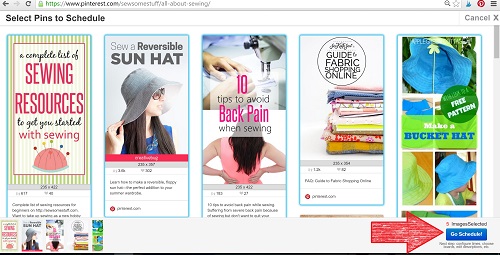 Clicking on the button opens up a new window where I can just type the board name on the main bar and then click on "schedule all" button.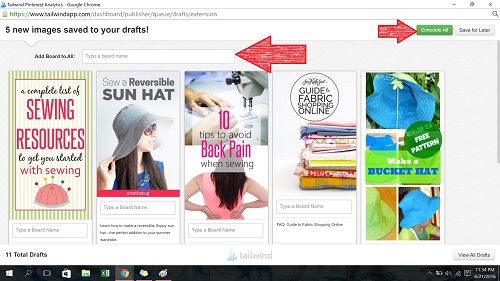 And ta-da! All the pins are scheduled in less than a minute. This way I can schedule 10-20 pins in less than 5 minutes.
You can also watch the video tutorial for this on Tailwind when you sign up for it.
3)My ULTIMATE monthly pinning schedule 
Okay here's my biggest strategy – the ultimate monthly pinning schedule which I used to increase my followers. Through this, I schedule 20 posts to be pinned on different boards every single day. I had to re-do this plan twice and it took me THREE months to come up with this plan which means it's not an easy task. You would need to figure out what works best for you and come up with your own plan.
I made this plan on Excel and as you can see it consists of the description of the post with links in the other column so that I can just go to the posts directly from the sheet. The colored boxes represent all the relevant boards that the post can be pinned on and the numbers on top are the dates of the month. This is only a part of the plan for half  a month. As I write about two different categories of posts; sewing and home decor, I have placed them under different sections as you can see below.

This way I can ensure I'm pinning 20 of my own posts everyday and when you combine that with pinning other people's content, it sums upto around 30 pins per day. You can ofcource pin as many posts as you want as the more you pin, faster the growth. 
Conclusion
So, there you go! You have all the tips and strategies that I used to double my Pinterest followers in 2.5 months from 8k to 16k right after joining Tailwind that is during the period of March till May.
My suggestion to you if you're looking to seriously grow your blog as a business is to not do the same mistake that I did by not investing in your blog. Social media growth plays a crucial role in working with sponsors and driving traffic to the site. Therefore sign up for the FREE Tailwind trial and after getting familiar with the platform purchase the yearly plan. Believe me you will NOT regret the choice you made.

That's the end of the post where I shared my favorite tool and tips on how to How to Get Lots of Pinterest Followers – FAST. Want more blogging help? Check out my blog resources page.