In this post I'm sharing how I got 3k subscribers in JUST 1 week using JUST 1 tool. If you want to learn how to get more e-mail subscribers with JUST 1 tool that you can set up in less than 10 minutes, read on.

Pin this image on your blogging board for future reference.
This method is one the easiest ways to gain more subscribers and it does not involve creating free incentives or other kind of hard-work. Although those are equally important and can help in growing your list, this method is perfect for the bloggers who do not have much time and want an instant growth. You can set this tool up right now and later also work on your free incentive.
Before we dive into the details, here's a summary of what all I will be talking about in this post:
The importance of email list subscribers
A little history of my e-mail collection
The app that I used to get the followers
A tutorial on how you can install the app on your blog
Disclaimer: Some of the links in this post are affiliate links and I will receive a small compensation for any purchase made through these links.
The Importance of E-mail List
E-mail subscribers list is THE BOMB. If you haven't already known that, you should by now. Almost every online marketing and blogging gurus mention this again and again and again. You can read all over the internet how much important the email list is. But, here I want to share based on MY personal experience, how helpful email list is especially when you're launching a product. Honestly speaking, I didn't really understand or gave as much importance to building email list as it deserved until I launched my Seema Bag pattern in March and took the EBA (Elite Blog Academy) Course.
Based on the product launching strategies I read all over the internet about creating a buzz for your product before launch, I wrote a pre-launch post asking people to sign up for my list so that they can get special discounts once the pattern was launched. I also created several graphics that I placed in different places on the blog and shared on the social media regularly. A LOT of people who were interested in the bag immediately signed up for the list.
And once the pattern was launched, guess where did most of my sales come from? Duh, e-mail subscribers!
So based on my experience e-mail subscribers are important because:
It's easier to sell the products to them
You can build a relationship with them
Increase your pageviews by sending out weekly post summary
A Little History
2 years ago, based on Facebook group discussions I installed the Popupally app thinking that was the one and only way to increase the followers and watched the slow growth (50 subscribers a week) until like a month ago when I decided to install the Sumo Me app FOR FREE. I was just MIND BLOWN by the results I got.
Since I'm not using the paid version, I can only view the data for past 7 days. You can see the results below, from July 15th to 21st, I managed t0 get 2728 followers JUST by using this free app.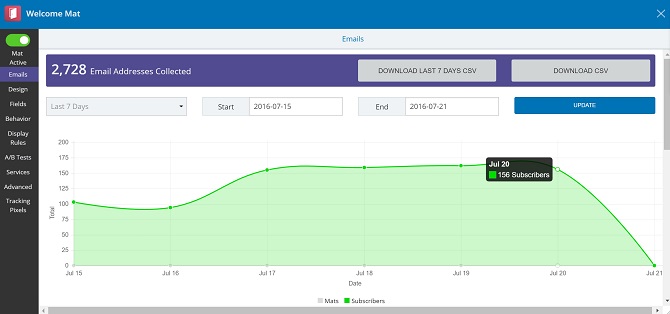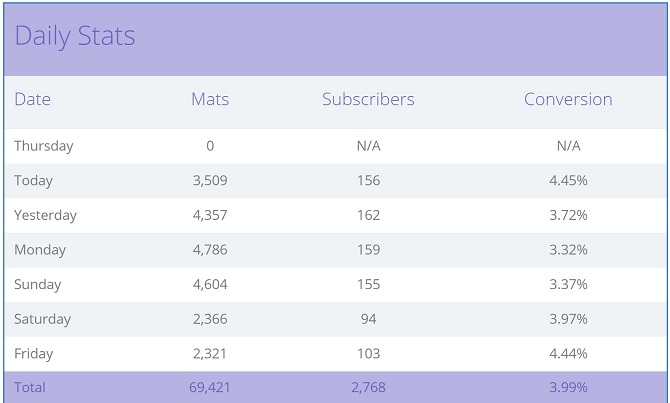 Here are the pageviews from 15th July till 21st July.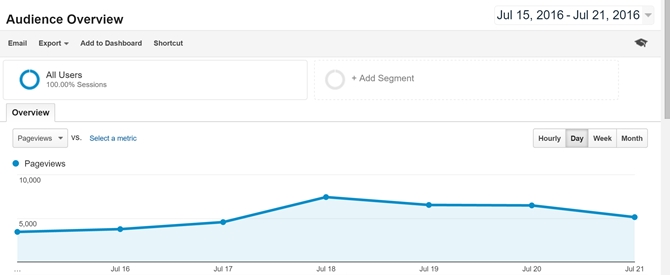 As you can see my PVs aren't something too awesome yet I managed to get almost 3k subscribers with just this app. If you would like to get this app and learn install it to increase your subscribers read on below.
The App That I Used
Okay now that you are ready to increase your followers let me introduce you to the one and only powerful app that I used to grow my email subscribers, which is… (drum rolls)
This app is a package which contains tonnes of FREE tools that you can use to grow your website.
The app comes with the following functions:
Smart Bar: A bar that's displayed on top of the page. Can be used as call to action to increase subscribers, click over to social media or a link you want to promote.
Content Analytics: Haven't used this one so I can't say anything about it.
Contact form
Share: Adds share buttons to the left or right side of the blog. These buttons are SO helpful in driving more shares as they float and move with the content.
Welcome Mat: My absolute favorite! This is the tool I use to collect emails. Once activated it displays a page everytime a page is loaded prompting the user to sign up or perform any function.
List Builder: Displays a pop-up to collect emails.
Google Analytics
Discover
Scroll Box: Another function which displays a box at the bottom once the page is scrolled. Can be used as call to action or to collect emails.
Image Sharer: Displays social media icons on the images, making shares easier.
Heat Maps
Highlighter
Buy Button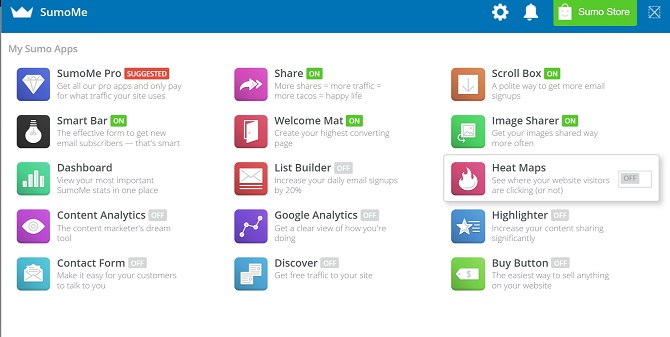 The reasons that I absolutely LOVE this app are just endless. First thing, I HATE using gazillion plugins for every single different thing. I like to have the number as small as possible with only a handful of useful plugins. I wanted a plugin which was able to do multiple tasks and Sumo Me was the answer. This app comes with SO many features that are TOTALLY FREE and can help the bloggers increase their pageviews, get more shares, get more subscribers and so many other things.
Tutorial on how you can install the app on your blog
Okay, now onto the most important part of the post which is How to get more E-mail subscribers with JUST 1 tool. 
First things first, install the app. To do that, go the SumoMe site and enter your blog URL.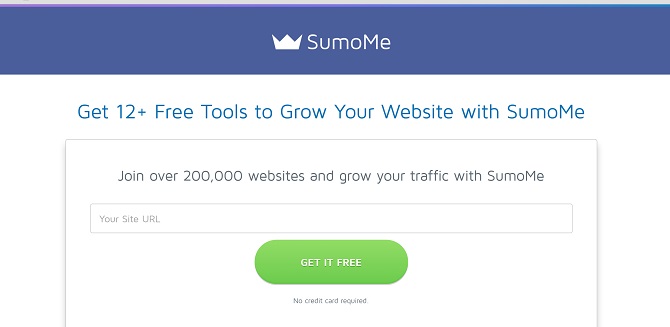 Next, a box will pop up where you can enter your email address and new password.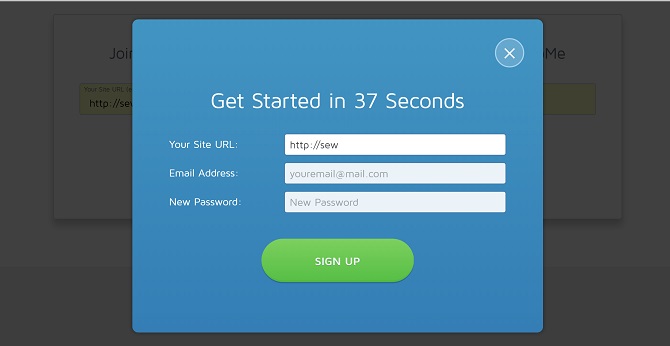 After that you will be taken to a new window with instructions on installation of app. If you are on WordPress just click on the WordPress tab skipping the manual installation.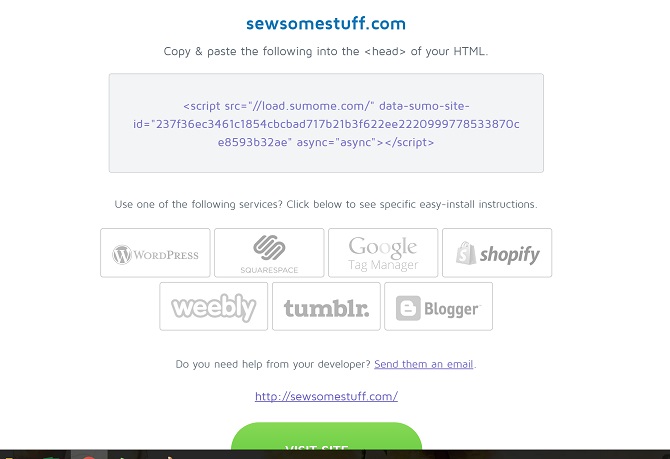 Once you click on WordPress button, a new window will pop up. Just click on "install sumome" button and you will be taken to your dashboard.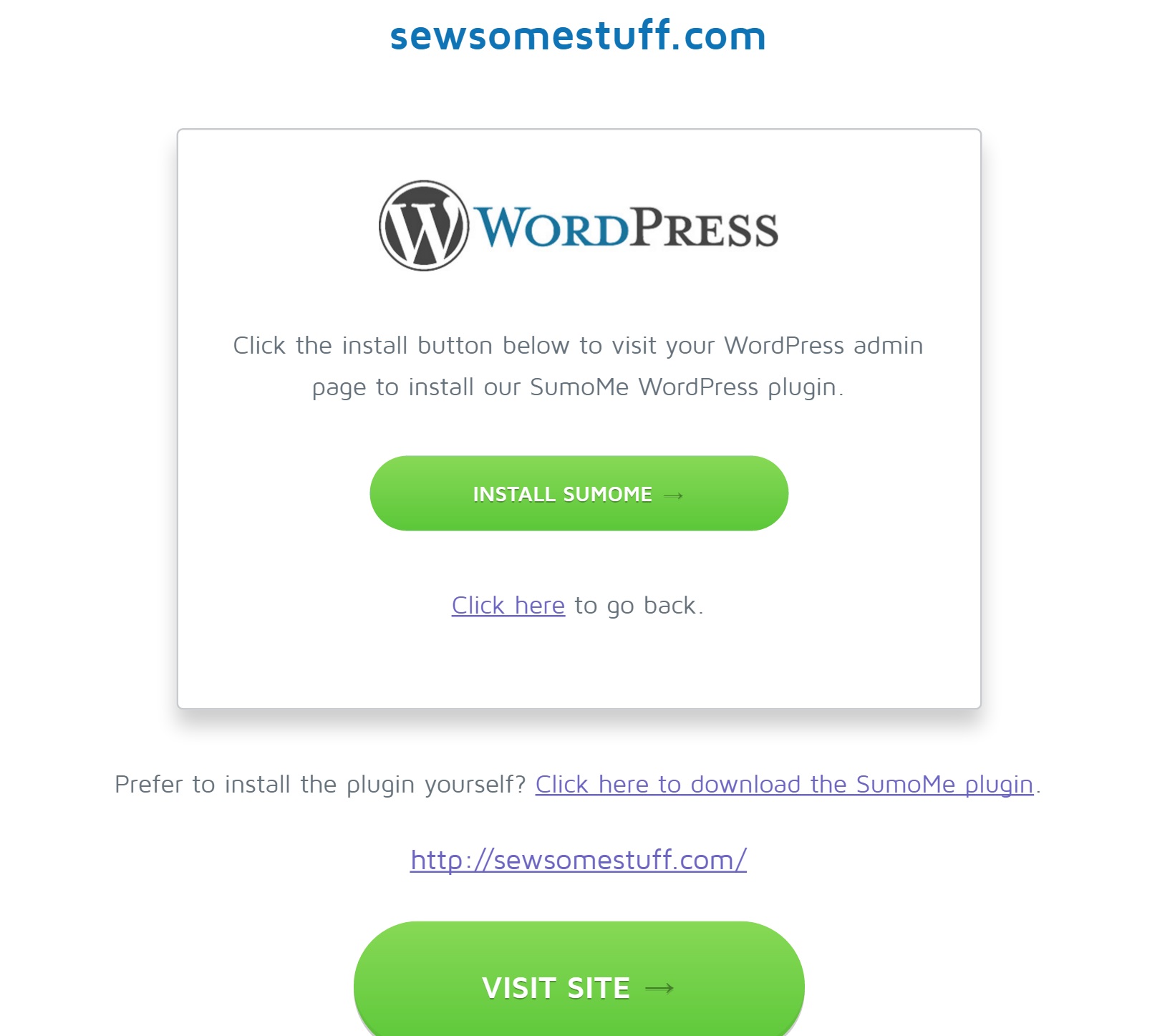 Next, just click on the "install now" button.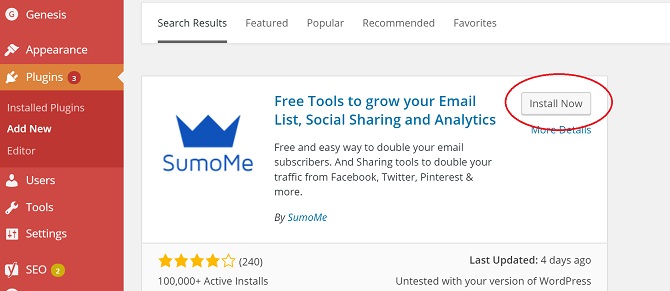 Activate the plugin and go to your home page.
At the top right corner you will see a small Sumo Me icon.

Just click on the icon and a box will pop-up. Fill in the box with the e-mail you used to register along with the password and you will see a box like the one below.
On this box click on the "Welcome Mat" option. Welcome mat displays a page to every new user with an option to enter their emails, allowing you to collect emails swiftly. Let me show you how to set it up.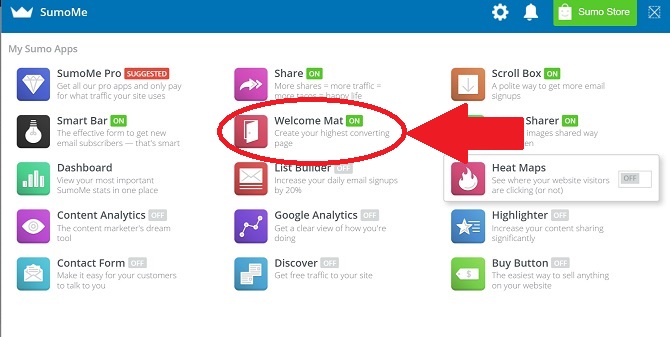 Once you click on the "welcome mat" sign you will see a new window. Just click on the design from the left hand menu to design your welcome Mat.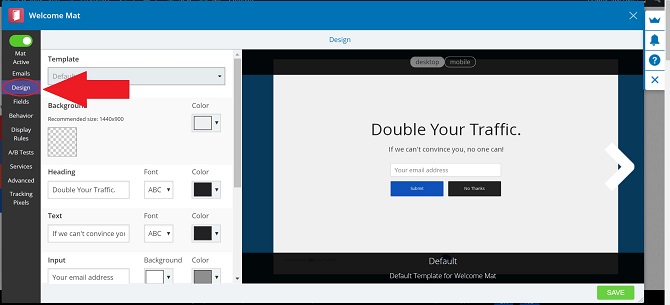 For the free version only one "default" template is available so not much editing can be done.
You can change the background colors, and customize the heading, text, input and output text and colors.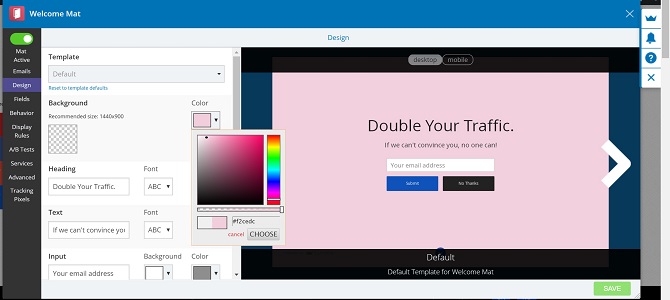 Once you're happy with your design, just click the save button at the bottom right corner.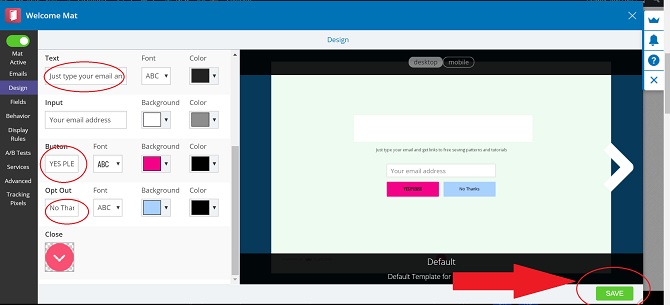 You can further choose control the behaviour of the "Welcome mat" by clicking on the behaviour option from the left menu. You can also control after how many days a new user sees the welcome page again.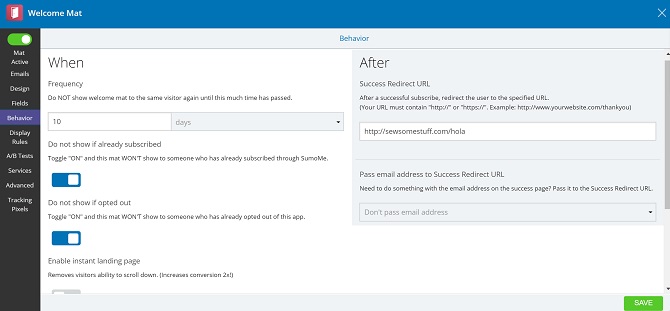 I chose to display the "welcome mat" to a new user every 10 days so it's not annoying. And I've also chosen to not show the welcome mat to those who have already subscribed as well as those who have opted out.
On the second column in the after section you can insert the URL of the landing page where you would like your user to go. I don't use this option as I want them to continue to my blog post so I've just kept it as off.
That's it. Just click "Save" once you're done with everything. Check your website from another computer or browser to make sure everything is working fine and you're done! Just sit back and watch your subscriber list grow.
NOTE: You can connect your newsletter service directly to you SumoMe app but that feature is only available for the paid version. For the free version you would have to manually download your subscribers by clicking on the emails tab and then "download csv". Also, some users coming to your site might find it annoying but I think that number outweighs the benefit of having a sign-up option such as this.
Phew! That was a long post and thankfully now we have reached the end of it. In this post I showed you How to get more email subscribers using JUST 1 tool (SumoMe) that you can set up in less than 10 minutes.
For more blogging advice check out my blogging category. 
Don't forget to share this article with your blogging friends if you benefited from it.