Today I'm sharing a step-by-step Sunflower Pillow Sewing Tutorial in fall colors. This pillow can even be made later for Spring decor with some bright colored fabrics. The tutorial is pretty easy and comes with a FREE sewing pattern that you can download from the link. Let's get started!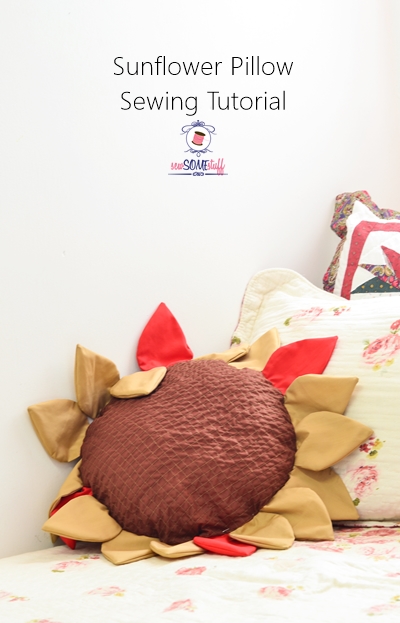 Pin this image to your sewing board or share with your sewing circle on Facebook.
Sunflower Pillow Sewing Tutorial
DISCLAIMER: Some of the links in this post are affiliate links and I will receive small compensation for any purchase made through these links.
Supplies
Solid brown cotton fabric: 1/2 yard
Solid beige cotton fabric: 1 yard
Solid red cotton fabric: 1/4 yard
Beige thread
Sewing supplies
Instructions
Step 1: Trace and cut out 2 main body pieces from the pattern. Make sure you place the pattern on fold. Additionally trace and cut out 20 petals from beige fabric and 8 petals from red fabric.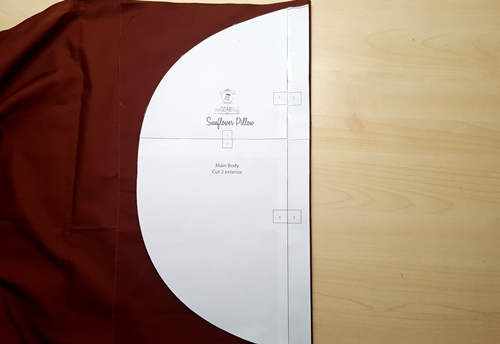 Step 2: Draw a line using your fabric chalk which is 0.5″ from the edge as shown in the picture below. Sew a straight stitch on the line using a long stitch length. Next, using a seam allowance of 0.5″ sew another row of stitches parallel to the previous one as shown in the image below. Continue till you reach the opposite end.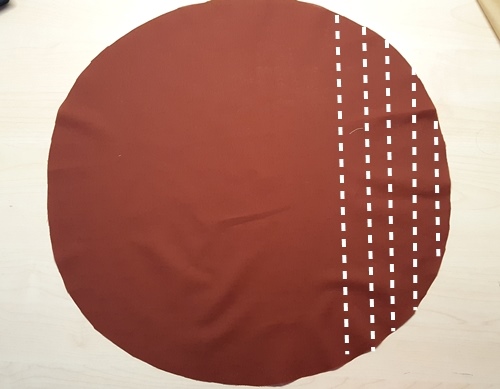 Step 3: Now rotate the circle and sew perpendicular to the previous stitches as represented by the dotted lines below so that you have small squares once you're done.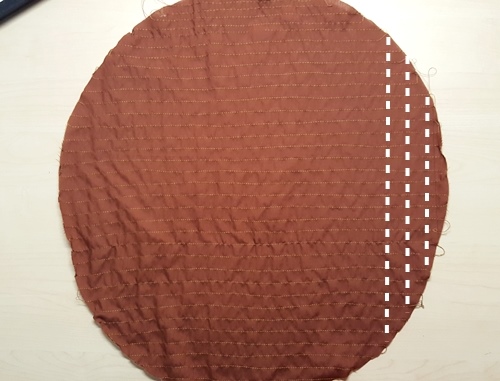 This is how it should look like once you're done.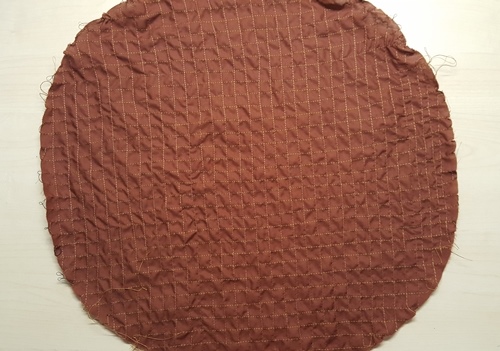 Step 4: Place two of the petals right sides together, sew all around leaving the flat edge open and using a seam allowance of 3/8″. Repeat for the other 23 petals.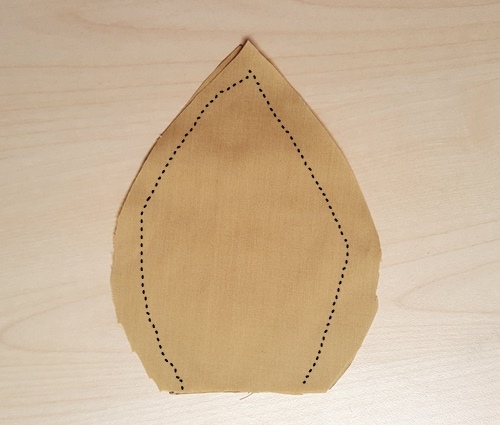 Step 5: Turn the right side out but do not press the seams.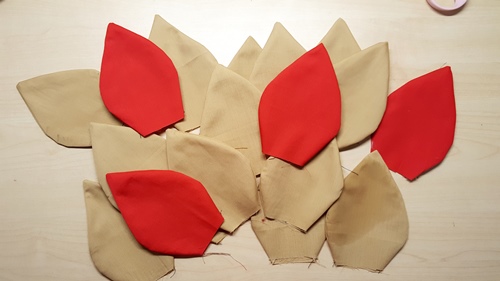 Step 6: Arrange all the petals on top of the right side of the front body piece so that the raw edges of the petals are matching the raw edges of the circle. Pin in place and sew all around as represented by the dotted lines.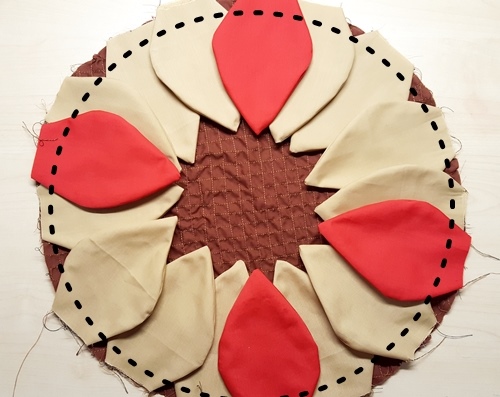 Step 7: Place the BACK body piece and front body piece right sides together and sew all around leaving a gap of 3″ on one side.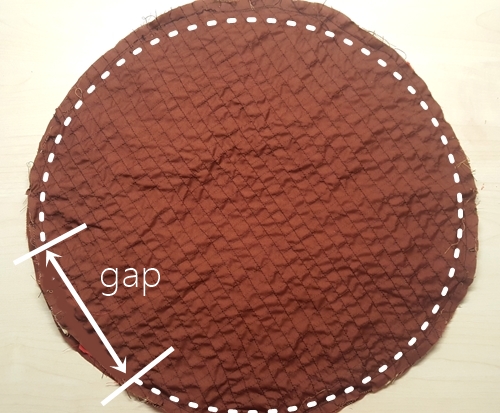 Step 8: Turn the pillow right side out and insert the pillow filling. Close off the gap using slip stitch. That's it, your pillow is ready!
Alternatively, you can also make a separate insert for the pillow using the same circle template and insert it directly into the pillow.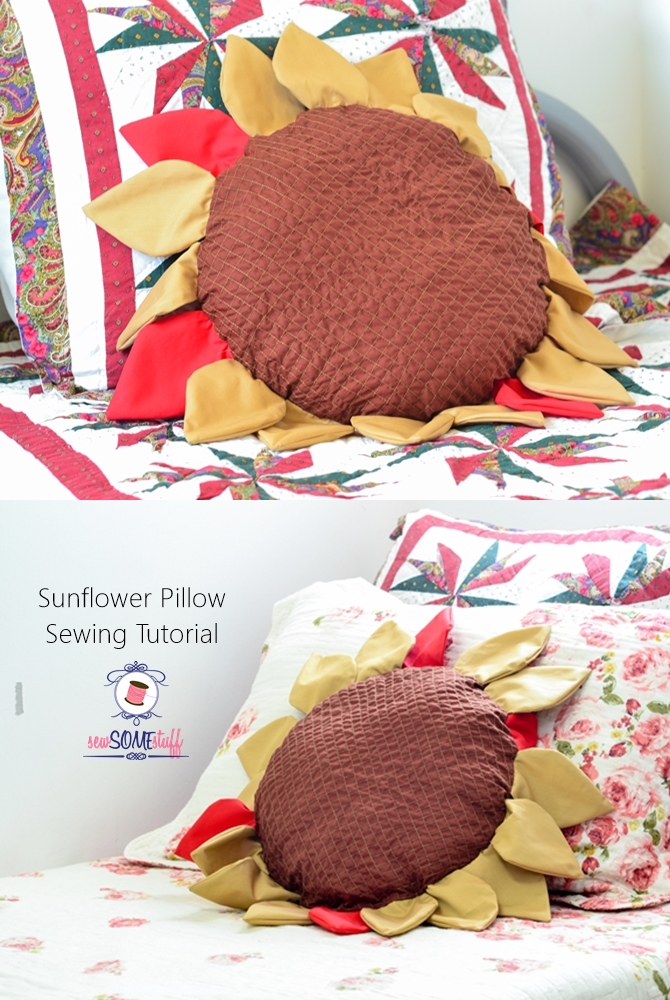 The End
With that we have reached the end of this post where I shared with you easy sunflower pillow sewing tutorial. Don't forget to share this tutorial with your friends on Facebook and Pinterest.
Want more awesome sewing ideas and free sewing patterns?
SIGN UP FOR THE NEWSLETTER BELOW
Psst. Every subscriber gets a FREE bag sewing pattern on sign up.