Before you make a BIG purchase decision for any stuff you have all those questions like, what's in the box? What all do I get right away? What all do I need to buy additionally?
So, in this post, I'm sharing a detailed information on what's included in your Cricut Maker box plus what you should buy and HOW you can get 10% off your purchases.
DISCLAIMER: THIS POST CONTAINS AFFILIATE LINKS. For details read the disclosure policy on the sidebar.
But, before we proceed, I know some of you might be wondering what exactly is the Cricut Maker?
Well, here's a short info on that.
What is the Cricut Maker?
Cricut Maker is the sewist's superhero. The ultimate game changer for sewists. It's the machine which has given ordinary sewists the luxury to cut the sewing project pieces out within few minutes. It's a luxury which was only available to the industries until Cricut machines came out.
Cricut Maker – CLICK HERE to check it out!
Cricut Maker can do all the cutting FOR YOU so you have more time creating gorgeous sewing projects instead of cutting.
And, nope I'm not an ambassador for Cricut, I bought this machine from my own hard-earned money because I just hate to cut. Read more about why I bought Cricut Maker here!
What's in the Cricut Maker box?
Cricut Maker comes in a rectangular box which is PRETTY heavy. Heavy enough for my postman to ask what's actually inside the box. So, you can imagine.
Once you open up the box, you will be greeted with two cardboard holders and a mini rectangular box as you can see below.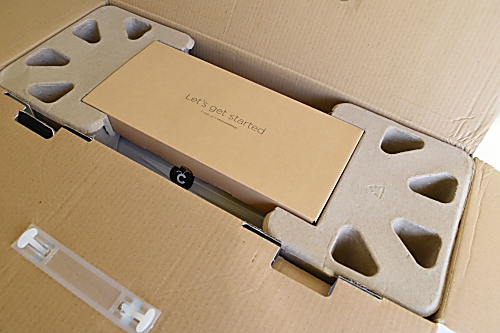 Once you get rid of all the stuff at the top, this is what you shall see. You should also have two thin mats that I already took out before snapping this photo and you will also find a power cord at the side somewhere.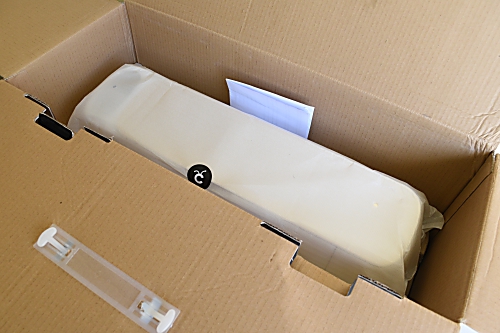 And here's the Cricut Maker machine, the small box, and the power cord out of the box.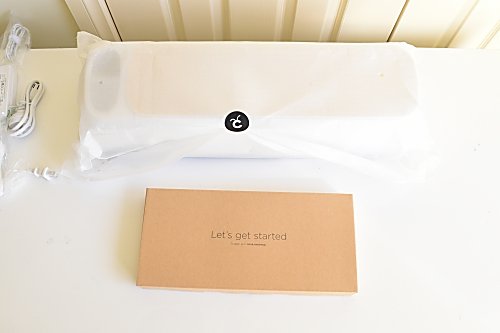 Inside the rectangular cardboard box, you will find a sexy black envelope, Cricut Maker welcome book, and the revolutionary rotary cutter.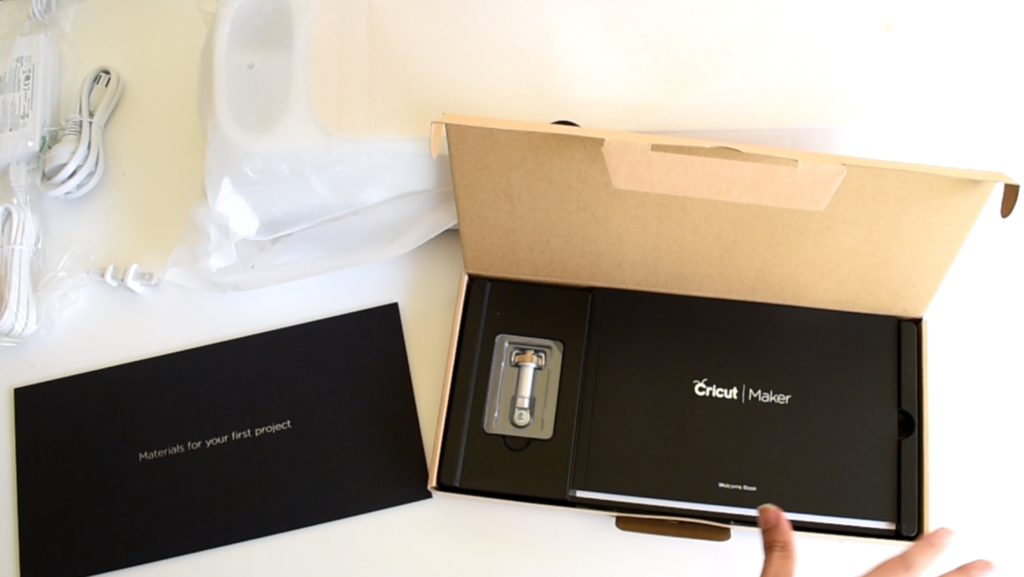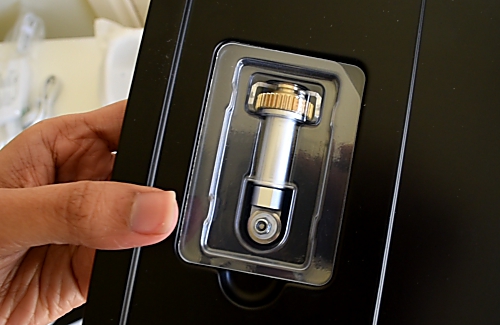 Once you lift the black packaging material out of the box, you will see a Cricut pen and USB cord.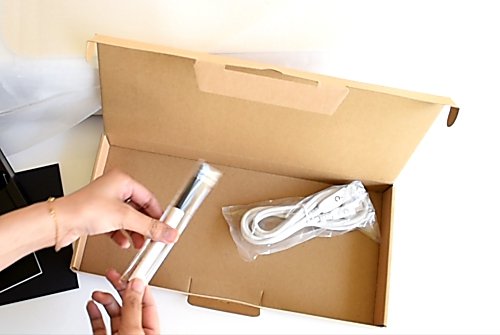 Now, let's have a look at what's inside the envelope.
Inside the sexy black envelope, you will find, one long white cardboard, one rectangular blue cardboard and a piece of fabric pictured below. I was kind of sad as I expected some glittery vinyl and iron-on stuff. But, these were also fun to play with.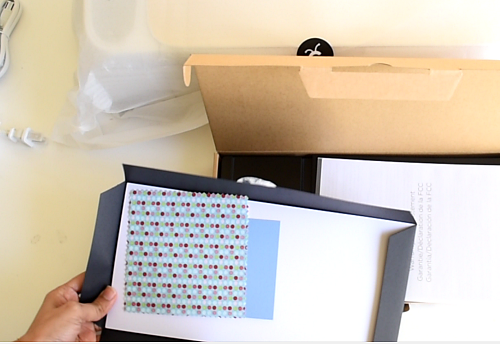 Also, see all those pens and stuff on the side of the box? You need to purchase them separately, they do not come in the box. Sucks for me because I'm in Australia and everything here costs 3x more than the price in the US. 🙁
Summary of What's in the Cricut Maker Box?
Your Cricut box only contains;
a rotary blade,
Cricut Maker welcome book
a multi-purpose pen
an envelope with your "first" project kit
2 cutting mats (FabricGrip and StandardGrip)
a power cord
and a USB cable
These are all just the basic stuff, good for getting started with Cricut Maker. However, since you invested SO MUCH on the machine, I'm sure you would be using it on a regular basis for sewing a lot of projects. And for that, you would be needing some additional Cricut Maker accessories. I've listed all the necessary Cricut Maker accessories needed for sewing in the post "Must Have Cricut Maker Accessories for Sewists" CLICK HERE to read the post.
How to Get 10% off on Cricut Maker Accessories
It's pretty easy to get 10% off your purchases on Cricut Maker accessories.
All you gotta do is set-up your machine following the instructions found on the screen on Cricut Design Space and sign-up for the Cricut Access trial membership. You will then be sent a coupon code to the email address you used to sign-up.
More Helpful Cricut Posts