In this post, I'm sharing Best Sewing Machines for Making Clothes.
In the market today, you can find several different kinds of sewing machines. There are separate sewing machines for making clothes, sewing machines for seamstresses, sewing machines for embroidery, and sewing machines for bag making. Each of these machines has special characteristics that make them perfect for the job they are made for. The best sewing machines for making clothes will be perfect for sewing garments but not for embroidery, therefore you need to be very careful when you're picking out the machine.
In this post, my aim is to help you in deciding what's the best sewing machine for making clothes based on different site reviews. Read on for more info.
"DISCLAIMER: Sew Some Stuff is a participant in the Amazon Services LLC Associates Program, an affiliate advertising program designed to provide a means for us to earn fees by linking to Amazon.com and affiliated sites.
This post contains affiliate links."
Best Sewing Machines for Making Clothes
 💡 💡 If you're in a hurry, THIS specific sewing machine is the most popular one among all sewists.
Amazon Best Sellers
Today's BEST SELLING Sewing Machines 

Making clothes requires a lot of special attention to details; for example adding piping, creating flawless neckline, sewing perfect armholes etc. therefore you need to choose a machine which can easily do all of those. On Amazon, you will find several different machine choices but the machines that are popular among all sewists are the ones by Brother.
The machines I'm going to list here will vary in price range. If you're looking for inexpensive sewing machines, you can check out my post; Best Inexpensive Sewing Machines for Beginners.
Who Am I and Why you Should Listen to Me?
I'm Javeria, I have been sewing for almost 15 years now. I started my sewing journey with sewing clothes but now I have moved to sew bags.
With my 15 years knowledge, I can help you out in picking the best sewing machine for making clothes because I know what features would help in making a beautiful garment.
Like I mentioned earlier, all machines are different and each machine comes with some special features which make each of the different tasks easier.
So, without further ado, here are the best sewing machines for making clothes.
In the picture: Brother CS6000i, Full-Featured Sewing Machine – – Very affordable. Lots of options – get more info here: https://amzn.to/2OZHqXc
Top 3 Sewing Machines for Seamstresses for Garment Sewing
The three sewing machines given below are top rated on Amazon. The first machine is VERY popular among all sewists and was bought MORE THAN 7,000 times! Can you believe that?AN
Click on the links to check out each of the top rated sewing machines for garment making.
Best Garment Sewing Machines for Seamstress
Why are people so crazy about this machine?
This is because:
It comes with an automatic threader, such a time saver!
It has adjustable sewing speed, you can increase the speed while sewing in a straight line for example when sewing pants and you can reduce the speed when sewing difficult pieces.
Comes with a wide table so you can easily work on larger projects like quilts.
Comes with a free arm, making intricate sewing. attaching sleeves, and neckline a breeze.
CLICK HERE to read why people who bought it love it SO MUCH.
Want to see the machine in action? CLICK HERE to check out the video!
Other reasons to buy the Brother CS6000i
One reason this machine is SO popular is because of all the amazing features it has for JUST $150 or lesser.
It has a touch system for everything, all you gotta do is just place your finger on the function you would like to select.
It has a free motion quilting foot as well as built-in quilting stitches so if you enjoy quilting occasionally you would love this machine.
CHECK CURRENT PRICE HERE!
---
2) Brother Project Runway Sewing Machine XR9550PRW
The best thing about Brother Project Runway Sewing Machine is the amazing list of built-in stitches. It comes with 110 different types of stitches which is SUPERB for sewing as you can get super creative with all those amazing stitches.

The other reason why this machine is so awesome is because of the 8 different styles of AUTOMATIC buttonhole feature.

This is definitely a sewing machine for a fashion designer or seamstress who loves to get creative with her sewing.

Don't take my word for it, CLICK HERE to check out what people who bought this machine have to say for it. You can also get to see some of the projects they made using this machine.
Want to see this machine in action? CLICK HERE to check out the video.
---
3) SINGER Quantum Stylist 9960
Special things about this machine

600 built-in stitches with 5 different styles of fonts so you can do a little embroidery as well without having to buy an embroidery machine
comes with a variety of feet
automatic needle threader
---
4) Janome 8077 Computerized Sewing Machine
30 actual built-in stitches

Can be operated with foot control or via start/stop button

Sliding speed override and Extra-high presser foot lift

Free Bonus Accessories Include: 1/4″ Seam Foot, Concealed Zipper Foot and Size 12 Needle Pack

Comes with Janome Exclusive Jam-proof magnetic rotary hook
---
5) Brother Serger, 1034DX, 3/4 Thread Serger
This Brother Serger is great for you if you love to sew with knit fabrics. Sergers are perfect for sewing lingeries, swimwear and other knitwears.

This serger is the BEST one currently available in the market for this price.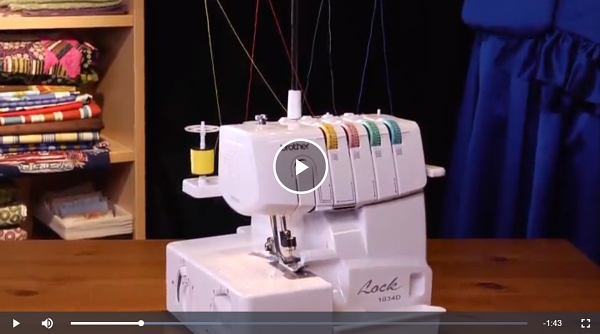 ---
6) SINGER | Heavy Duty 4423 Sewing Machine
Lastly, here's a sewing machine perfect for you if you'd like to indulge in some leather garment sewing.

This Singer Heavy Duty sewing machine is specially designed to sew through thick layers of fabric which is why it's an ideal choice for those who make leather jackets and other leather accessories.
Top 3 in Pictures
Once again, here are the TOP 3 sewing machines for dress-making and sewing clothes.
Final Verdict
The BEST sewing machine for making garments without any doubt is the Brother cs6000i. It's affordable and comes with several amazing features that can help you in sewing beautiful garments for your loved ones.