In this tutorial, you will learn to sew fabric glasses case. This DIY glasses case is perfect for beginners, makes an awesome handmade glasses case and fabric sunglasses pouch. This is also one of the easiest cricut maker sewing projects.
There's so much going on here. Since the time I got into a proper everyday routine with no college or traveling, it's like I have so much time to focus on my sewing and the blog. I really like it this way. It gives me more opportunity to create awesome tutorials for you girls and share them on the blog.
I'm also working on starting a designer handmade bag business so some days I also work on that. Right now, it's in the early stages and I haven't started taking orders yet which means I don't have much to do. But I'm not sure how things are going to turn out once it's up and running.
If you have an online handbag business or want to start one, I encourage you to check out Online Bag Biz blog at bagpreneur.com. There, you will find lots of helpful info on getting your handmade bag business up and running.
Sew Share Days
I've recently started something new which is the Sew Share Days – (LIVE Facebook/Instagram hangouts) to be able to hang out with you girls, get to know you all better and talk all about sewing because honestly speaking it gets a bit boring if I'm just sitting behind my screen without any one-on-one interactions.
The Sew Share Days are held bi-weekly; twice on my Instagram and twice on my Facebook page. Like my profile on Facebook and Instagram to join in for the sessions and have fun!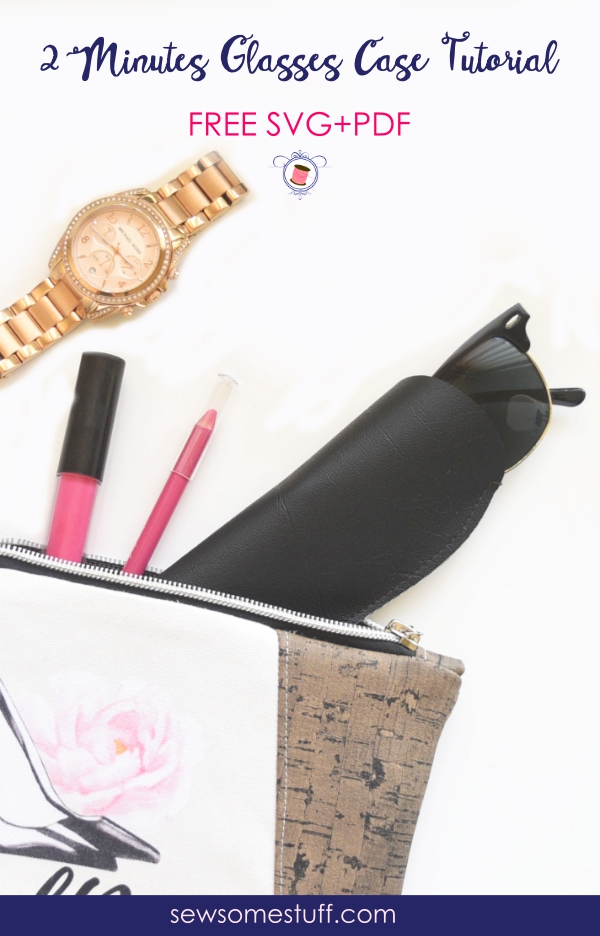 AMAZON AFFILIATES DISCLOSURE
Sew Some Stuff is a participant in the Amazon Services LLC Associates Program, an affiliate advertising program designed to provide a means for sites to earn advertising fees by advertising and linking to Amazon.com.
AFFILIATES DISCLOSURE
Some links in this post are affiliate links.
Fabric Glasses Case Tutorial
Okay, now onto the fabric glasses case tutorial.
Learn to sew a DIY glasses case using fabric or faux leather in less than 10 minutes. These glasses case make a perfect gift for anyone in the family. You can also add them as a thank you gift with the other handmade items that you sell.
This tutorial comes with a FREE SVG file and PDF pattern. You can use the SVG file to cut out the fabric pieces using your cutting machines like Cricut Maker, Silhouette as well as Brother ScanNCut.
Or if you don't have any of those, you can use the PDF pattern to cut the piece out by hand.
Both the PDF and SVG is available for FREE to all the VIP newsletter subscribers. You can become a VIP member by signing up for the newsletter below.
The tutorial contains instructions for making the glasses case using fabric as well as faux leather/cork. The faux leather version only takes 2 minutes or lesser to sew whereas the fabric version may take longer because of all the steps to turn the right sides out etc.
Before we proceed, here's a little info for those who are unfamiliar with the Cricut Maker machine.
What is the Cricut Maker?
Cricut Maker is the ultimate cutting machine for cutting out literally anything like fabric, denim, fleece, interfacing, leather, cork and so much more!
It makes cutting super easy as all you gotta do is load your fabric and press the button to cut everything out. It's great for making small projects.
If you're wondering whether Cricut Maker is right for you or not, check out "Is Cricut Maker Actually Good for Sewists".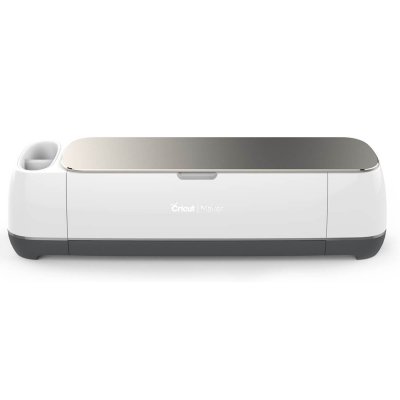 Supplies Needed for Fabric/Faux Leather/Cork Glasses Case
Free SVG file/PDF pattern: can be grabbed from the free pattern library for VIP members. Become a VIP member by signing up for the email list at the bottom of this post.
Fabric scraps for exterior and lining measuring at least 9″x8″
Sewing supplies

Non-Stick Sewing Machine Presser Foot

– only if you're sewing with faux leather.
Fusible fleece – only if you're sewing with fabric
Cutting Instructions for Fabric Glasses Case
Note that there are three different files for fabric glasses case in the library.
1 SVG file for sewing with faux leather/cork.
1 SVG file for sewing with fabric.
1 PDF template for those who do not have a cutting machine.
Download the fabric glasses case files you need from the FREE library that you can access after signing up for the list.
Use SVG fabric glasses case files to cut out the pieces using a cutting machine such as Cricut Maker, Silhouette Cameo or Brother ScanNCut.
Use the PDF file to cut out the pieces for the exterior, lining and, fusible fleece.
Step-by-step Video Tutorial for Handmade Glasses Case
The End of Fabric Glasses Case Tutorial
With that, we have reached the end of the handmade glasses case tutorial. Check out more super fun and easy projects below!
More Cricut Maker Sewing Projects
11 Super Simple Hand Sewing Projects for Beginners