Assalam alikum girls! Welcome to a new sewing tutorial – How to sew a niqab.
Javeriya here after almost a month's gap because I was busy with my exams and just this week I finally got time to sew something. So today I'll be sharing with you a video tutorial highly requested by all of you. It's very basic and can be a great beginner sewing project. So let's look at the supplies.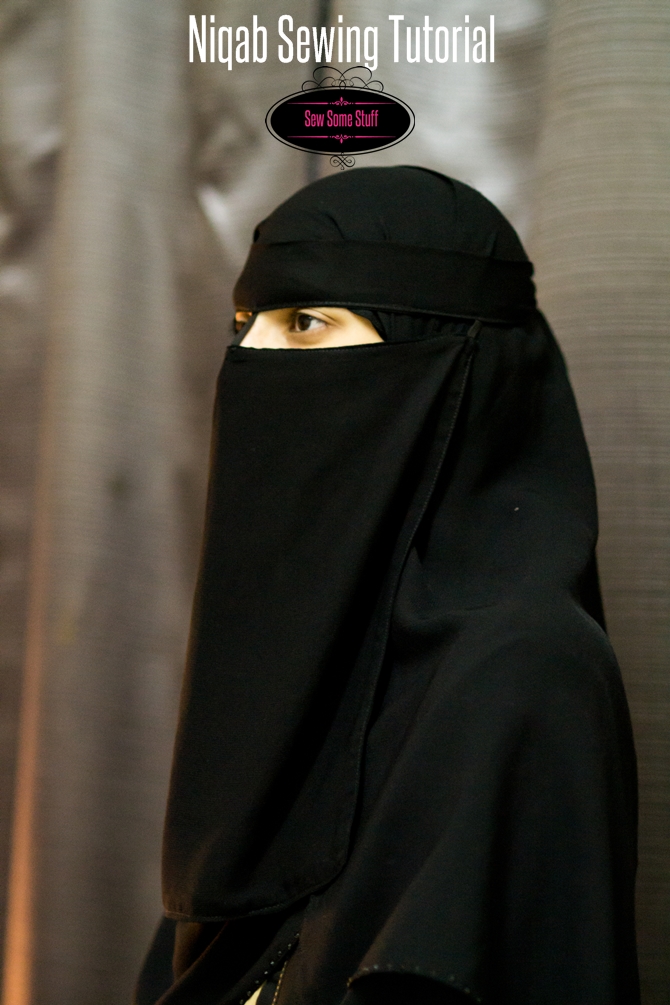 How to sew a niqab – Niqab Sewing Tutorial
Supplies for "how to sew a niqab":
1/2 yard soft fabric
A 1/4 metre thin elastic or fabric cord
To make the niqab, I used an old scarf which is quite light weight and I don't really know what fabric it is. Seems like viscose to me. You just need a soft breathable fabric which is not too thick. I have lots of old scarves which came with my abaya that I don't really use so I just upcycled one for this niqab.
Cutting
So first of all cut out two rectangles and a long sash like thing. Measurements are listed below.
Rectangles: Cut two measuring 13″x15″
Sash: 35″x5″
TIP: Often the fabrics the scarves are made of are quite slippery. The secret to cutting slippery fabrics is to use a newspaper underneath to prevent the fabric from moving. Find out more about fabric sewing tips in this post.
Sewing steps for "how to sew a niqab"
Next thing you have to do is; fold the edges and press. I've only folded one side because the other one is already done. And then I folded it into half again and pressed.
Another thing you would need is a black elastic or cord. Cord can be like this one. I don't have a cord right now so I'm just going to use this elastic.
The long sash is going to be the top of the niqab as you can see here.
Okay the next step here is to take both the rectangles and fold half inch from the top edge from the shorter side and press. Fold on the wrong side.
So, I've already pressed both the sides. Now, I'm going to place both the pieces together so that the right sides are facing each other.
Next, I'm going to pin it all around. I'm going to sew from three sides leaving the side that I folded. Maybe this image can help you understand better.
The next step is to sew. I've already placed my tape as a seam guide. Now I'm just going to do a straight stitch.
Next, I'm going to clip all the corners. And then I'm going to finish the seams using a zig zag stitch over here.
Next, I'm going to turn the right side out, poke the corners and then I'll press the seams.
Okay back to sewing now. Now I'm going to hand sew the elastic to the body.  Make sure when you're sewing the stitches are really neat because this is going to be very visible.
For the one in the middle, I'm going to fold the body into half and then put a little crease at the fold, now I know where's the middle point is and I can sew the elastic here.
And here it is, all three elastic are done in place.
Next, I'm going to bring two pieces together and sew.
Okay now it's time to attach the long sash.
First, I'm going to fold it into a half to determine the mid point and then I'm going to align the center to the center elastic and hand sew it just like I did earlier.
And then, I'm going to do the sides.
Now I'm going to sew the band edges together. This stitch needs to be really smooth and straight because it's going to be on the front and very obvious so go slow and take your time.
And the last step is to give a good press to all the seams to get a perfect finished look.
And that's it, the niqab is ready!
Now before I end this post I would like to give a shout out to three recent subscribers:
Sadi A

Ahlam Mohamed

Fazilla Rehayu
Thanks so much for subscribing, I hope I got your names right in the video. Do let me know if you have any specific tutorial requests. <3 <3 <3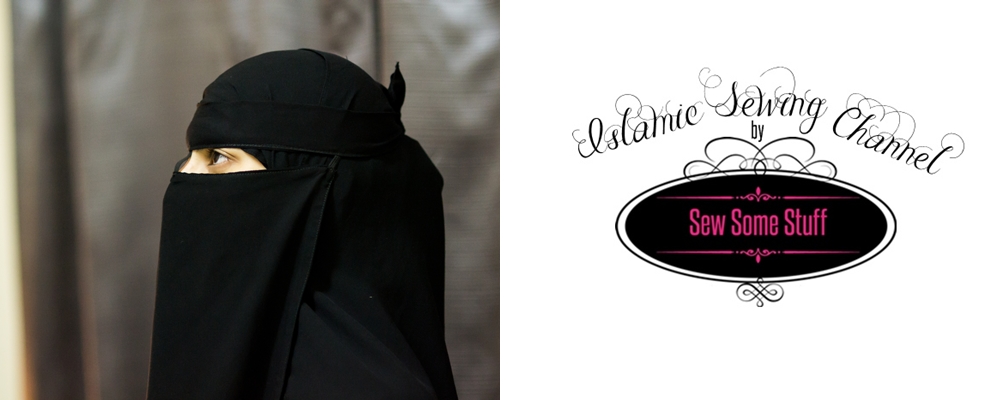 Do subscribe to the channel for a shout out, you never know next person might be you! I share lots of Islamic sewing tutorials. You can check out the abaya sewing tutorials under the sewing tutorial category.
What do you think? Wasn't the tutorial super easy to follow? Now you can sew a dozen niqab in no time, which brings me to ask how many niqabs do you own? Have you ever tried a colored niqab? Let me know in the comments below. Oh, also don't forget to pin the post to your Pinterest sewing board. You can also share it with your friends on Facebook using our social sharing buttons at the bottom.