Sewing machine feet are the best thing that were ever invented (other than the seam ripper of-course). They make small tasks such as inserting the zipper, making ruffles, adding buttons so much easier. But there are SO many of them out there! So, which ones are the MOST important ones that every sewist MUST have? That's the question I will be answering in this post so keep reading if you are stuck in this dilemma.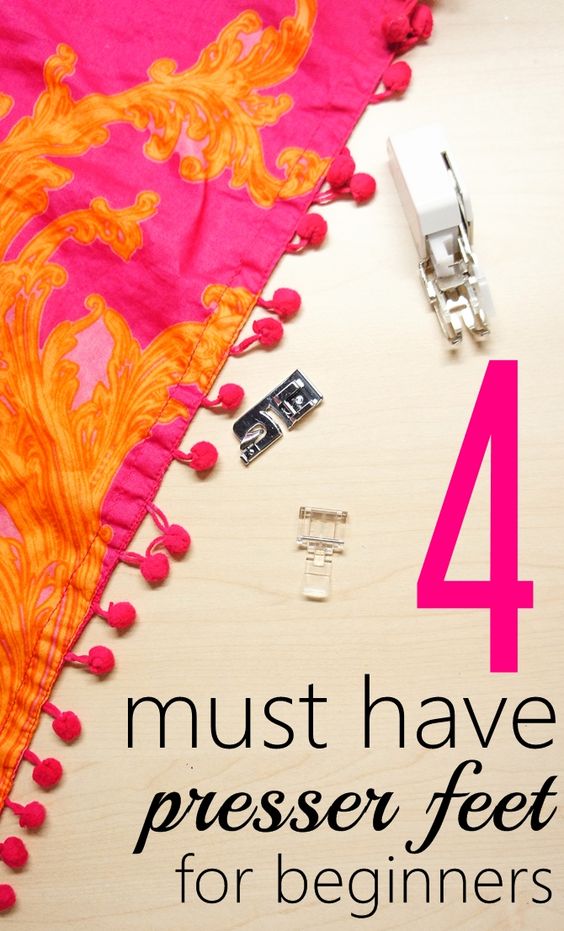 DISCLAIMER: Sew Some Stuff is a participant in the Amazon Services LLC Associates Program, an affiliate advertising program designed to provide a means for sites to earn advertising fees by advertising and linking to Amazon.com.
Before I begin I must clarify one thing though; this post is aimed for absolute beginners who are about to purchase a new sewing machine for the first time and are having a hard time deciding which sewing feet to buy. Normally I would suggest that you just purchase the entire set together with the machine, however if you are on a tight budget you MUST buy the sewing machine feet that I will be talking about in this post. These are the feet that you would need for everyday projects like sewing bags, dresses, skirts, coats etc.
So what ARE these famous feet?
4 Must Have Sewing Machine Feet for beginners
1. Zipper foot
No matter what you sew; a bag, a skirt, a dress, you would be inserting a zipper into it, which means sooner or later you would need a zipper foot even though you are just starting out at the moment. It can take you one day or a week to move to the "zipper-level" so why not just purchase the foot right away? Most of the machines come with the zipper foot included like when I purchased my new machine, I got the zipper foot and the regular foot with it. However, if your machine kit does not contain one you MUST purchase it separately. They are quite inexpensive and worth the investment because they make the process of inserting the zippers easy breezy. I know this because once upon a time I used a sewing machine which didn't have the option of changing the feet which made inserting zippers a nightmare for me.
Since we are talking about inserting zippers, may I suggest you this FREE class on Craftsy where you can learn how to sew zippers flawlessly. This class is great for absolute beginners and is full of tips on how to get the perfect zipper for the first time and forever. On top of that, it's totally free so do check it out.
Do note that the zipper foot is not just meant for inserting zippers, it can also be used for sewing with cording and piping. I found it quite helpful while sewing the bags because I normally cut the thick interfacing smaller than the actual seam allowance.
---
Hate sewing with hands, especially when it comes to sewing buttons? This foot would be your lifesaver. It makes adding buttons so smooth and it does not even require much time. I did all my buttons in like 5 minutes when I used my machine to sew them. Yep, they're that handy.
---
3. Walking foot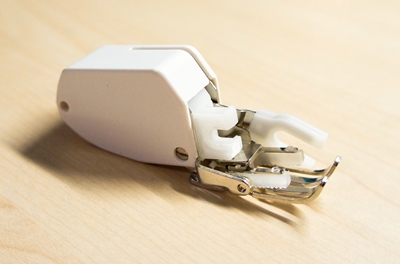 This is a must for sewing perfect knits and is also very helpful in sewing bulky layers of fabrics. You can also get great results with this foot if you use it for sewing sheer fabrics which are hard to get hold of. This foot will not be included in the sewing feet box but it can be purchased separately from any sewing supply shop. You can find a lot of videos on how to install and use the foot on the internet to help you with getting started with the process. When I first used it for sewing knits I was AMAZED at the result. It made the sewing so smooth and the stitches turned out completely perfect without any puckers. I'm so in love with it that I feel like using it permanently for all kinds of sewing. Check out the set of rough stitches on the knit fabric below. These are my very first stitches that I did right after installing the foot.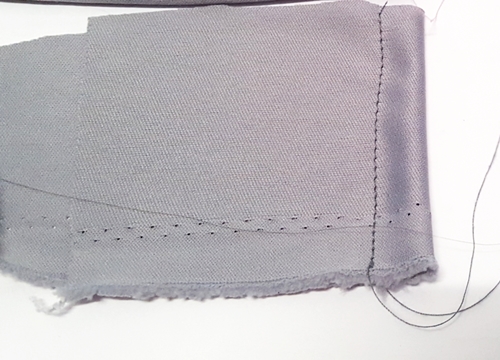 Normally when I used the ordinary foot for sewing knits, the fabric always got stuck inside the jaws of the plate on the machine, but guess what, I didn't have any such issues with the walking foot. And this brings me to say a walking foot would be a great investment if you plan on working with knits. It will save your sanity.
---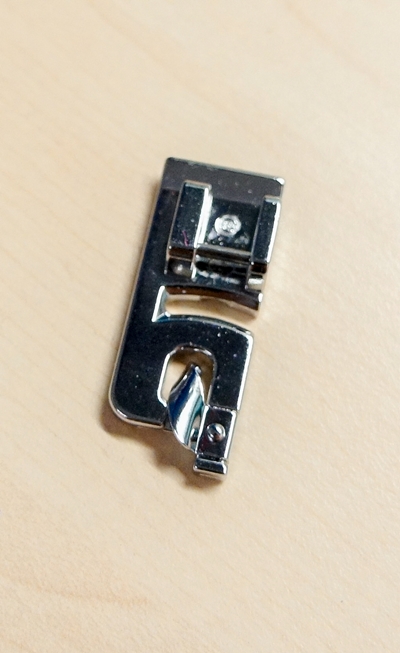 Soon after you've made a few projects with cotton you would definitely want to make some skirts and outfits in sheer fabrics. That's where you would need the rolled hem foot. I find this foot so helpful that I purchased it right after I bought my new machine. It makes the task of hemming the edges of the sheer fabrics a total breeze once you get the hold of how to sew because it can be a tricky process with the slippery fabrics. (PS if you would like to learn more about sewing with sheers, try the online Craftsy class "The essential guide to sewing with sheers").
Okay, that's the end of the list. If you would like to know in detail about ALL the sewing machine feet in one place I would recommend watching the "Presser feet and needle" online class on Craftsy. This class has 9 different lessons which show you the following techniques:
how standard feet can save time and add detail.

how to create chunky seams with the zigzag foot

how to sew decorative details with the satin stitch and straight stitch feet.

You'll discover how zipper feet can be used to create piping, a hidden zipper and more.

techniques that make hemming, edge stitching and buttonholes a breeze with the blind hem and buttonhole feet.

And also which specialty feet can be used for easy ways to sew slippery, thick and sticky fabrics. Spice up your home decor with trims and pintucks. And finally,  learn to finish your projects with flair by exploring the possibilities of bias binding, beading, braiding, and ruffler feet. 
Whew that's a lot of things jam packed in one class! But, if you are not ready for this class you can also try out the FREE class "Sew machine feet A to Z" where you can learn to identify and use 11 most common feet. I think this class would be great to start with so sign up right away!
With this, we have reached the end of the post where I showed you four of my most essential sewing machine presser feet that would be helpful to you as a beginner. If you benefited from this post don't forget to share it with your friends on Facebook or pin it on your Pinterest sewing board. Follow Sew Some Stuff on pinterest for more sewing tips, tutorials, and techniques. Thanks for dropping by! 🙂