Today I'm sharing a cute yardage conversion chart printable that you all can stick on your sewing room gallery wall or on the memo board for easy reference. A lot of people were talking about how helpful it is to have all the yardage measurement conversions in one place so I thought a printable would be a great idea because you can easily put it up in your sewing room near your cutting table for a quick look instead of having it in your computer or in a diary.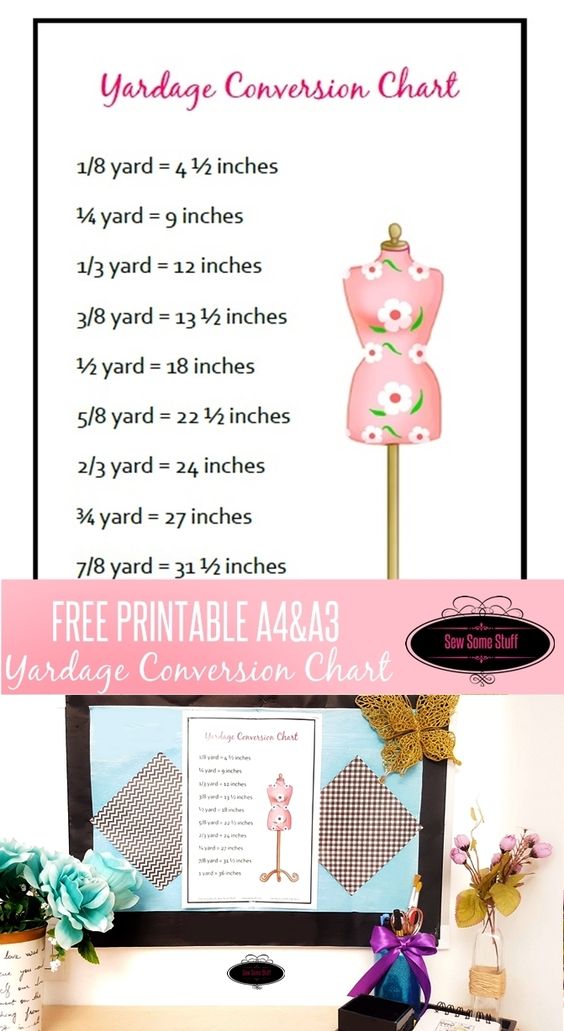 There are three sizes for the free printable A4, A3 and letter size, so you can use any of the three sizes. The free yardage conversion chart printable shows conversion for the following sizes:
1/8 yard
¼ yard
1/3 yard
3/8 yard
½ yard
5/8 yard
2/3 yard
¾ yard
7/8 yard
1 yard
Here are the ways you can use this free yardage conversion chart printable without getting into any trouble:
Use it as a poster in your sewing class
Use it personally as a poster or in a photo frame for your sewing room
However, the following are not allowed:
Printing and sharing the printable with third party (you are free to share the link to this post, it will be a huge favour if you do J )
Selling the printable in hard or soft copy
Copying the printable and sharing it as your own.
Next comes the question about how to print the free yardage chart printable? You can follow these steps for printing out the printable:
Open the file in pdf format
Click on the print icon
Select 100% or actual size
Select colored option then just click print
To print in A3 you can either take it to the printing shop to get it printed.



Hope you liked this FREE printable yardage conversion chart and found it useful. Subscribe to the email list if you would like to receive free printable patterns and posters in future. Thanks!
Don't forget to check out these awesome posts too!