In this post, I'm sharing some great sewing room ideas for small spaces that would work best for creating a sewing space in places like bedrooms, living rooms, and dining rooms.
This summer, I will be going back to my parents' house for internship and I want to have a proper sewing area where I can create all the mess I want without disturbing the entire house. The best solution to this is to utilize the empty space in my bedroom. Since I want to have a sewing corner in the bedroom it would be best to have one of those amazing sewing closet/sewing armoire turned sewing centers.  While browsing for ideas I came across these awesome sewing room ideas for small spaces that would work perfectly for small spaces and can be wrapped up into clean sewing closets/sewing armoires.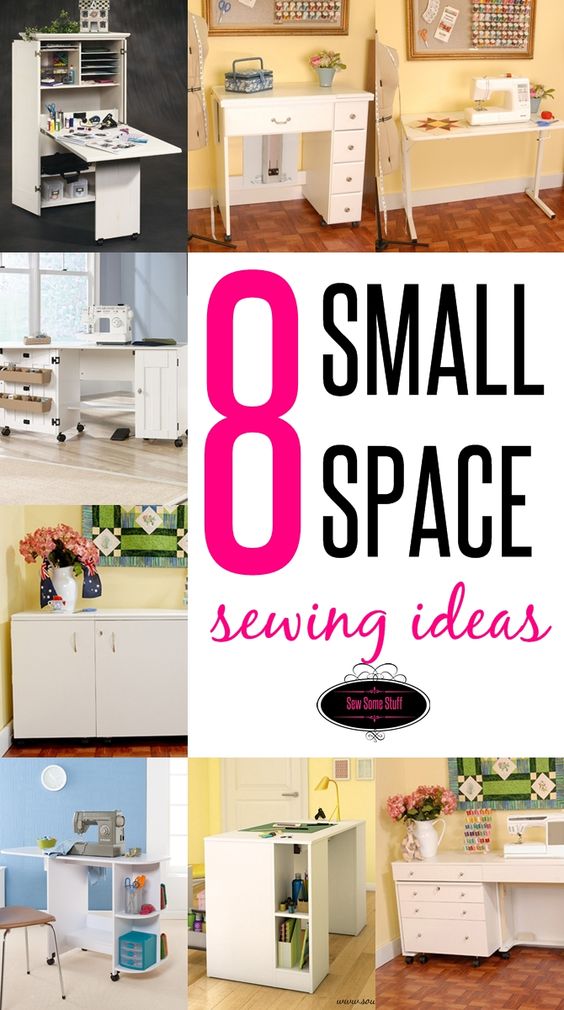 "DISCLAIMER: Sew Some Stuff is a participant in the Amazon Services LLC Associates Program, an affiliate advertising program designed to provide a means for us to earn fees by linking to Amazon.com and affiliated sites.
This post contains affiliate links."
8 Sewing Room Ideas for Small Spaces
Craft/Sewing armoire: I think this is one of my favorite ways to keep everything in place. This would also work perfectly for me because everything would stay covered from the crazy amount of dust we get due to sandstorms. It definitely has an ample of storage space for sewing supplies and I just love how the table comes out to make more working space which could also be used as a sewing cutting table.

CLICK HERE TO CHECK IT OUT!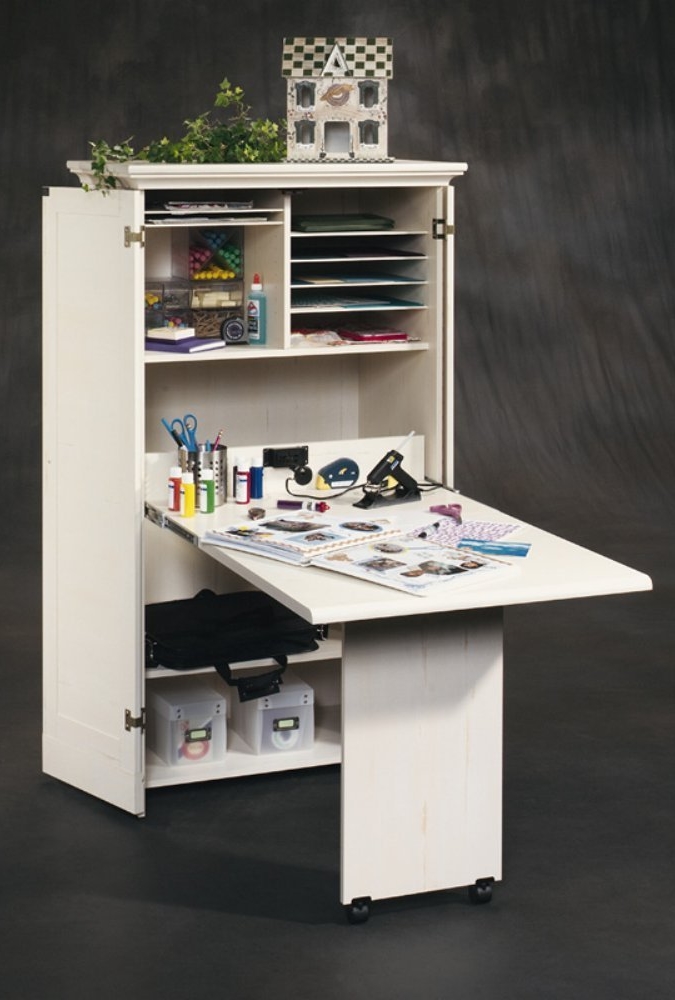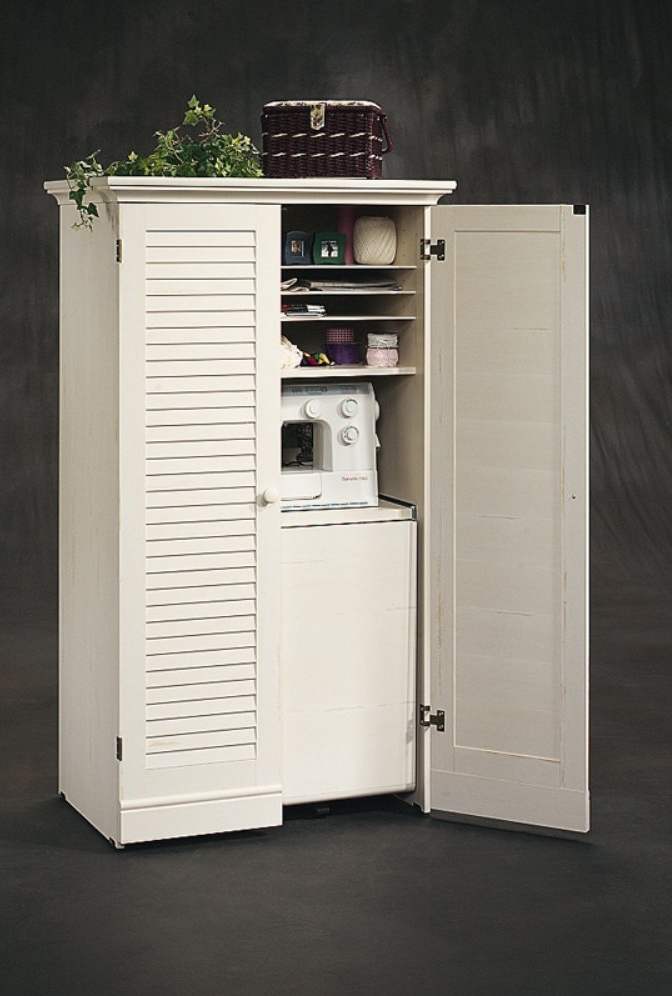 ---
2. Sewing cabinet: A cheaper alternative to the armoire is the sewing cabinet. It comes at less than $200 and is jam-packed with sewing organization space. I love the table top for spreading out my large projects such as dresses and coats while sewing. It can also work great as a cutting table too. CLICK HERE TO CHECK IT OUT!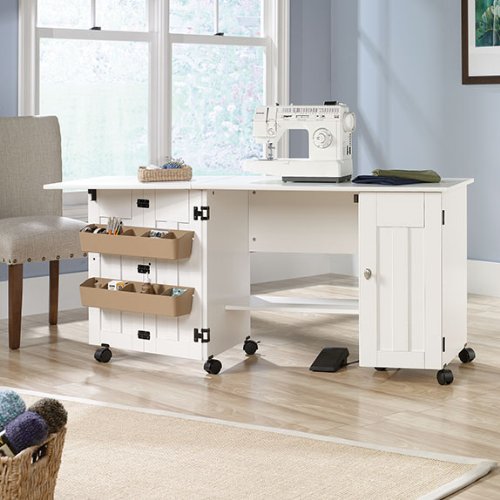 ---
3. Here's another great idea for a sewing cabinet that can open up into a heavenly goodness of sewing. A treasure inside a box. I love how the cutting mat fits into the back side of the table. Can be wrapped up into a neat and clean corner without any trace of sewing. You can easily place it anywhere in your house; living room, dining room, bedroom.
---
4. And, if you prefer a lot of drawers to keep your sewing supplies organized, this sewing cabinet would be perfect for you. CLICK HERE TO CHECK IT OUT!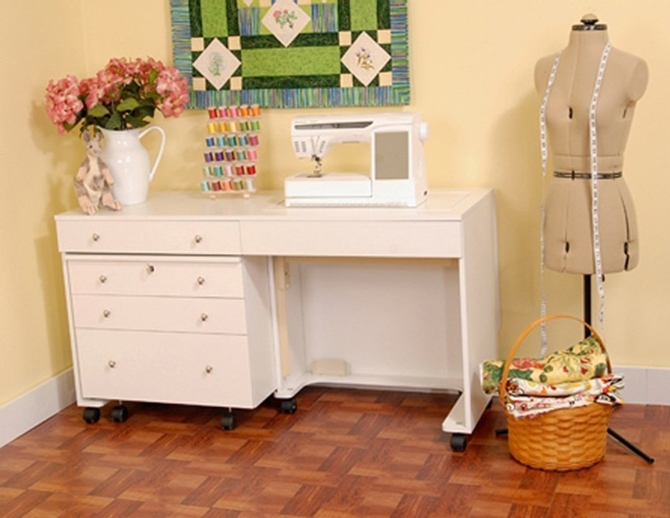 ---
All these hideaway type solutions would be perfect for someone living in an area with a large amount of dust as well as someone with small spaces like apartments and would want to utilize any available area for maximum benefit and when the guests come over, all the mess can be stowed away into a small sewing cabinet. Yeay!
5. Sewing table: If you would like to have a table instead of a cabinet you can go for something like the one below. I love all those shelves for storing sewing supplies and fabric scraps. CLICK HERE TO CHECK IT OUT!
And for someone who wants something simpler, there are three options for them.
6. Vintage sewing table: I love the cute little drawers on the side. The top can also be expanded for extra storage space. But you would require extra shelving and some sewing baskets for your sewing supplies. CLICK HERE to check it out!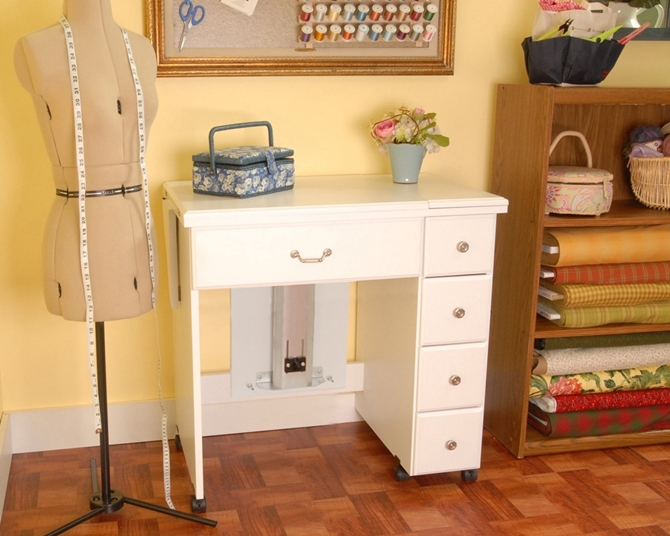 ---
7. Small sewing trolley: Sticking to the simplicity theme, this is I think one of the best choices at a price of $89.99. The table is big enough for sewing in peace and can easily be kept in a corner of a bedroom. The shelving will be perfect for storing supplies in a sewing basket or storage boxes. CLICK HERE to check it out!
---
8. Another and final option for an extremely simple small space sewing area is this vintage sewing table. CLICK HERE to check it out!
---
The End
That's the end of the post where I shared EIGHT different sewing room ideas for small spaces to transform a small area in your house into a sewing heaven. Which idea is your favorite? Comment below.
If you found this post helpful, don't forget to share it with the others who can benefit from it too. You can use the "pin it" or other sharing buttons at the left or the bottom of the post.
More Sewing Room Decor Posts