6. Sew Knits also has a great tutorial on transforming an ordinary frame in a thread wall organizer.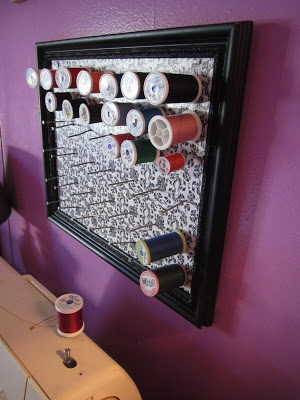 7. I LOVE this wall thread organizer idea from Damask Love as well. The frame is just SO pretty! You can get the complete tutorial on her blog.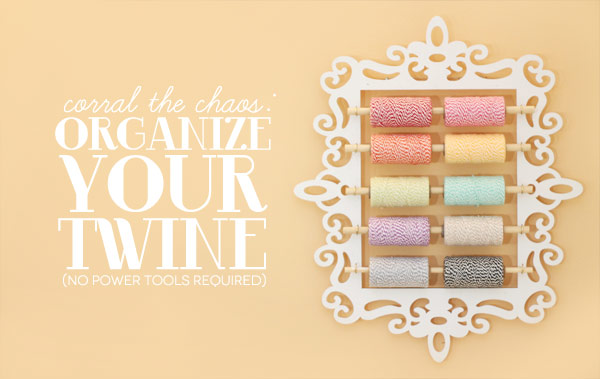 8. Jill from Made it On Monday uses a jewelry holder to store all her threads and buttons. Such a great re-purpose idea! You can find more pictures on her thread and button storage post.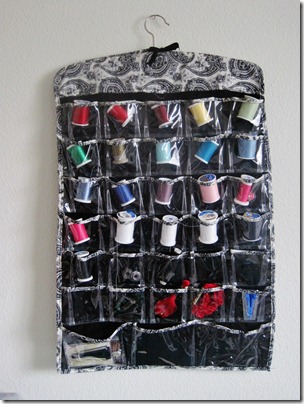 9. Katie from Craftastic also has a great tutorial on vertical thread organizer board that you can place anywhere you like.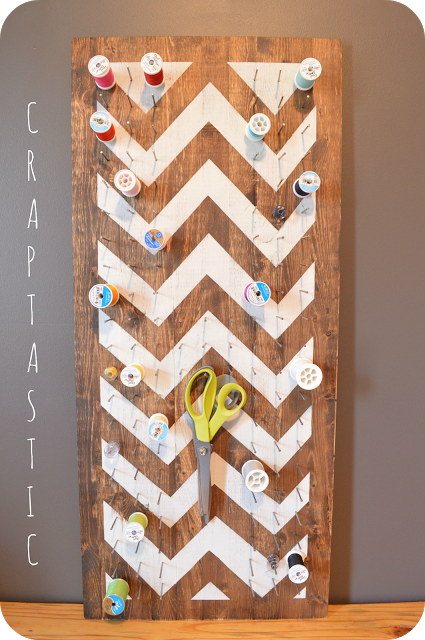 10. UCreate has an amazing tutorial on using embroidery hoops as thread holders. You can check it out on DIY Embroidery Hoop Thread Rack Tutoiral.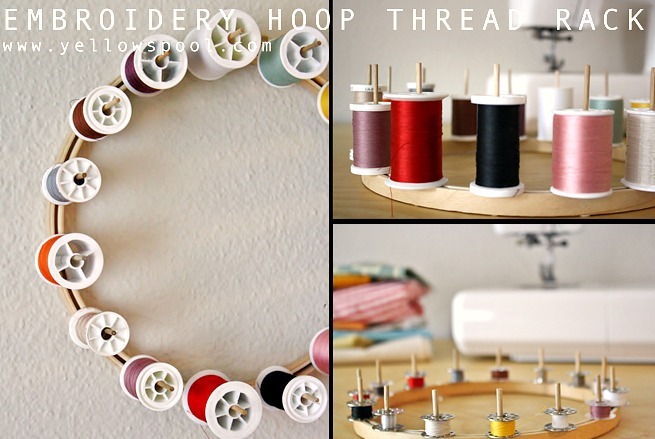 11. Sew Caroline's sewing corner is a perfect example of a sewing space in a limited area. I love how she used pegboard to organize all her threads in one place.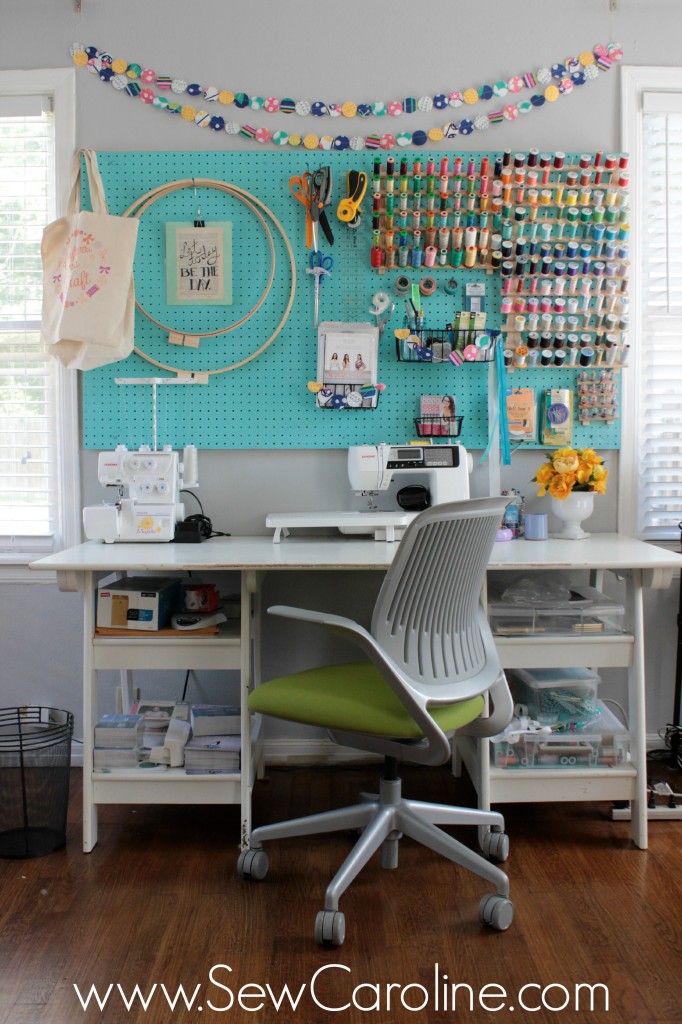 12. Here's a super cool idea by Recylart on up-cycling an iron stand to a sewing thread rack.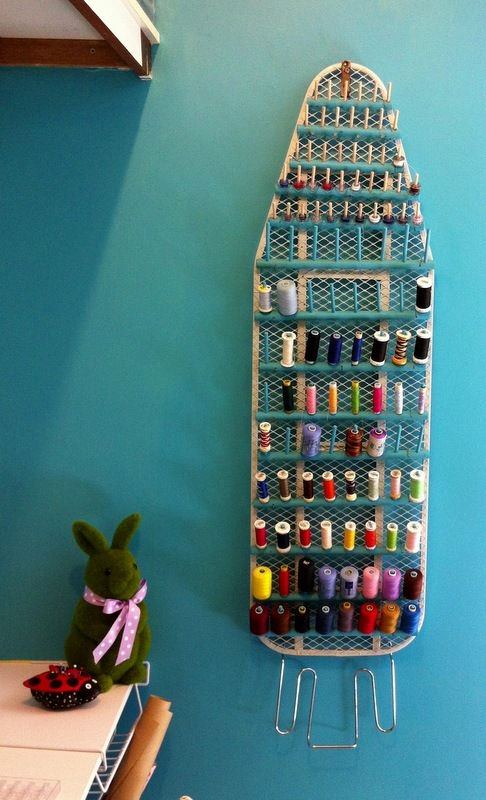 13. Mandy from Sugar Bee crafts made this thread spool rack using pegboard. You're lucky because she also has a complete step by step tutorial on her blog for it. Visit her blog now!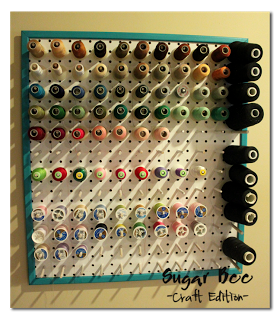 Here are some more amazing ideas with links to where you can read more about them.
Sewing thread rack. Source: Celebrate Creativity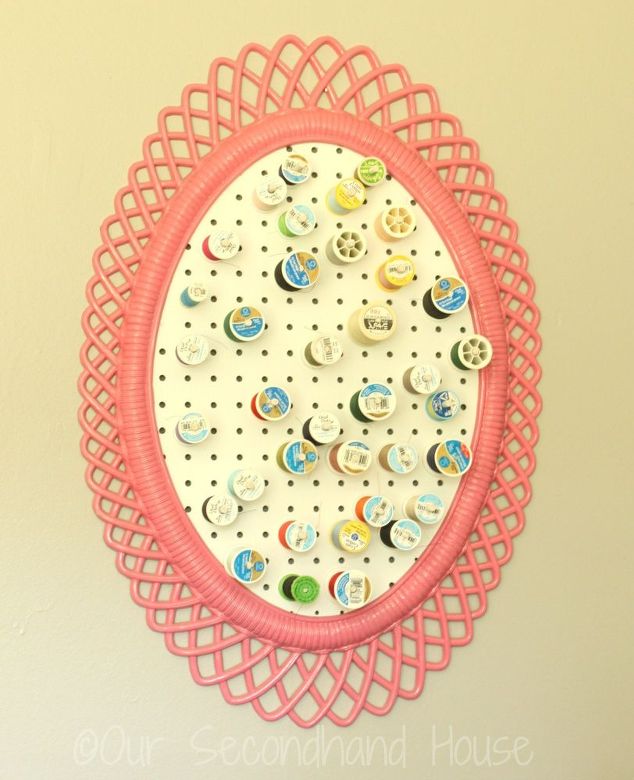 Spool Holder From a Thrift Store Mirror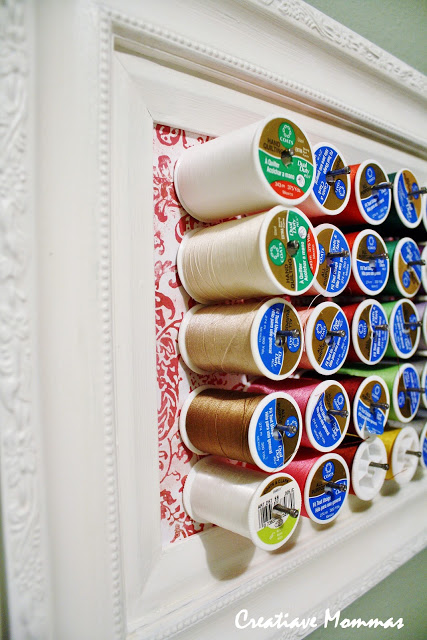 Thread Wall Organizer from Creative Mommas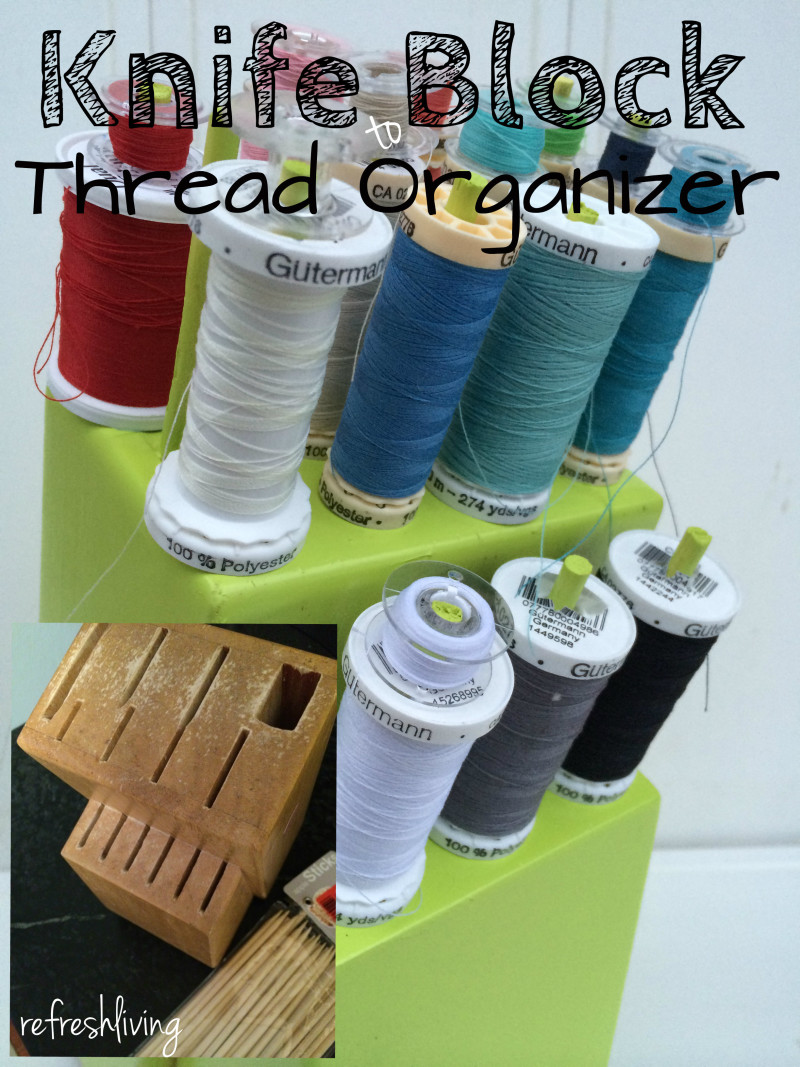 Knife block to thread organizer. Refresh Living
My Thread Storage Solution
And finally, as I promised earlier, here's a shot of how I store my sewing threads. In my post 6 super cheap sewing organization ideas I showed you I used a small plastic box to store ALL my supplies. Well, my sewing supplies quickly grew out of it and I ended up using SEVERAL small plastic bags to store the supplies which was quite annoying as it was taking a lot of space and looked untidy.
That's when I started to look for a solution to keep all my sewing supplies organized in one place. This wooden caddy seemed like a perfect solution. I can store literally ALL my supplies excluding the bag hardware and zippers though. But, it's ideal for my threads, bobbins, and scissors as you can see below. It's PERFECT for my small sewing space!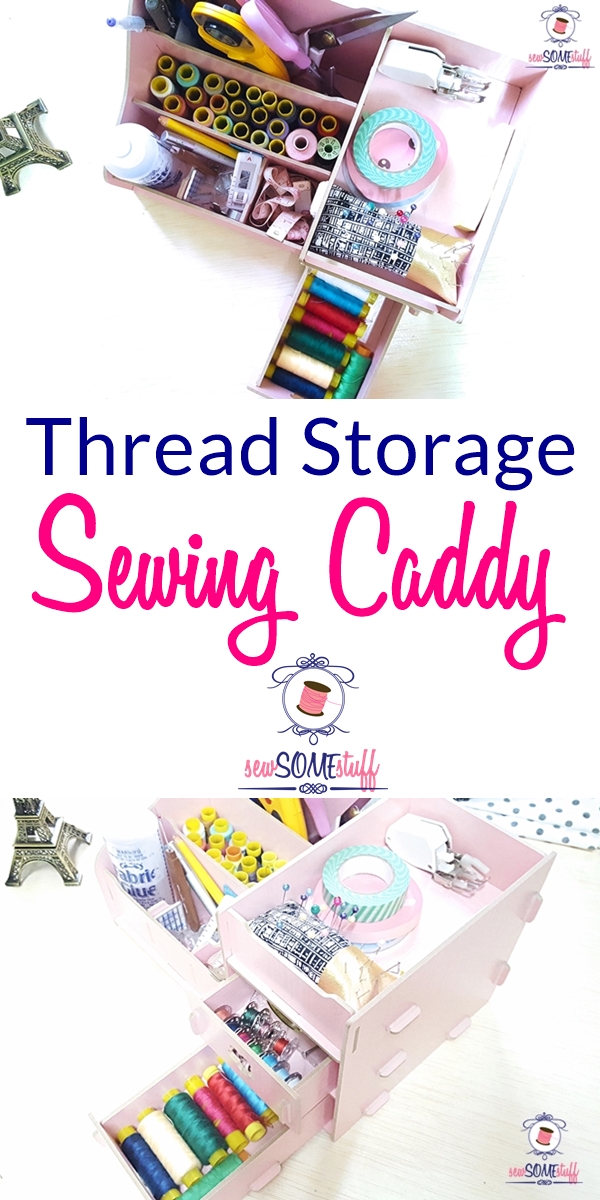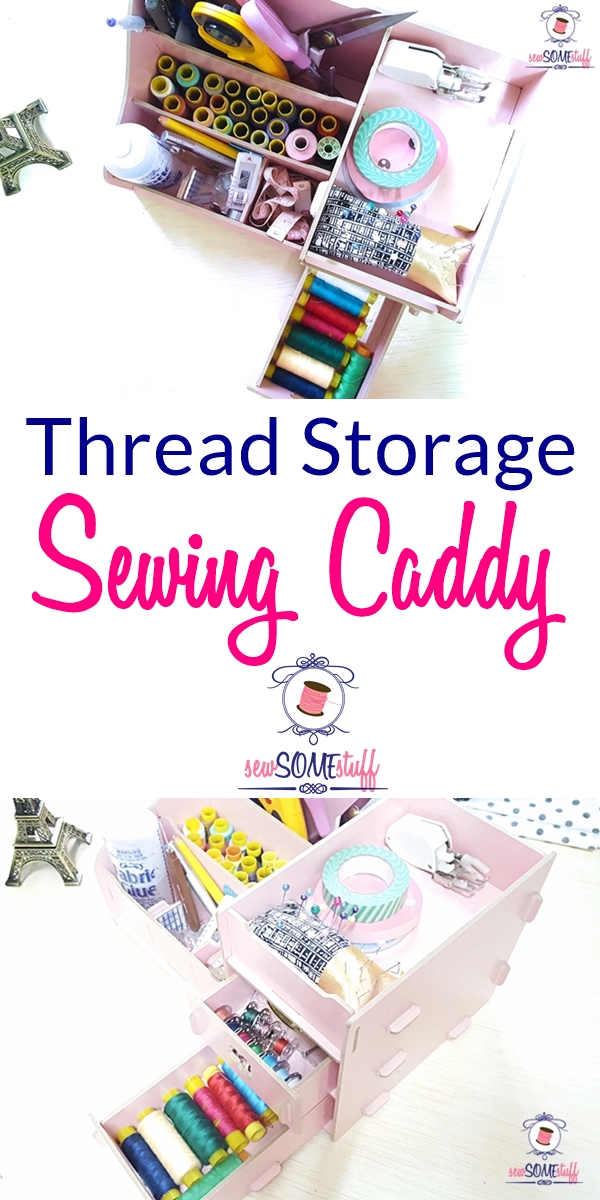 Here's a link to almost the same caddy if you would like to purchase one for yourself.
Do note that you would have to assemble it yourself once you receive it. I didn't want to use my brains for it so I just took my friend's help. 
If you don't want to spend gazillion hours figuring out how to put the caddy together or if you don't have anyone to do it for you, here are some similar caddies that you can purchase from Amazon that would not require any assembly.


Or if you prefer something in acrylic…


---
The End
That's the end of the LONG post where I shared several superb thread storage ideas. Some of these sewing thread holders can be bought at a store and some can be easily made at home. I also shared how I store my threads at the end of the post.
If you're wondering what was inside the butter cookie box that shattered my 5-year-old heart. The answer is; IT WAS FULL OF THREADS!
Now, every time I go to someone's place I'm afraid to look in the cookie and candy boxes, lest there be threads or something else inside. As I said, some people like to use everyday objects to just serve the purpose and that's where things start getting confusing.
If you would like to get ideas on fabric storage you can check out the post 19+ Amazing Fabric Storage Ideas For Sewing Rooms.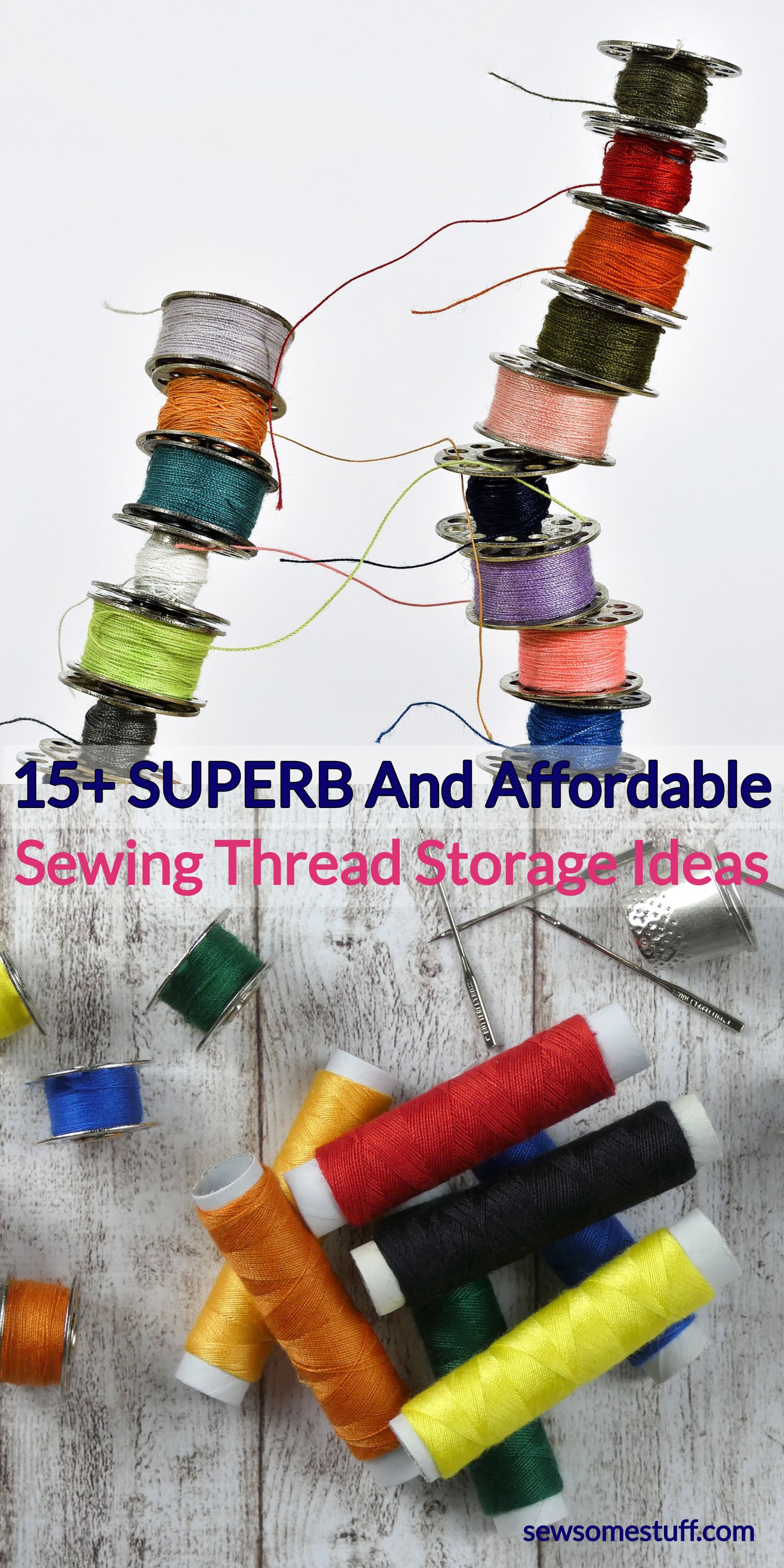 Pin this image for your future reference!
Lastly, if you enjoyed this post DO pin it or share it with your friends on Facebook!