Ultimate List of Online Sewing Pattern Making Classes & Books
In this post I'm sharing Top Sewing Pattern Making Classes & Books for absolute Beginners.
One of my resolutions for this year is to REALLY learn garment sewing from start to finish or at-least get my basics right of designing and working with patterns. I had always wanted to take proper sewing classes but it was totally out of question in a place like Saudi Arabia where I spent 20 years of my life.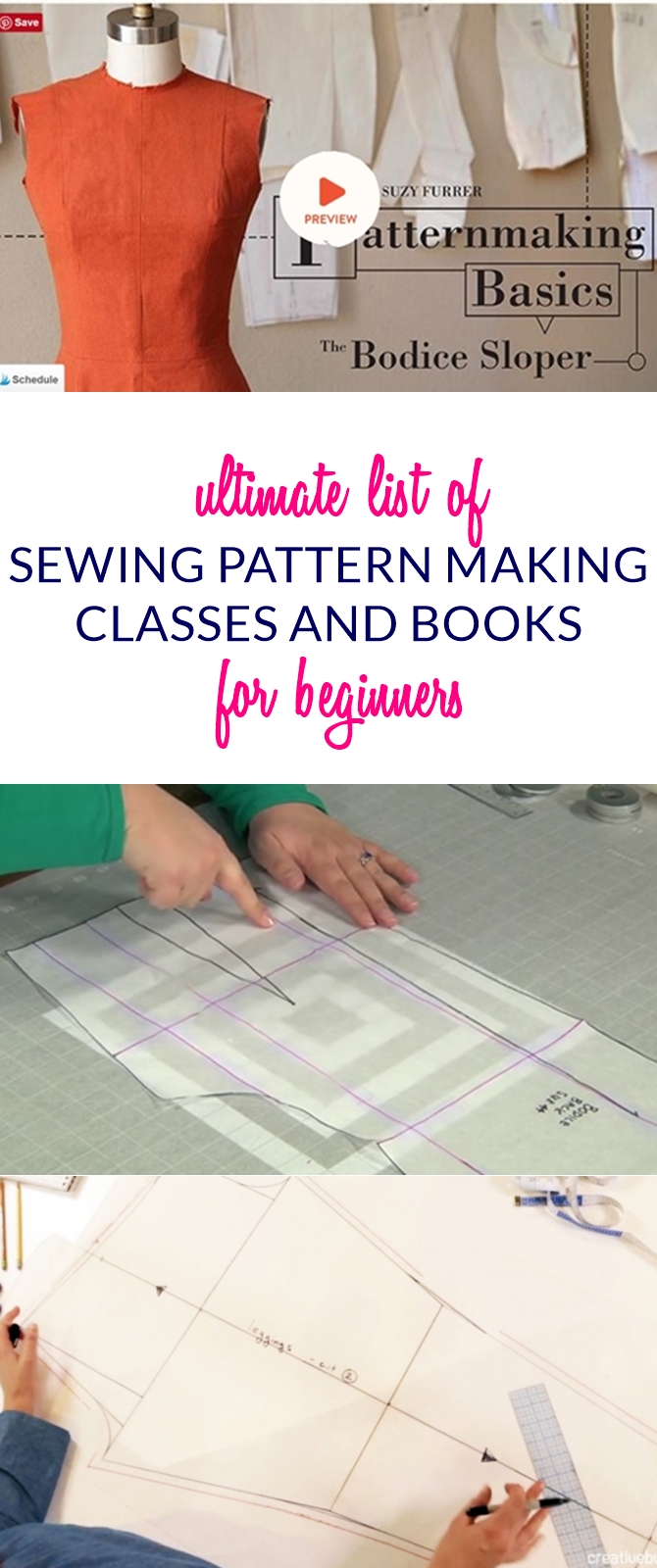 Pin this image on your sewing board for future reference.
With the luxury of online sewing lessons especially online sewing pattern making classes, I think I can finally fulfill my dreams of learning garment sewing from scratch starting with pattern making. When I was looking for online pattern making classes I found SEVERAL awesome websites offering basic pattern design classes and I thought it might be helpful for your girls as well because in past I have received several requests on this topic. So, in this post I will be listing down ALL the available sewing pattern making classes that can be found online. You can then choose what's best for you and enroll in it.
DISCLAIMER: This post contains affiliate links and I will receive a small compensation for any purchase made through these links.
PAID Sewing Pattern Making Classes
Dressmaking: Draft and Sew Your Own Dresses: This is a detailed dressmaking course where you will learn how to take detailed body measurements for making patterns, the basics of adjusting a dress sloper to fit your body measurements, how to create different types of necklines, how to add gathers and pleats to patterns. Additionally, you will ALSO learn how to create THREE dress patterns and also how to create facing and lining. Whew! These are LOTS of stuff packed in ONE course. I'm definitely adding this course to my wishlist. You can read the details on the course page here.
Patternmaking Basics: The Bodice Sloper: This class is dedicated especially to making bodice slopers and is taught by the expert Suzy Furrer. You will learn how to draft both your front and back moulage based on accurate measurements, cut your muslin and assemble it and LOTS of other stuff which makes this lesson pretty packed with good info. Get more details here.
Patternmaking + Design: The Pants Sloper: This pattern making class is SOLELY dedicated to pants just like the previous one. You will start with simple things like how to take accurate measurements and transform them into the waist shaping, dart placement, crotch curve and seam lines for your sloper. Suzy will then guide you through truing up your sloper and making a muslin to refine it for a perfect fit. Find out more here.

Patternmaking Basics: The Skirt Sloper:

You will start with how to make a skirt sloper that's perfectly fitted to your measurements. Then, you will learn how to use your sloper to draft A-line, bias and circle flared skirts. Draft pleated skirts with inverted box, accordion or knife pleats. Also. learn to create skirts with silhouettes such as a lowered waist with a contoured waistband, an Empire waistline complete with a facing, or a pencil skirt. Wow! So many different types of skirts all in one class. Get more info here.
Slopers 101: Drafting, Sewing & Fitting: A class perfect for someone who would like to know how to draft bodice and skirt slopers, sewing the slopers AND supplies you would need for making slopers. Get more info here.
From Sketch to Pattern: Design Your Own Skirts and Tops : This pattern making class is perfect for someone who LOVES to design from scratch. This class will help you in putting your designs on a paper and take it all the way to transforming it into a pattern. This is something I really need in my life because my drawing skills are probably worse than a first grader. I swear, but don't tell anyone. So, this class if definitely on my wish list. You can get more info on this class here.

Patternmaking + Design: Creative Necklines:

This class is all about making various types of necklines. You will learn drafting, fitting, truing and marking neckline styles such as a boat, Grecian, funnel, opera, V-neck, sweetheart, cornered and more! So many things to learn. Get more info here.

Plus-Size Pattern Fitting & Design: Learn to design patterns and sew clothes that perfectly fit your plus size body.

Pattern Grading for All Sizes: Once you have created a pattern, you would need to modify it to fit you with your changing body figure. Or, so that you can make the same garment for your friend who has a different figure than yours. That's where you would need a pattern grading class. In this pattern grading class, you will learn literally EVERYTHING about pattern grading which is Slash-and-Spread Grading (Bodice, Sleeves, Trousers, and Skirts), Ruler Grading, Shift Grading, Full Bust Adjustments etc. For more info check out the class page.
Pattern Drafting and Designing for Stretch Fabrics: If you would like to learn pattern making for knitwear, THIS is the class for you. This is one of the advanced classes, to be enrolled in once you have gained some advancement in sewing non-stretch fabrics. In this class, you will learn to draft a pattern for a skirt, top, stretch pant AND a dress. Awesome, right? Learn more about this class here.
Pattern Drafting with Knits: Drafting a Hooded Sweatshirt: Learn how to make a zip-up hoodie by modifying a shift dress and sleeve pattern to make an oversized sweatshirt. Also, learn how to add pockets to make a complete hooded sweatshirt. So fun and perfect for those who would like to sew casual clothing! Get more info right here.
Copycat: How to Copy the Garments that you Love On-Demand: This is the advanced version of the FREE garment copying class mentioned earlier. This lesson comes with assignments to work on so that you can learn and apply what you have learned side by side. Want to find out more? Click here.
Pattern Drafting from Ready-to-Wear: This is another class for copying your clothes. You will learn the "pin-through" technique to duplicate garments using straight pins and Kraft paper, tracing the design lines of garment elements with pinholes, then adding darts, pleats and other construction elements. All these will lead you to learn "how to copy your favorite ready to wear dress". You can check out the details here and then choose from the two classes which suits you best.

Pattern Grading for Plus Sizes:

This is a must have class for all the people who sew plus size clothing. This class contains EIGHT lessons WITH assignments to help you learn more effectively on the way. Get all the info on this class here. Oh, guess what? I have a detailed post on plus size sewing resources in the archives too. You might find it helpful.
Sew and Draft Your Own Personal 7 Piece Workout Wear Collection: This is a more specific class JUST for workout wear collection. You will learn how to draft patterns for different types of workout tops like yoga tank and V-neck T-shirt as well as how to draft and sew patterns for shorts, leggings, yoga pants AND….. wait for it, SPORTS BRA! This one course you can take to start your OWN workout wear line. A great sewing business idea!

Patternmaking Essentials: The Tailored Jacket: Discover how to make a jacket pattern that's ready to cut and sew. Get more info here.

Drafting Leggings Pattern:

 

Learn how to draft your very own pattern for a custom pair of leggings, using your measurements, taken from your body, as the foundation. You will also learn how to choose fabric for the leggings along with lots of other tips. Get more info here.
A huge collection of sewing pattern making classes can also be found on University of Fashion. They have 30+ classes JUST dedicated to sewing pattern making techniques. Each class covers a different type of sleeve, collar, skirt etc. It's a membership site but the fee is quite small especially if you purchase the entire year package. I think I will be signing up for these classes along with a few from the ones mentioned above.
FREE Sewing Pattern Making Classes
How to copy garments that you love (Part 1): In this FREE online video lesson you will learn how to transform your FAVORITE ready to wear outfit into a pattern that you can use to make your own clothes in future. This course covers how to create an exact copy of the garment by ripping the garment apart followed by tools and techniques needed. It will also tell you what are the right garments for this task and how to choose the perfect fabric for new clothing that you plan to make. Some great things to learn in a FREE course!
Sewing Pattern Making Books 
And now onto the books! Some of the advanced pattern making books for fashion designing can be quite expensive. However, I managed to find a few affordable ones on Amazon with above average positive ratings. These books cover pattern making for several categories like pattern making for men's clothing as well as children's clothing. Check them out below.
8. Pattern Making for Kids' Clothes: All You Need to Know About Designing, Adapting, and Customizing Sewing Patterns for Children's Clothing
9. Design-It-Yourself Clothes: Patternmaking Simplified
10. Make Your Own Patterns: An Easy Step-By-Step Guide To Making Over 60 Patterns
The End
That's the end of the post where I shared links to some of the best sewing pattern making classes and books available on the internet. Personally, I'm more of a visual learner so classes are DEFINITELY what I'm going to go for instead of the books. My advise is to go for something you think is affordable and suits your learning style. Compared to the cost of physical lessons offered in fashion schools and colleges these online classes are still pretty cheap considering the fact that you wouldn't have to pay petrol cost. You also get to save a lot of time as you wouldn't have to get ready to watch these lessons because you can just do so in your PJs from your COUCH! Which is a MAJOR plus point for me. 😀
Don't forget to share this post with your friends and family if you found it helpful. You can use the sharing buttons on the left or bottom of the post.