"DISCLAIMER: Sew Some Stuff is a participant in the Amazon Services LLC Associates Program, an affiliate advertising program designed to provide a means for us to earn fees by linking to Amazon.com and affiliated sites.
This post contains affiliate links."
Do you know a kid who is always saying the zombie apocalypse is coming? If so, Aquarius Zombie Survival Tin Box is the perfect and affordable holiday gift for him.
But even if you don't have a zombie loving boy in your family, this is a hilarious white elephant gift for your favorite gift exchange. This zombie survival tin is truly empty, so you can use it for whatever you want. Whether it becomes your kid's new lunch box, or maybe a tool or tackle box for yourself, the options are endless of what you can use this for. It is a great price at just below $25, and it will be a hilarious addition to any household or holiday gift exchange. You really can't go wrong with buying this survival tin.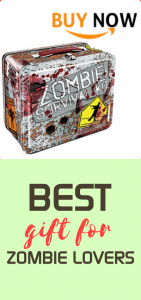 Best Features
Thissurvival large tin is pretty big, and you could easily use it as a lunch box for an adult or a child. If you want one of the coolest lunches around, this is for sure going to be the star of the office.
The colors are very bright, and it is intriguing and interesting. The dimensions for this box are 7.75″ x 6.75″ x 4.13″.
What's Included
While it may appear like this survival tin would come with some cool survival gear on the inside, you are only getting the metal survival tin. However, if you wanted to make this present even cooler you could add some necessary survival items like beef jerky and a water bottle or one of the things from below.
Pros
This zombie survival tin is one of the funniest holiday gifts you can ever give or receive. If you have a zombie friend or child, they will go crazy for this. It is very unique, and you won't find anything like it in stores. If you want something cool and unique to give, you need to get this.
Cons
The clasp to close this lunch box is a little tight, but I am sure it will loosen over time. For more cons, check out these 1-star ratings.
Final Verdict
Overall, this is a really good product. For under $25, I would not hesitate to purchase this again. It is downright hilarious, and I have the perfect friend to give it to. I think the zombie apocalypse is a hilarious topic, so I know my friend who is always talking about it will enjoy this.
If you love zombies, or you know someone who loves zombies, you have to get this.
Want more ideas?