Stranger Things series has taken the world by storm. Be it an adult or a kid, everyone is going nuts about this series including ME who doesn't really enjoy much television.
Keeping that in mind, this holiday season, Stranger Things gifts would be quite popular and loved by anyone who's a Stranger Things fan ESPECIALLY the kids because the story revolves around a bunch of kids.
If you know a kid in your family who can't stop thinking, talking and loving all things Stranger Things, you'll find this Stranger Things Gift Guide pretty resourceful as it's full of Stranger Things merchandise PLUS almost all of the stuff listed cost less than $50.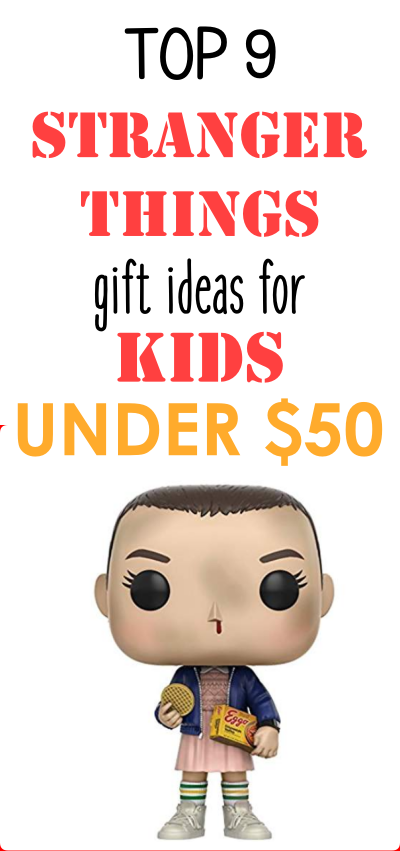 BTW you MUST order these items right away if you would like to gift them this year as they are all QUICKLY running out of stock.
Let's begin!
Don't know what's Stranger Things?
It's a brand new fantasy Netflix series centered around 5 kids aged 12. Due to its unusual plot and probably the fact that it revolves around a bunch of kids has made this brand new series extremely popular among adults as well as kids.
There are several things going on in the series at once. There is this girl who has mind powers like telepathy and stuff. She can control the movement of things through her mind and she can also talk to things using just her mind. This girl grows up in a research lab located in a small town, Hawkins in Indiana.
In season 1, this girl manages to escape the walls of the lab and join a bunch of kids whose friend goes missing. Apparently, that friend has been taken hostage by a creature from another world called The Upside Down.
The entire season 1 revolves around looking for the lost friend and the girl with the powers helps in finding the kid.
It might not seem interesting now, but if you watch it, the series is quite intriguing.
Reasons You Should Gift a Stranger Things Gift
The series is VERY popular at the moment and so are all the Stranger Things merchandise. People are DYING to have anything and everything related to Stranger Things. If they can get a Stranger Things gift this season, they would be SO OVERJOYED. I know this because I myself am a Stranger Things fan.
All of these Stranger Things merch are super affordable. With something below $50, you can easily make a kids' day by giving him/her a Stranger Things gift.
"DISCLAIMER: Sew Some Stuff is a participant in the Amazon Services LLC Associates Program, an affiliate advertising program designed to provide a means for us to earn fees by linking to Amazon.com and affiliated sites.
This post contains affiliate links."
Top 9 Stranger Things Gifts for Kids
1. BEST SELLER – Stranger Things Eleven with Eggos Figure
A figurine is a PERFECT gift any fan of any series would LOVE to have. Since El is one of the most popular characters of the series, getting an El figure would be a perfect idea. Plus it's also less than $15.
However, if you'd like to gift a different character, you can check out one of the listings below.


---
2. Stranger Things School Backpack
---
3. Stranger Hawkins Middle School Fleece Blanket
---
4. Stranger Things Silvertone Charm Necklace
---
5. Demogorgon Monster Necklace
---
---
---
---
---