Let's talk ALL about zippers today.
I'm sure as a beginner you must have wondered things like what's a zipper pull?
How to measure zippers?
What are the different types of zippers?
What's a zipper number?
Worry not, we will answer all the questions in this post. Get ready!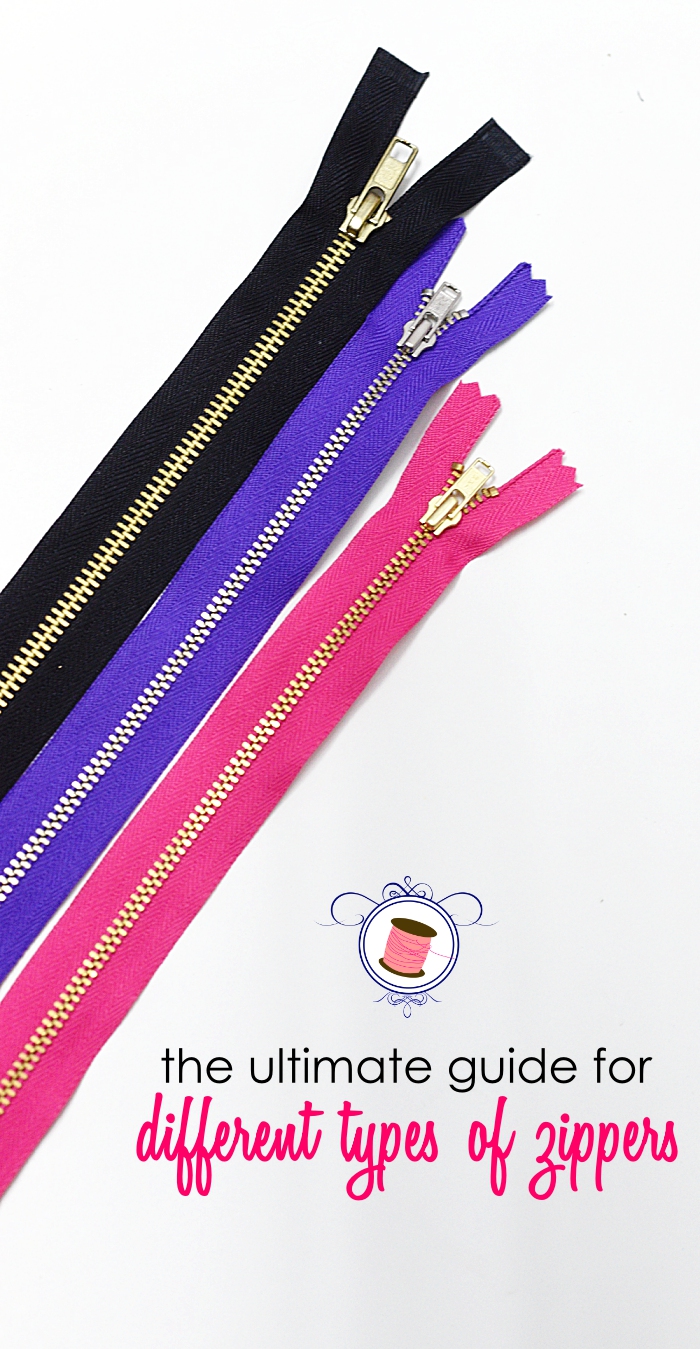 DISCLAIMER: Some of the links in this post are affiliate links.
TYPES OF ZIPPERS

Basically, there are 4 types of zippers.
Invisible zipper,
nylon coil zipper,
plastic molded zipper and
metal zipper as shown below.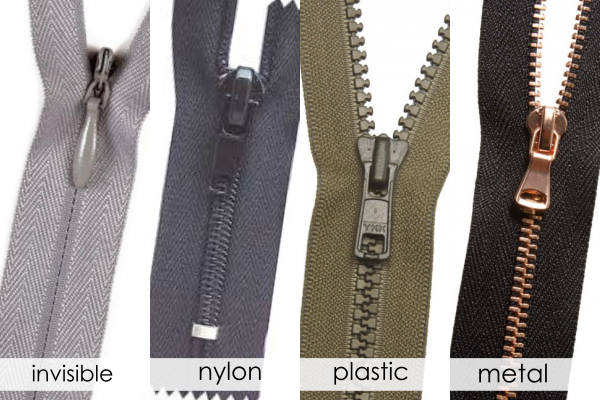 Invisible zippers are mainly used in pants, skirts, and dresses where you want the zippers to be hidden but NEVER in bags.
Obvious, right?
But guess what, when I started sewing bags I actually used invisible zippers as the main zipper for my bags! LIKE WTH. How could I? Well, it's not entirely my fault as invisible zippers were the only zippers available in all sizes where I lived. The other option was to make my own zippers which was out of the question so I resolved to use invisible zippers in bags even though I hated it because it never brought that AMAZING look to the bags.
The second type of zippers are nylon coil zippers. These are really good for bag making. You can use a #5 zipper for main and for pockets you can use #3 for a gorgeous look. We'll talk about what the #s mean later.
The third type of zippers are plastic molded zippers which are mainly used in jackets but are also great for bags.
The fourth type are metal zippers, and these are the ones mostly used in high-end bags. If you want your bags to look classy and all Micheal Kors type, THESE are the zippers you should be investing in.
Personally, I LOVE metal zippers. But they can be quite annoying because of lack of smoothness. But, there's a fix for that too. If you rub a teeny tiny drop of oil across the zipper teeth, your zippers will become as smooth as molten chocolate. I promise.
ANATOMY OF A ZIPPER
A zipper consists of 8 different parts; top tape extension, top stop, tape width, zipper pull, tape, coil/teeth, bottom stop and lastly bottom tape extension.
Check out the picture below where all these parts are located.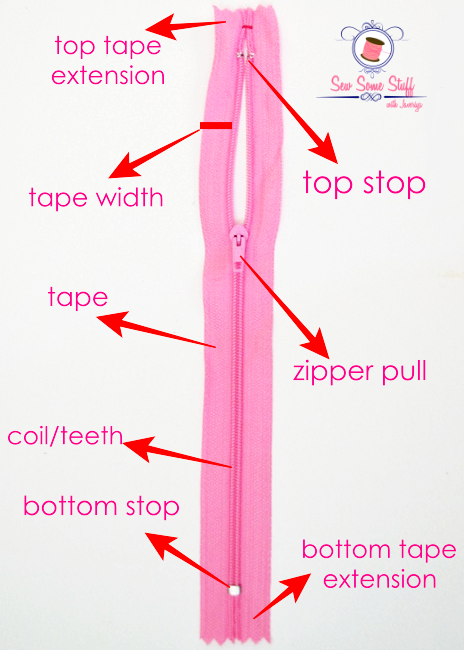 Two most important things to note are the metal top and bottom step.
How to measure a zipper?
Whenever you measure a zipper, you measure it between those two stops. So, let's say you're wondering how to determine if a zipper is 8″ or not….just measure between the two metal stops to find out.
The zipper number (#)
Another important thing to note is the coil width which is often denoted as # or zipper no. This is something I only found out recently.
Coil width is very important for bags as the bigger the coil width, the more pronounced your zipper will look on the bag and give the bag that extra awesome look.
Usually, for bags, it's best to use no.5 (#5) zipper which has a coil width of 5mm BUT for inside zipper pocket, you can use a #3 zipper.
Below is the representation of the two different zippers. Can you guess which one's no.5 and which one's no. 3?
The one left is no. 5 and the one on right is no.3.
Tap yourself on the back for the correct answer!
Means you understood what I've been going on and on about till now.
Now that you know what different types of zippers are, it's time to learn how to prepare the zippers before starting any projects.
You can find all the steps required for preparing your zippers in this post.
The End
Additional resources to check out:
Here are some classes to check out to take your zipper knowledge to the next level.
Mastering in Minutes: Zippers 
Mastering Construction: Zippers & Waistbands