Digital patterns are a great way of earning a side income and anyone who can sew and has the knowledge of digital software can design one. Same goes for bag sewing patterns.
Though, designing bag sewing patterns is NOT for the faint of heart.
Before you dive into this world of designing and selling bag sewing patterns, you must consider a few things.
First off, you need THREE most important qualities to be able to design your bag sewing patterns
passion: designing bag sewing patterns is one tough job, it requires the creation of several prototypes, countless hours of editing and assembling the patterns, testing and finally going through the launch process. And to successfully make it through you need passion!
experience in bag making: a know-how of the techniques used in bag making is essential so that you know what pockets to make and how to go about bag making.
innovative spirit: a true designer DOES NOT COPY instead uses other people's work as an inspiration to come up with something NEW so you must be innovative.
If you think you have all these qualities, you can proceed to start utilizing your design skills to create your own bag sewing patterns.
But if you don't, don't worry, all these qualities can be acquired by trying. It's not difficult, if you have the passion, you will DEFINITELY succeed.
How to Design Bag Sewing Patterns
Now, let's talk about what it takes to design a bag pattern and get it out to the public.
The complete process that I use involves 8 different steps with further sub-steps. Here's a quick short list of the steps.
Planning the design
Drawing the pattern on a software
Planning out the steps
Sewing and taking photos
Editing photos
Re-writing the steps and publishing the second draft
Pattern testing
Publishing and marketing
Now let's look at each step in a bit more detail.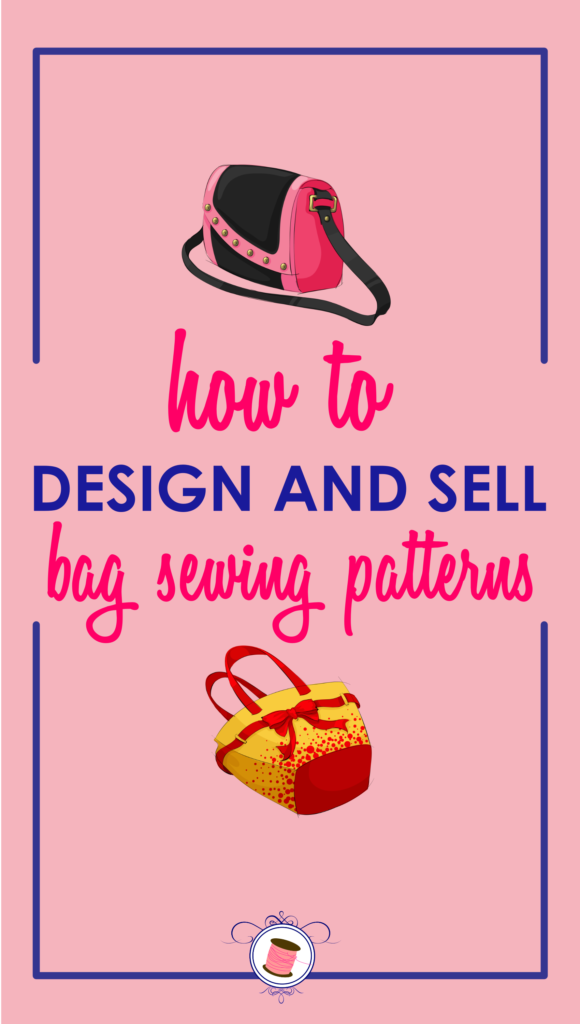 STEP 1: PLAN THE DESIGN
The first thing is obviously to plan the design.
Think about what you want your bag to look like? Who is the bag meant for? Is it going to be a diaper bag or a work bag? Or is it a bag for kids?
Based on the group of people you plan on targetting, decide on the shape of your bags. This is where you would need your previous experience in bag making.
If you've been sewing bags for customers for a while you would have an idea of what the customers look for in a specific bag. You can use that knowledge to come up with a design.
Or just check out on different sites to find out what kind of bags are most popular for a particular occasion and choose your basic shape based on that.
Once you've decided on the shape you can then think about the specific design elements, for example, the shape of connectors, the no. of pockets, any other the extra details of the bag etc.
Since this is a bag design process, there's no specific rule you need to follow. You're a designer, you have complete freedom, but you just gotta make sure whatever you design should be practical and should appeal to your customers.
Feel free to sketch out and try different designs. If you're bad at sketching by hand try your hands at drawing a 2D design in a designing software like Adobe Illustrator. This is something I do all the time as I suck at sketching so I directly jump to the software, draw everything out in actual size and play around with the design elements.
STEP 2: DRAW PATTERN
Once you've decided on your design, you can then move to drawing your pattern on the software in simple 2D shapes.
Here you would need some experience in working with software like Adobe Illustrator or Photoshop or Affinity Pro (one I use).
This is a MUST for designing digital sewing patterns.
Once you've designed your pattern pieces, you can then cut them out using the cut option in the software so that they can be printed in the normally available page sizes.
Then, you need to export each of the individual pages in PDF format and later merge these pages to make one pattern using an online software like Smallpdf. You can then print the pattern and start sewing.
STEP 3: PLAN OUT THE STEPS
Once your pattern is ready, you can start planning your steps.
I like to make a rough draft of steps based on my imagination for example first I need to sew the exterior so I will write down all the steps such as sewing the accent, adding zipper pocket etc. very precisely, so that I know what order I need to follow.
This way I'll plan the entire bag.
STEP 4: TIME TO SEW AND TAKE PICTURES
The next step is to start sewing.
To sew, I follow the steps that I wrote in the Word doc earlier and as I sew I make changes to the steps to add in the seam allowances or any other useful tips that I think would be useful for the customers.
During this time I also make any adjustments to lengths and measurements. If something isn't right, I go back to the drawing step and fix it and re-print the pattern.
That's how I make my first prototype.
Once done, I take some photos of the finished bag and send it to my testers with an invitation to test out the bag. They get a week's time to respond and opt-in.
Meanwhile, I work on the second bag following the steps that I wrote.
Side-by-side I also take pictures of each of the steps.
---

By signing up you also agree on receiving weekly newsletters. Unsubscribe anytime.
---
STEP 5: EDIT PHOTOS
The next step is to edit all the photos and resize them to fit in the pattern and reduce bulk. Large photos can make the pattern file humongous and increase the download time.
I use a free software called Photoscape X which is perfect for simple editing and resizing.
STEP 6: RE-WRITE THE STEPS AND PUBLISH PATTERN
Next, I open up a Word file with my pattern design template and re-write the steps in depth basically just editing what I wrote earlier with more content and helpful tips.
This is also the stage where I add all the pictures to the pattern.
All this is done within a week so that by the time all the testers have signed up, my pattern is ready for the test.
STEP 7: PATTERN TESTING
The testers get 2 weeks to test out the bag and provide feedback on improvements and edits to make.
Once the test is over, I make edits to the pattern and then send out the edited pattern for review.
Next, I sew a final bag based on the edited pattern just to ensure everything is perfect.
STEP 8: PUBLISH AND MARKET
Once I'm happy with the pattern I move to the next step which is publishing. I list the pattern in my Etsy shop, as well as the one on the blog and then send it out to my list at a discounted price for a first few days.
My testers also share the pattern in different Facebook groups with links to purchase the pattern which helps in promoting the pattern.
And that's how a sewing pattern is born.
INTERESTED IN LEARNING MORE?
If you would like to get in-depth knowledge of what goes into designing bag patterns, then get on the VIP list for my DESIGN TO PDF & SALES course coming out soon!
Everyone who signs up will get a copy of the e-book 9 MUST HAVE TOOLS FOR CREATING AND SELLING BAG PATTERNS.

By signing up you also agree on receiving weekly newsletters. Unsubscribe anytime.
Also, check out:
7 Powerful Reasons to Sell Bag Sewing Patterns TODAY!