Back in 2007, when I was 15, I was struck with a new desire.
The desire to dress-up JUST like Blair Waldorf from Gossip Girl. (Were you a fan too?)
I LOVED her dresses, her hairbands, her hair, her EVERYTHING.
So, I decided to sew my own dresses that looked just like what Blair wore but with a touch of modesty. I used a book that my mom had for toddler dresses for a guide to cut the pattern. Made my own size pattern based on the directions for TODDLER patterns and made the dresses.
The result? I think you can guess.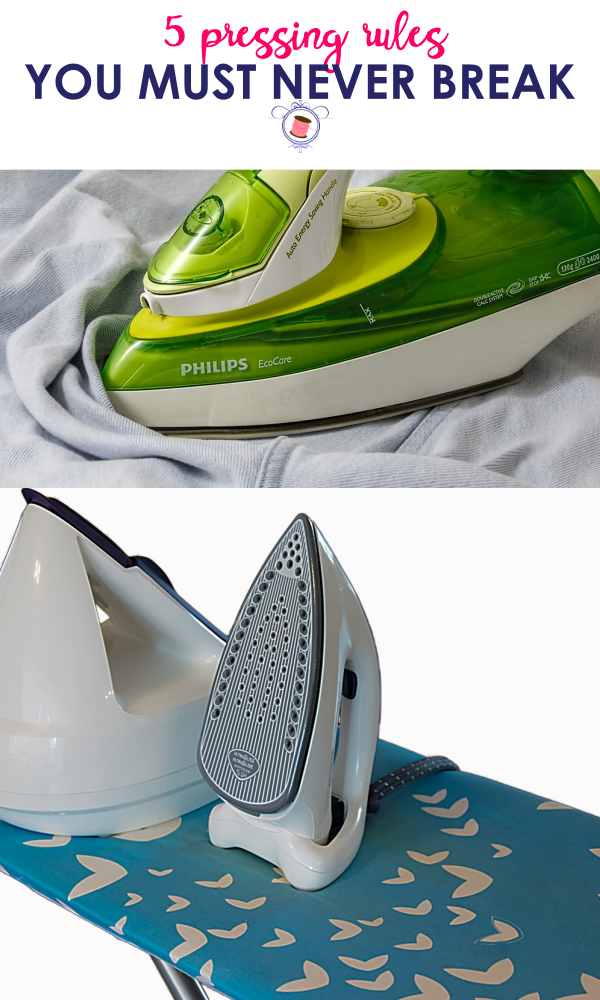 To sew a designer grade dress, you NEED to give it premium attention. Sew with patience and PRESS.
Correct pressing contributes 80% in making any sewing project look POSH and designer grade. Trust me.
And, there are special pressing techniques and rules that you need to follow.
5 Pressing rules you must never break
DISCLAIMER: Sew Some Stuff is a participant in the Amazon Services LLC Associates Program, an affiliate advertising program designed to provide a means for sites to earn advertising fees by advertising and linking to Amazon.com.
But first, let me tell you the difference between pressing and ironing.
Number 1: Know the Difference Between Pressing and Ironing
Pressing means placing an iron with high temperature in the area for 1-2 seconds and lifting and then moving to the next area.
Ironing is just sliding your iron across the fabric to get rid of the crease.
Number 2
When pressing the straight seams, always press them to the side where the fabric is darker. To press your straight seams, flip the fabric and then first press keeping the iron at a 90-degree angle and then press parallel to the stitches. And there you go, beautifully pressed seams.
Number 3
This is a rule which you must NEVER forget. And, that is to press right after finishing a particular seam. For example, you just finished sewing your shoulders together, before you proceed you must press the seams or else you'll never get perfect finish later. I sometimes skip this one when I'm too tired to go to the pressing station. I need a whack for that.
Number 4
When pressing round seams, always make use of a tailor's ham or the seam roll. (No, they're not even close to what you eat). If you don't have one you can always use a rolled pillow or a towel and the sleeve seam should be pressed away from the shoulder. Gives SUCH A PERFECT FINISH. I tell you!
Number 5
Watch the temperature of the iron. Never use high heat that you would normally use for cotton on a silk or chiffon. Delicate fabrics get pressed perfectly at low to medium heat.
My dresses didn't even come close to what Blair wore.
They were extremely ill-fitted (duh! I used a toddler dress book instead of an actual pattern of my size) AND I didn't know anything about pressing.
Long story short, PRESS PRESS PRESS and use the correct pattern if you want that designer look for your dresses.
I know this because I've been there and done it the wrong way. And, now when I started sewing the garments again after learning all the sewing tips I'm enjoying the process more than ever. Plus I'm loving everything that I'm making because the finish is so perfect. So yeah, these pressing rules are a real keeper and something to never ever be broken.
I have also shared some sewing tips great for beginners. Find them all here.
PS. I think my mom still has the book. I'll send you a picture if I find it. Please don't fall off the chair laughing when you see it.
PPS. Here are some sewing classes to help you improve your sewing so that you can make dresses that look like you bought them from Alexander McQueen or Elie Saab.
1. Couture Finishing Techniques (On Sale)
2. Couture Dressmaking Techniques (On Sale)
3. 30 professional sewing techniques (On Sale)
Here are some pressing tools you might find helpful.