In this post, I'm sharing a list of best Iron for sewing and quilting ranging from $100-$300.
Best Irons for Sewing and Quilting
Sewing and pressing can never be separated from each other, which means if you're sewing something or anything you WOULD need to iron and press it no matter what. Whether it's to fuse the interfacing or to set the seam, and that's why you need to have a professional iron at hand for perfect results as well as efficiency.
➡ If you're in a hurry….
This iron is the most popular on Amazon and is the most affordable one.
In this post, I'm sharing some of the best irons that will help you in narrowing down your search. Use the table of contents on the right to quickly navigate to what you want to read the most.
"DISCLAIMER: Sew Some Stuff is a participant in the Amazon Services LLC Associates Program, an affiliate advertising program designed to provide a means for us to earn fees by linking to Amazon.com and affiliated sites.
This post contains affiliate links."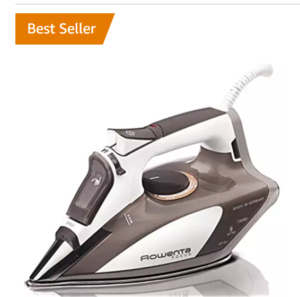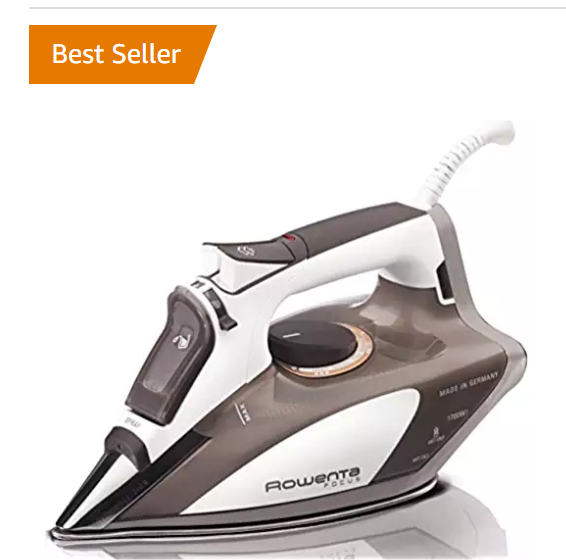 In this picture: Rowenta Micro Steam Iron – Very affordable, lots of options, mostly on sale, get more info here: https://amzn.to/2G5btwa
What to Look for When Purchasing Irons for Sewing/Quilting
Sewists and quilters have special requirements when it comes to choosing an iron. These include:
ability to fit in the tiny naughty corners: this is a must for both garment as well as bag making so getting an iron with a pointed tip is a must
steam pressure: another important must-have for fighting creases on tough fabrics like canvas and denim, the higher the steam pressure the better it is.
large water tank: if you're like me and hate the idea of filling up your water tank every single day, then definitely go for an iron with a larger water tank.
anti-drip: usually an iron starts dripping once it drops, however, there are some which drip naturally so make sure you look at the reviews before purchasing
weight, especially if you have wrist issues: if you have trouble picking up an iron, again and again, you should definitely go for something which is lighter in weight.
Top 3 Irons for Sewing for Different Budgets
Given below are the 3 BEST irons for sewing and quilting in three different price ranges. The first one is my dream iron and is on my wishlist ever since I heard about it and is the most expensive one in the list well above $100. The second one which was purchased more than FOUR THOUSAND times on Amazon and is below $100. The last one is another popular iron best for anyone with a budget of less than $50.
No. 1 Iron Below $200

Brand: Oliso

No. 1 Iron Below $100

Brand: Rowenta

No. 1 Iron Below $50

Brand: Black+Decker
No matter what your budget is, you will always find an iron that works good and fits your budget thanks to all the different companies out there. But, the challenge is to find something that's worth it and will last at least a year provided that you don't drop it.
➡ Amazon Best Seller Irons for Sewing
Top 3 Irons Below $50
There isn't much to think about when purchasing an inexpensive iron other than your budget and if it fits your desired need as mentioned above.
Has stainless steel soleplate; must have if you feel that the heavier the iron, the better it's going to work.
cordless; another must have if you sew lots of large garments.
automatic 30 seconds shut-off; if you're a forgetful person like me, then this feature might be a great help for you.
has an auto-clean functionality to automatically get rid of all the mineral deposits. This is going to be SO helpful for increasing the life-span of the iron.
CLICK HERE to check if it's available for Prime customers
---
Not cordless but has an 8 feet retractable cord so if you're really looking for a cordless iron this might not be the right choice for you
Has a

nti-Calcium and Self-Clean systems that keeps iron free of calcium and mineral deposits for optimal performance

Purchased by over 2,000 customers
Great budget iron and does not spit or leaks water.
Heats up quickly once tipped.
---
This iron is almost similar to Black+Decker mentioned earlier but comes without a stainless steel sole-plate and doesn't have a LCD screen either.
Rest of the features are the same including auto shut-off, auto-cleaning and it's also cordless.
If you have a budget of $20, this is the PERFECT iron to buy.
---
Compare top 3 irons below $50
---
Top 3 Irons for Sewing Below $100
Best thing about this iron is it's continuous steam output rate of 35 g/min. I can only imagine how efficient it would be to work with an iron that can provide this powerful amount of steam.
Other than that it comes with a stainless steel soleplate made from the highest quality steel for a frictionless glide, auto shut-off as well as an auto-cleaning system.
It is also cordless and has an extra sharp precision tip to reach those naughty corners.
Was purchased over 4000 times on Amazon. Click here to read the reviews.

💡 BUYER'S TIP: This iron is usually on sale. If you get it below $70, it's a steal!
---
---
What makes this iron different than Rowenta is it's 3 different type of steam feature. You can choose from continuous, horizontal and vertical bursts.

This iron also comes with a one of a kind iTouch technology which allows the scorchguards to lower with the touch of your hand and lift when you've stopped ironing, preventing burns, scorching, and tipping.

These features are definitely not something to die for, but if you have some extra cash, wrist issues and would like to try out this fancy technology, you can go for this iron, or else I'd suggest sticking to the cheaper ones mentioned above.
---
Oliso and Rowenta Comparision
The models shown in the video are this one and this one.
---
Best Iron for People with Wrist Issues
Oliso Pro TG1600 Smart Iron
Oliso Pro is the one and only iron above $150 that has a high rating and seems to be worth the cost due to it's lightweight, efficiency and the one of a kind iTouch technology thanks to which you won't have to place the iron with the soleplate at 90 degrees from the surface, instead you can leave it flat. This is a GREAT feature to have to prevent your iron from tipping over as well as when quilting when you have to lift the iron repeatedly and lay it flat on the surface.
---
Best Iron for Sewing and Quilting Overall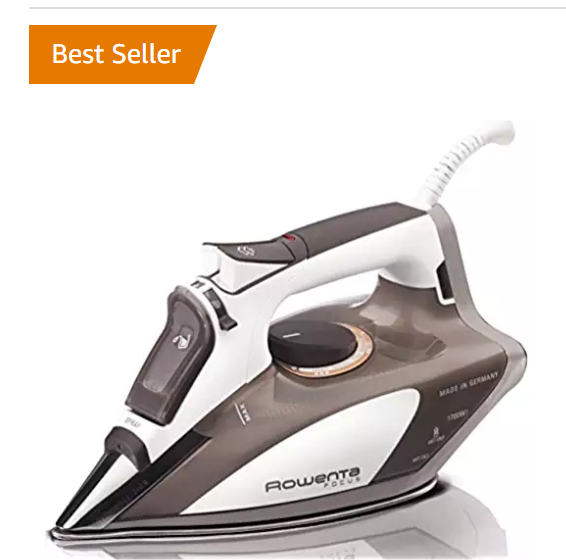 Why I think it's the best and I would buy it:
It's most affordable iron with lots of good features like the fact that it's made in Germany, has a pointed tip to get into creases, does not need distilled water and would work with tap water which saves a lot of headaches and makes it easier to fill up the iron from literally anywhere.
Was bought over 4000 times JUST on Amazon
I don't mind if it comes with minor issues because I'm not paying a gazillion for it and I understand nothing is perfect in this world and for this much price this iron would be worth it, unlike Oliso.
Has a 10oz water tank
Unique and sexy design; I'm a huge fan of gorgeous looking appliances so if I see one, I definitely need to have it.
Also, check out: