Back pain is a very common problem among sewists. If you are a regular sewist no matter what level I'm sure you must have experienced it at some point. In this post, I'm going to share 10 tips to avoid back pain while sewing. Read more below.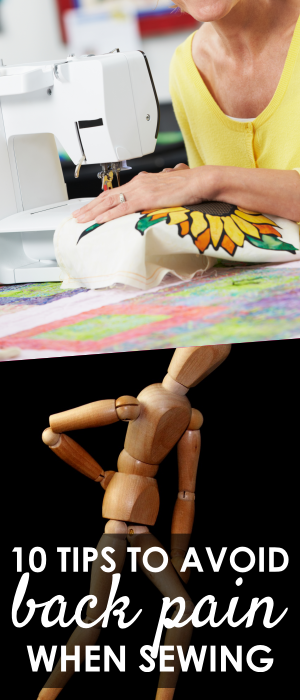 Pin this image on your sewing board for future reference.
When I was 15 I had a terrible car accident after which my back was left extremely weak. Up until now I cannot sit without a support for more than 10 minutes. This has obviously been a huge problem for sewing, but it couldn't keep me away from my hobby. Over time I have developed quite a few habits that help me to avoid any serious pain which I would be sharing in this post. So let's get started.
10 Tips to Avoid Back Pain While Sewing
Disclaimer: Some the links in this post are affiliate links and I will receive small compensation for any purchase made through these links. For more information you can read my disclosure policy.
1.I never sew continuously. Like in between the different steps I would always lean back and rest my back for a minute or two.
2.I take breaks regularly. While sewing, you would never find me in one part of the sewing room all the time. That's because I don't sit in front of my sewing machine for hours. I normally take a break after every hour to lie down on the bed or lean on a comfortable sofa for about 5 minutes. I'm sometimes doing small tasks like ripping stitches apart or hand basting during this time. This really helps in refreshing the back energy.
3.Proper height of sewing machine on a table. I make sure that while sitting, my elbows are 90 degrees from the upper arm. I learnt this the hard way as there was a time when while sewing my table used to be too low and it used to give me a crazy back pain. Then I switched to a higher table and since then I've seen a huge improvement. You can purchase a height adjustable table like this at an affordable rate to use as a sewing table.
4.Correct posture. I'm always reminding myself to keep my back straight rather than hunched while sewing. This does two things; 1) It prevents you from developing a hunch back. 2) It uses the correct muscles for sitting.
5.I place my feet flat on the ground.
6.Workout. I regularly almost regularly workout to strengthen my back muscles. Mostly, I just do half push-ups up-to 120 at a time and it definitely has helped me a lot.


Get more tips on next page.