In this post I'm sharing 8 best and affordable bag making supplies stores run by superb women from all around the world.
I'm not sure if you know, but at the start of this year I set a humongous resolution to build some lean, mean muscles. I've been working out quite regularly since then and not only did I start gaining (very slowly), I also noticed that my back pain that I used to get while sewing is gone!
That's two strikes with one shot. I didn't realize it until like last week when I was sewing for quite long without feeling any need to rest my back. What a surprise!
If you have back pain problems, you might want to try working out.
Onto today's post!

8 BEST and AFFORDABLE Online Bag Making Supplies Stores
Here you will find 8 awesome bag hardware stores from almost ALL around the globe. From US and Canada all the way to Australia. This post covers it all! But before that, for formality….
Disclaimer: This post contains affiliate links and I will receive a small compensation for any purchase made through these links. Hope you don't mind.
Here's the list of bag making supplies stores.
---
1. Sew Da Kine Purse Making Supplies Store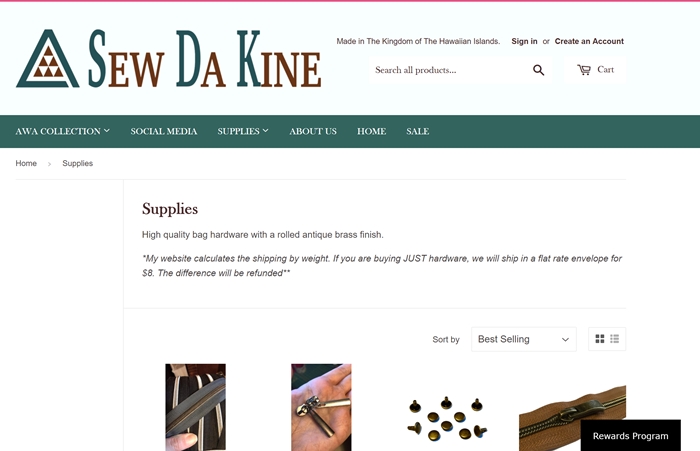 Run by really cool and awesome bag maker Jessica all the way from the Kingdom of Hawaii, Sew Da Kine store is one stop shop for the basic bag making supplies including zippers.
If you're looking for antique finish lobster clasps, D-rings, rectangle rings, zipper sliders etc. this is the shop for you! Expect affordable rates and superb service in this Hawaiin bag hardware store.
---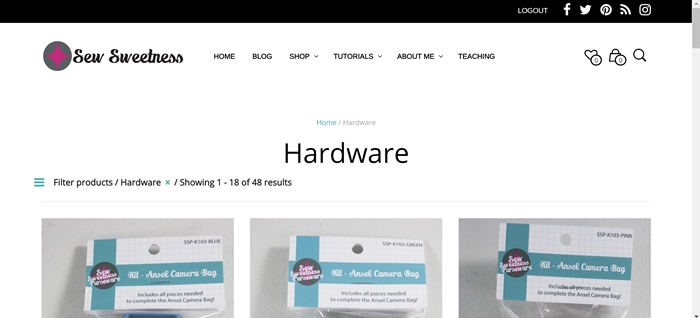 Shop is run by one of my FAVORITE bag designers Sara and features several different kinds of purse hardware. You can also find hardware kits for the bag patterns designed by Sara.
---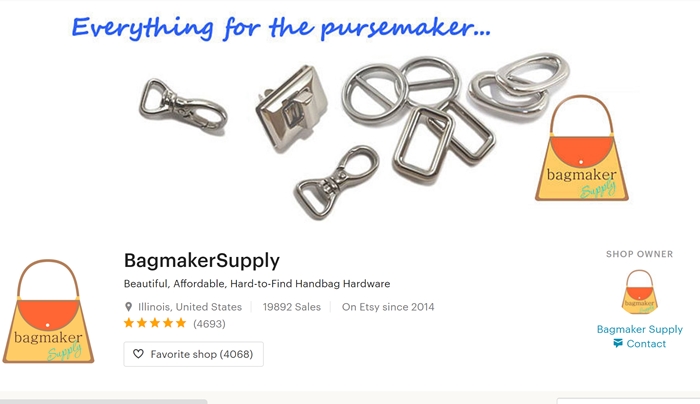 Etsy based shop in USA. They stock wide range of bag making supplies in several colors and sizes and are really the sweetest people to deal with. They also ship worldwide.
---
4. Uhandbag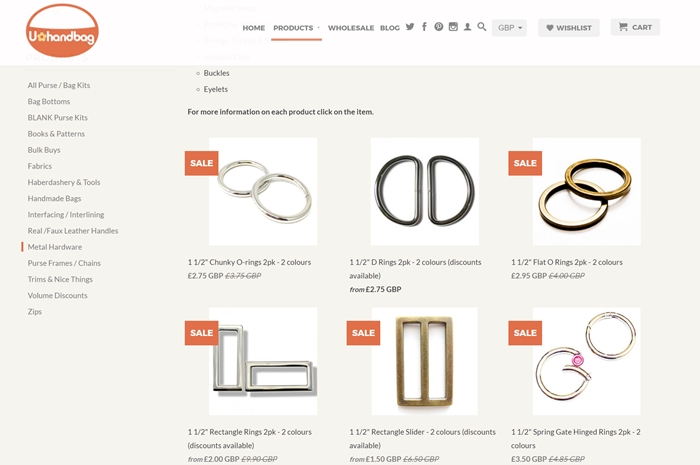 A great place to get hardware for all the UK bag makers. Uhandbag is an online bag making supplies store with a HUGE collection of hardware at a very affordable rate. You can also find pre-made real/faux leather bag handles, straps, purse frames, chains, zips as well as bag bottoms at Uhandbag.
---
5. Bag Supplies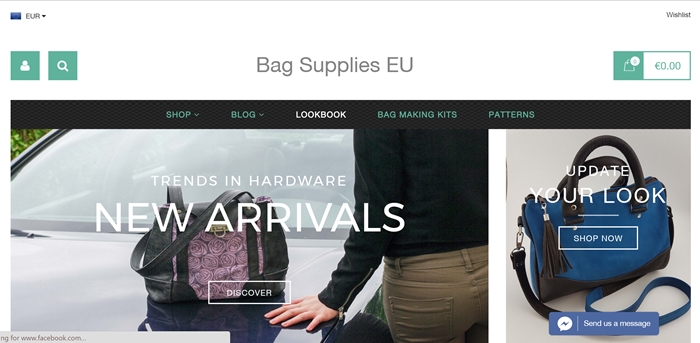 European bag makers, this is for you! You can now get your beloved bag hardware from the European bag making supplies online store – Bag Supplies. Low cost shipping, international shipping, high quality luxury purse hardware, this store has it all!
My favorite part is the variety of turn locks available at the store. Love them all!
---
Don't worry Australians and everyone in South Asia, I haven't left you out. For your purse hardware needs you can always check out Handbag Hardware Australia for cheaper shipping rate to all the South Asian countries as well as Australia.
The awesome thing is they ship worldwide so if you're in Singapore, Malaysia and Indonesia, you can easily buy your bag making supplies from Handbag Hardware Australia.
---
And finally for the Canadians….lucky Canadians because Justin Trudeau. Oh yes, I saw his pictures from back in those days and I was gaping at my screen for the whole of 5 minutes I spent scrolling through that post on 9gag.
Onto the list of bag making supplies store…
7. Emmaline Bags Hardware Store 
Run by the sweetest Janelle, Emmaline Bags Hardware is a perfect  place to get hardware in every color and size. Included are copper, gold tone, nickel, gun metal as well as antique brass tones.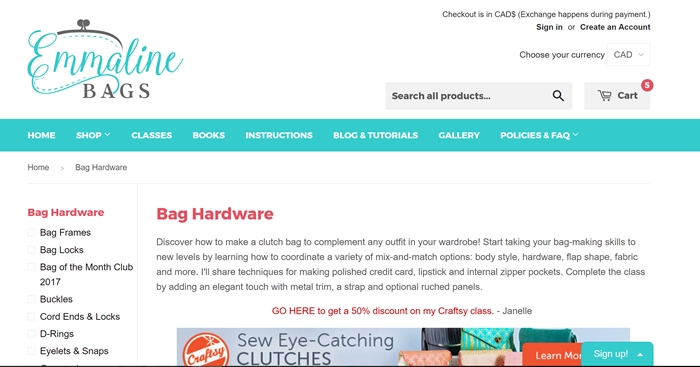 You can buy purse hardware in the form of bag pattern kits as well and they ship worldwide.
My favorite are the copper toned hardware. <3
---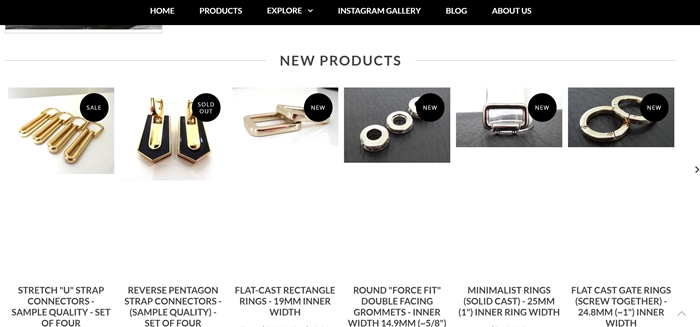 This shop is like a candy store version of bag hardware, do you get what I mean? Once you visit this bag hardware store, you wouldn't stop ooing and aaing at the GORGEOUS luxury finish hardware stocked in the store. They will haunt you in your dreams until you've bought at-least one of them, because they're just SO BEAUTIFUL. Believe me, I think about them 24/7. But for my situation there's the shipping cost which is more haunting as shipping all the way to Malaysia will cost double of what the hardware is worth. So, I'm patiently waiting for the day when I get to be in Canada or somewhere nearby to be able to order from Bringberry Hardware without having to pay extra shipping.
---
The End
With that we have reached the end of the list of 8 BEST and AFFORDABLE Online Bag Making Supplies Stores all around the world.
Liked the list? Pin it now to refer to it later! Also, share it with your bag making friends. They'll LOVE it.
Also, do think about working out.

Are you new to bag making? Sign up for the FREE 11 day course on all about bag making! Just enter your name and e-mail address below.
WANT TO LEARN TO SEW BAGS?
Sign up for the FREE 11 days bag making course by just entering your name and e-mail address.
Don't forget to check out these awesome posts too!