In this post, you will find a complete list of affordable gifts for cat owners. Some of the items in this list are cat-themed gifts which will make perfect presents for cat lovers. There are also some ideas for cat gifts for her that will be perfect for any female friend or family member. These unique gifts for cat lovers will definitely make the cat lovers' day! Check them all out below!
There are two ways to make cat lovers happy. One by giving them something that reminds them of their furry friends and the other is by giving something TO their furry friends.
In this gift guide for cat lovers, I'm sharing gifts you can get for the cats as well as presents for the cat owners.
Let's begin!
13 BEST Gifts for Cat Owners
DISCLAIMER: This post contains affiliate links and I will receive a small compensation for any purchase made through these links.
Unique Gifts for Cat Owners Under $50
Check out this coin purse that literally any cat lover will find awesome. This is something my sister has well and she's a crazy cat lady. Click here to check it out!
---
This is a perfect gift for any tween who loves cats. Click here to check it out!
---
A perfect sophisticated gift for an adult cat owner. It's a great stocking stuffer too! Click here to check it out!
---
4) Cat Headband
---
5) Moon Cat Sterling Silver Pendant Necklace
---
---
7) Cute Kitty Purse Crossbody Shoulder Bag
---
8) Plush Kawaii Cat Crossbody Bag
---
Gifts for Cats Under $50
This self-warming cat bed is THE MOST popular one on Amazon.
Click here to check out the style and color options for this super adorable cat gift that would be loved by both the cat as well as the cat owner.
---
2) Tower of Tracks Toy for Cats
75% of the customers gave 5 stars to this awesome toy. One customer even uploaded a video of their furry friend enjoying the toy. Click here to check it out now! 
This is a great inexpensive toy for cats.
---
3) Four Wheel Pet Stroller for Cat
To own a cute pet stroller is every cat owner's dream come true. However, it's something they might not be able to purchase right away due to a tight budget. Which is why you can absolutely WIN a cat lover's heart with this thoughtful gift. It's just a teeny tiny above $50 but it's totally worth it as it's NO.1 BEST SELLER on Amazon.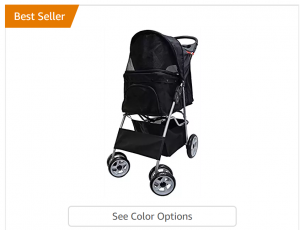 ---
4) Catit Senses Wellness Center
Even pets get frustrated at times which is why this wellness center is an absolute MUST HAVE for all the cat lovers. This wellness center provides relaxation and also acts as a self-groomer to collect cat's hair which is why it will make a perfect gift for cats. Click here to read all about it.
---
Here's another PERFECT gift idea for cat owners. This is the amazon best seller curious cat cube which has been purchased by over 1500 people which means it's totally worth the money and will make a great gift for the cats. It's also prime eligible. Click here to check it out.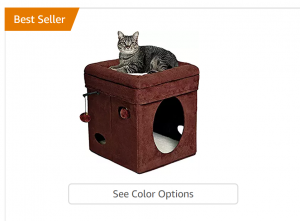 ➡ For more Prime eligible gift ideas for cats under $50 click here.
Check Out These Gift Guides Too!