Learn to sew an easy Zipper Pouch Tutorial. This is a fun Cricut maker tutorial and one of the amazing Cricut maker sewing projects. This zipper pouch pattern is completely free of cost. 
As the bag business launch day is getting closer, I find myself questioning my choices, why am I even doing this in the first place?
Honestly speaking, I just feel like quitting and staying in my comfort zone without having anything to lose or gain.
But then, success never comes when you're snuggled in your comfort zone, so to be successful, this is something I have to try.
Also, the fact that I've already spoken to the influencers and signed a deal with them is also acting as a push to go forward and not stop mid-track.
I've just purchased the domain name and scheduled the shop to go live on 26th October. I'm a bit scared as it's pretty close to Halloween as well as a huge event in Melbourne but this is going to be a mini first launch so I can test out the performance. If this fails, I'll give it another shot in November.
I'm super scared about all this but then that's what it's like when you're starting out something from scratch, isn't it?
If you'd like to know more about my journey, join my Online Bag Biz Facebook Group here to stay updated.
Alright, onto today's tutorial.
Today I'm sharing a Fancy Easy Zipper Pouch Tutorial With Cricut Maker.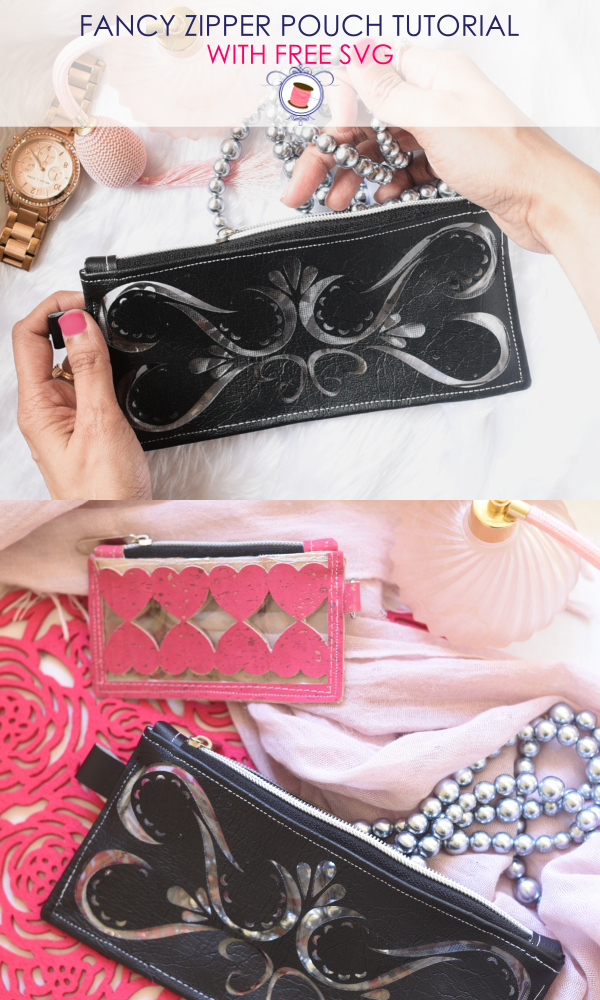 Fancy Easy Zipper Pouch Tutorial With Cricut Maker
AMAZON AFFILIATES DISCLOSURE
Sew Some Stuff is a participant in the Amazon Services LLC Associates Program, an affiliate advertising program designed to provide a means for sites to earn advertising fees by advertising and linking to Amazon.com.
AFFILIATES DISCLOSURE
Some links in this post are affiliate links.
I LOVE how this project turned out and all the amazing things we can do with Cricut Maker.
I'm planning to sell these pouches as small priced items in my shop for those who don't want to commit to a larger priced item.
Made with metallic zipper and nice zipper pulls, I think they look something you'd find in H&M and all those big retail stores. Also, they look super adorable, something all girls would want to hoard up on.
Don't worry if you do not have a Cricut Maker, these pouches can be cut using any fabric cutting machine such as Silhouette Cameo and Brother ScanNCut.
Different Versions of Fancy Easy Zipper Pouch
In total, I've created SIX different designs for Fancy Easy Zipper Pouch.
Swirled Up
Moroccan
Three Hearts
Aztec One
Aztec Two
Swirled up is available as a FREE SVG file for all the VIP members. And the rest can be purchased at a small price in my shop.
Below you can see pouches made from Swirled Up and Hearts in a Row SVG files. The files are completely resizeable meaning you can resize them to make pouches in literally any size you like. So, you can make large zipper pouches as well as smaller zipper pouches to use as a coin purse.
Today, I'm going to show you how to sew the easy zipper pouch using the FREE Swirled Up SVG file.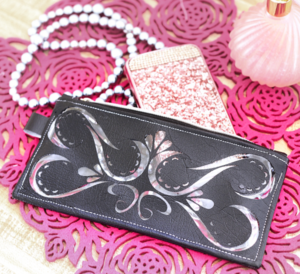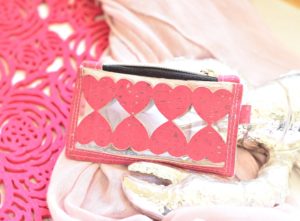 Supplies Needed for Easy Zipper Pouches using Cricut Maker
Sewing supplies
Metallic Zipper (Size of the zipper depends on the size of the pouch you'd like to sew. For an 8.5″x4″ pouch you'd need an 8″ zipper).

Non-Stick Sewing Machine Presser Foot

– only if you're sewing with faux leather.
Free Swirled Up SVG file – can be grabbed from the free pattern library for VIP members. Become a VIP member by signing up for the email list below.
Cutting Instructions
Cut out 1 piece of faux leather measuring 10″x10″ and place it on the Strong Grip mat.
Load it into your Cricut Maker and get it cut.
The Video for Easy Zipper Pouch Tutorial
With that, we have reached the end of this tutorial where I shared with you how to sew this GORGEOUS and unique faux leather zipper pouch that would make THE PERFECT gift for literally anyone in the family.
Make the other versions of this pouch.
Don't forget to check out some other Cricut Maker tutorials I have for you below.
11 Super Easy Cricut Maker Sewing Projects as Gifts
Also, check out these zipper pouch tutorials.