This Leather Credit Card Holder Pattern will help you in creating the easiest and quickest DIY card holder that can be given as gifts. It can also be used as a fabric credit card holder or a credit card wallet pattern.
Oh yes! I finally have a new tutorial for you all and in this tutorial, I'm showing how to sew a credit card wallet.
The past few weeks I had been super busy as I was working on my day job and my new handbag business at the same time. However, last weekend I got some free time as the test launch didn't go as planned due to lack of funds and time.
To know more details about my business behind-the-scenes make sure you join my Online Bag Biz Facebook Group here.
Since there were no orders to fulfill, I was able to record not one but two tutorials for y'all. The first one is the cork/leather credit card wallet which also comes with a FREE SVG file and PDF template.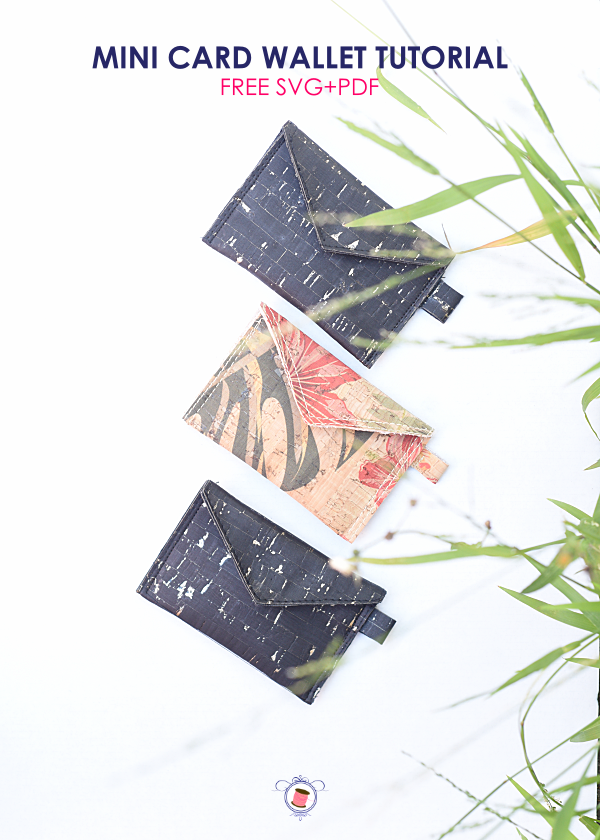 Leather Credit Card Holder Pattern + FREE SVG
For this tutorial, I used my ultimate fabric cutting machine, the Cricut Maker which makes cutting intricate objects a breeze.
Thanks to this magical machine, I was able to cut out three sets of credit card wallet to sew together in bulk.
My Cricut Maker really helps in reducing the time I spend on cutting out small projects like this one. Less cutting time means more time spent on sewing.
To find out more about Cricut Maker, check out my post, Is Cricut Maker Actually Good for Sewing? Honest Answer.
AMAZON AFFILIATES DISCLOSURE
Sew Some Stuff is a participant in the Amazon Services LLC Associates Program, an affiliate advertising program designed to provide a means for sites to earn advertising fees by advertising and linking to Amazon.com.
AFFILIATES DISCLOSURE
Some links in this post are affiliate links.
Here's the list of supplies you will need to sew this DIY leather key fob.
Supplies Needed for This Project
Or you can also use cork fabric found here
Sewing supplies
Free Card Wallet SVG File/PDF – can be grabbed from the free pattern library for VIP members. Become a VIP member by signing up for the email list below.
Video Tutorial for Leather Credit Card Wallet
The End of Credit Card Wallet Tutorial
With that, we have reached the end of the tutorial where I shared how to sew a leather credit card wallet. I have more awesome super simple Cricut sewing projects on the blog. You can check them out below!
More Easy Cricut Sewing Projects
11 Super Easy Cricut Maker Sewing Projects as Gifts
More Wallet Sewing Tutorials